Florida Yacht Donation Program
If your yacht no longer brings you the thrills and joy it used to, it can be difficult to know what to do next. Trying to sell it means you could be waiting years before finding an interested buyer, but holding on to it means wasting money on storage, maintenance and insurance fees. If you live in Florida and have an unwanted pleasure craft, why not get in touch with Breast Cancer Car Donations? Our yacht donation program will take your old vessel off your hands and transform it into support for breast cancer patients who need it most by selling it at auction. 
What We Do With Your Yacht Donation
When you decide to make yacht donations through our services in Florida, we take it to one of the many reputable auction houses we work with and sell it to the highest bidder. In turn, we donate the proceeds from your sale to a wide range of charity partners working throughout the state. These are IRS-certified 501(c)3 nonprofits who serve uninsured and underprivileged women who have been diagnosed with breast cancer. These provide easy access to medical facilities where they can receive care ranging from chemotherapy to surgery to radiation therapy. They also support survivors and contribute to research that might one day lead to a cure. 
Understanding Our Yacht Donation Process
You can donate nearly all types of yachts and watercraft, even if they are damaged or no longer work as well as they should. Whatever you have stored at the marina or in dry dock, you can get the process of unloading it started simply by contacting us. Here's a quick overview of how we can help you:
Contact us:

Whether you call us at 866-540-5089 or use our online donation form, you only need to provide us with a few details about yourself and your yacht. Once we verify your information, we'll get back to you with a time and place to pick it up, free of charge and at your convenience. 

We pick up your yacht:

After we take away your boat, we'll provide you with a donation receipt so you can cancel your registration and insurance. 

You get a tax-deductible receipt:

After your yacht sells at auction, you'll be sent a receipt for the sale price so you can claim a big deduction on your next tax return. 
Learn More About Florida
Compared to the rest of the country, the rate of breast cancer in Florida is relatively high. More than 14,000 women are diagnosed with the disease each year, which accounts for roughly 10% of the number of all new breast cancer cases in the United States. On top of this, the mortality rate is also higher than average, with approximately 2,500 Florida residents dying from breast cancer every year. This underscores how pressing the need for services and charities is, which is why your yacht donation can be a godsend for many. 
We're proud to accept vehicle donations throughout the state. To learn more about everything we can do for you, reach out and speak with one of our representatives today.
Looking for more information about donating your yacht in a particular area of Florida? Click on one of the cities closest to you from the list below.
or Call Us Now at 866-540-5069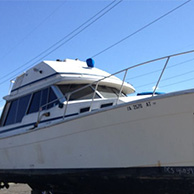 Excellent customer service!