Miami Yacht Donation Program
Your yacht has given you many hours of enjoyment on the water, but all good things must eventually come to an end. If yours has outlived its usefulness or doesn't hold the same thrills it used to, you may be wondering what to do next. You can't continue paying for storage, maintenance and insurance, but selling your boat isn't as easy as it might seem. Rather than potentially wait for years before you find a buyer, why not participate in Breast Cancer Car Donations' yacht donation program? You'll not only find the easiest way to relieve your burden, but also make a positive contribution to people in need. 
How Your Yacht Donation Can Make a Difference
Giving us a yacht donation means we will sell it at auction and use the proceeds to help a number of charity partners throughout the region. These IRS-certified 501(c)3 nonprofits are dedicated to helping those who have been diagnosed with breast cancer, specifically those who do not have insurance or may be otherwise underserved. These groups provide patients with easy access to medical facilities for treatments including surgery, chemotherapy and radiation. They also provide services for breast cancer survivors including lab work and doctor's visits. Your contributions also help benefit research into finding a cure. 
How Our Donation Process Works for You
Making a yacht donation through us is as easy and pain-free as possible. We accept just about any type, including those that are damaged or no longer work as well as they used to. All you need to do to get started is get in touch with us. Here's how our process works: 
Contact us:

Whether you give us a call at 866-540-5089 or use our online donation form, just tell us a little about your boat and yourself. Once we verify the details about your donation, we'll get back in touch to let you know when and where we can pick it up at your convenience and at no charge. 

We pick up your yacht:

After we take possession of your yacht, we'll present you with a donation receipt so you can cancel your registration and insurance. 

You get a tax-deductible receipt:

When your boat sells at auction, we'll send you a sales receipt so you can claim a tax write-off on your next return. 
Learn More About Miami
The rate of breast cancer in Miami-Dade County is higher than the national average, at 123.7 per 100,000 women. An additional 1,700 are estimated to be newly diagnosed each year, underscoring the need for services and support that can help these people in their time of need. Fortunately, there are several leading healthcare facilities serving these patients, including Mount Sinai Medical Center and the Miami Cancer Institute at Baptist Health. Your yacht donation can help women gain access to these resources. 
We accept boats and vehicles of all types throughout Miami as well as all of Florida. If you want to learn more about how we can make the process of donating your yacht to a worthy cause easy for you, reach out and get in touch with us today.
or Call Us Now at 866-540-5069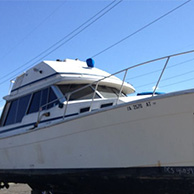 Excellent customer service!