Jacksonville Yacht Donation Program
Holding on to an old yacht that has outlived its appeal means you're spending a lot in maintenance, storage and other expenses. But trying to sell it on your own can be its own kind of hassle because it can take a very long time and lots of effort before you ever get a bite from an interested buyer. But there's an alternative to putting it up for sale that means you can be relieved of your burden much faster while also doing something good for others. Breast Cancer Car Donations has a yacht donation program that will accept your unwanted vessel and sell it through auction. 
How Your Yacht Donation Can Help
When you provide us with a yacht donation, we sell it and use the proceeds to benefit a wide range of charity partners who help those suffering from breast cancer. These IRS-certified 501(c)3 nonprofit organizations serve uninsured and underprivileged patients, providing them with easy access to medical facilities where they can receive the care and treatment they need. These groups also support survivors of breast cancer by connecting them with lab work, mammograms and doctor's visits. We also contribute to organizations working to find a cure. 
How Our Yacht Donation Process Works
We accept virtually all types of yachts and watercraft, including those that are damaged or no longer working properly. No matter what you have in dry dock or at the marina, all you need to do to get started is give us a call. Here's a quick rundown of how the process works: 
Contact us:

Call us at 866-540-5089 or fill out our online donation form. We'll ask you for a few details about your boat and verify them. Once we do, we'll get back to you with a time, date and place to pick it up at your convenience. There is no charge for this service. 

We pick up your yacht:

When we take your yacht away, we'll provide you with a donation receipt so you can cancel your registration and insurance coverage. 

You get your tax-deductible receipt:

After your boat sells at auction, you'll receive your 100% tax-deductible sales receipt so you can claim a write-off on your next return. 
Learn More About Jacksonville
Duval County, where Jacksonville is located, has a breast cancer rate of approximately 33.8 per 100,000 women. Although the need is great, there are a number of exceptional healthcare providers in the area that specialize in treating breast cancer, including the Florida Center for Breast Conservation at the University of Florida Health Science Center Jacksonville. When you make yacht donations through us, you will be making a contribution to ensuring women suffering from this disease find the help they need regardless of their means. We're proud to accept donations of boats and other vehicles of all kinds throughout Jacksonville and all of Florida. If you have any questions about the work we do or want to get started on donating your yacht as soon as possible, get in touch with us today and speak with one of our helpful representatives.
or Call Us Now at 866-540-5069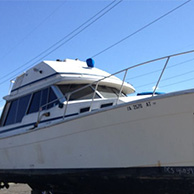 Excellent customer service!