Tampa Yacht Donation Program
Your yacht has given you many hours of enjoyment out on the open water, but now it's outlived its usefulness. Keeping it at the marina or in storage costs you a lot of money, though. You still need to pay for maintenance and insurance coverage, even if you're not using the boat anymore. If you try to sell it on your own, however, you could be in for a long wait — many owners say it can be years before they find a prospective buyer. 
If you want to rid yourself of the burden, Breast Cancer Car Donations can help. We offer a hassle-free yacht donation program in Tampa to allow you to get rid of your unwanted vessel while making a positive contribution to those in need. 
How Our Yacht Donation Program Benefits Patients
After you give us your old boat, we will sell it through one of the many reputable auction houses we work with throughout the area. When it sells to the highest bidder, the proceeds are donated to support charitable organizations dedicated to helping women who have been diagnosed with breast cancer. These patients are uninsured or otherwise underprivileged, and these charities offer the women access to medical facilities where they can receive the care they need. The charities we work with also offer services for cancer survivors and support organizations researching a potential cure. 
How Our Yacht Donation Process Works
We accept vessels of all types, not just yachts. Even if yours is damaged or in poor condition, we can take it. Whatever you have to donate, getting the process started is as simple as giving us a call. Here's a quick summary of what you can expect when you work with us:
Contact us:

Call us at 866-540-5089 or use our online donation form. Either way, we'll ask you for a few details about yourself and your vehicle. Once we verify the information, we'll get back to you with a time and place to have the boat picked up at your convenience. There is no charge for this service. 

We pick up your yacht:

When we come to take your yacht away, we'll present you with a donation receipt so you can cancel your registration and insurance. 

You receive your tax-deductible receipt:

After the boat sells at auction, you'll be sent a 100% tax-deductible sales receipt, so you can claim a big deduction on your next tax return. 
Learn More About Tampa
Hillsborough County, Florida, has approximately 500 women each year diagnosed with breast cancer. Fortunately, there are a number of medical facilities in the area that are equipped to treat these individuals. These include the Moffitt Cancer Center, Tampa General Hospital and the University of South Florida Health Morsanti College of Medicine. 
We accept vehicle donations of virtually all kinds in Tampa as well as the rest of Florida. If you want to make a contribution today, reach out and speak with one of our helpful and knowledgeable representatives to have all your questions answered. 
or Call Us Now at 866-540-5069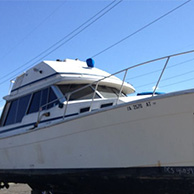 Excellent customer service!