Ohio Boat Donations
Donate Your Vehicle and Save Lives!
Keep Breast Cancer Victims' Hopes Afloat Through Ohio Boat Donations
Your rusty, sputtering boat can keep afloat the hopes of breast cancer victims in Ohio that they can survive the devastating disease. You can make this happen when you take part in our Ohio boat donations program.
Owning a high-maintenance boat is great if you have lots of money to pay for storage, maintenance, and repairs. However, when the repairs become frequent and taking a boat ride is not as enjoyable as before, then it's time to consider donating it to charity instead before the repairs drain all your money.
When you decide to donate that boat to us at Breast Cancer Car Donations, you'll relieve yourself of the burden of owning such a vessel. You'll also get the chance to support a noble cause: saving the lives of people victimized by breast cancer. To top it off, you'll also gain significant material rewards for your charitable act, including a massive tax deduction.
What We Do to Fight Breast Cancer
We at Breast Cancer Car Donations manage our Ohio boat donation program on behalf of the certified 501(c)3 nonprofit organizations that we have partnered with. We use the proceeds from the sale of every donated boat to fund our charity partners' breast cancer programs that provide comprehensive breast health services in Ohio. The services they deliver include:
Giving financial assistance to aid in the screening, diagnosis, and treatment for those who are uninsured and underserved;

Establishing and improving link and referral systems that allow our beneficiaries free access to local resources, services, and information that are ethnically and linguistically customized according to their needs;

Raising public awareness on the nature of breast cancer, concentrating on disease prevention through early detection; and

Providing funds to boost breast cancer research aimed at finding more effective and faster diagnosis and treatment methods and, ultimately, a cure for the disease.
The Rewards You'll Get for Your Boat Donation
You will benefit from taking part in our Ohio boat donations fundraiser as much as the breast cancer patients will. When you hand over your old boat to us, you'd get to enjoy these perks:
Receive a 

hefty tax deduction

 approximating the fair market value of your boat.

Enjoy our easy and straightforward

boat donation

process that requires just one phone call from you.

Enjoy our free and fast towing services where you won't have to spend a single dime.

Save money when you stop paying for your boat's costly repairs, maintenance, registration, storage fees, and insurance coverage.

You won't have to endure the hassle and waste of precious time, energy, and money in trying to sell your boat.

Photo by SevenStorm JUHASZIMRUS under Pexels License
Get Rid of That Unwanted Boat in 5 Minutes!
We assure you of the quickest, simplest, most convenient and hassle-free donation process in our Ohio boat donations program. In about five minutes, you could say goodbye to your old boat and start supporting breast cancer patients in Ohio. Here's how you can do it:
Contact us.
You can either fill out our online donation form or call us at 866-540-5069 to tell us you want to "donate my boat to charity." Tell us your personal contact information as well as a few basic details about your boat, such as its type, make, model, year, general condition, and availability of a title.
Schedule your boat pickup.
Tell us your preferred time, date, and location for your boat's fast and free pickup. A professional towing company affiliated with us will get the job done. You will receive a towing receipt that allows you to legally cancel your boat's insurance and registration.
Receive your tax deduction receipt.
We'll take your boat to the best auction house in your city. Within 30 days after your boat is sold, you will receive from us by mail your 100-percent tax-deductible sales receipt that shows you the amount you can claim as your tax deduction when you file your itemized federal tax return.
The Types of Boats and Other Vehicles You Can Donate
We at Breast Cancer Car Donations accept various types of boats in our Ohio boat donations program. They include sailboats, motorboats, fishing boats, yachts, pontoon boats, houseboats, and personal watercraft.
We very much welcome multiple donations! If you have other vehicles that you no longer need, you can donate them to us as well. We accept nearly all types of vehicles, such as:
Cars, vans, SUVs, trucks, motorcycles

Fleet cars, passenger vans, cargo vans, SUVs, pickups, trucks, buses

RVs, motorhomes, campers, travel trailers, pop-up trailers, 5-wheelers

ATVs, snowmobiles, motorized wheelchairs, riding lawn mowers, tractors, farm equipment

Non-commercial airplanes, jet planes, other types of flying vessels
Ohio Resources for Breast Cancer
Ohio is located in the Midwest. This city is known for its beautiful scenery, Buckeye trees, and world-class theme parks. It's also the rock and roll capital of the world and the birthplace of aviation. Popular attractions include Cedar Point, Cincinnati Zoo & Botanical Garden, Rock and Roll Hall of Fame, Hocking Hills State Park, West Side Market, and more. It's also home to several local cancer treatment centers. These include the James Cancer Hospital and Solove Research Institute on W 10th Ave., the Cleveland Clinic Taussig Cancer Center on Carnegie Ave., and the UC Health Barrett Cancer Center on Bellevue Ave.
The James Cancer Hospital and Solove Research Institute focuses on patient care, education, and genetic- and molecular-based research. Patients have access to new targeted tools and treatments. The center has also received a Magnet® designation of the American Nurses Credentialing Center (ANCC) Magnet Recognition Program®. It offers treatment for various types of cancer, including breast cancer. In fact, the center staffs breast cancer subspecialists and world-renowned cancer experts to provide patients with patients with the best treatment plans, therapies, and clinical trials. 
The Cleveland Clinic Taussig Cancer Center provides highly skilled, compassionate care to cancer patients. It offers patient-centered treatment, trusted experts, a caring approach, industry leaders, virtual visits, and clinical trials. Healthcare providers include medical and radiation oncologists, surgeons, medical breast specialists, and psychologists.
Your Boat's New Journey of Hope
You can make a big difference in the lives of struggling breast cancer patients and their families by taking part in our Ohio boat donations program. Contact us at 866-540-5069 and let your boat set sail on a new journey of hope for breast cancer victims!
Your Boat's New Journey of Hope
You can make a big difference in the lives of struggling breast cancer patients and their families when you donate an old boat to charity. Contact us at 866-540-5069 and let your boat set sail on a new journey of hope for breast cancer victims! We serve the entire region, including nearby Cincinnati, Cleveland, Columbus, and Dayton.
FAQs
Is your old boat being unused?
If so, Breast Cancer Car Donations will happily accept it. We take watercraft such as sail and speed boats in various conditions.
Are you paying high insurance, maintenance, or repair fees for a vessel that isn't being used?
You can avoid these costly fees by contributing your vessel to our program. You won't have to pay for dock fees, insurance, and gas.
Thinking about selling your boat but don't want the hassle of dealing with advertising, phone calls, showings, and negotiations?
By donating your boat to us, you can avoid these challenges. We'll even handle all the details and paperwork for you.
What vessels are accepted?
Breast Cancer Car Donations accepts numerous watercrafts, including houseboats, pontoon boats, sailboats, motorboats, fishing boats yachts, and more. You can also reach out to us with the details of your vessel to determine if it's eligible for donation. 
What does the donation process entail?
We are proud to provide our customers with a convenient and simple donation process. Our team will arrange the pickup of your watercraft and then we'll sell it at auction. Then we'll send you a receipt in the mail for your potential tax deduction. 
Why should I donate to Breast Cancer Car Donations?
When you donate a vessel to our boat donation program, you'll help your community by supporting nonprofits that work to end breast cancer. The funds from your vessel donation helps patients and others receive financial assistance, early detection, diagnosis, screenings, breast health services, and more. Donate today!
or Call Us Now at 866-540-5069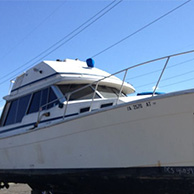 Excellent customer service!