Cincinnati, Ohio Car Donations
Donate Your Vehicle and Save Lives!
Cincinnati, Ohio Car Donations: Extend Helping Hand to Breast Cancer Patients and Get Tax Rewards!

Like most cities in Ohio and other states, Cincinnati has breast cancer communities that are in need of help. Impoverished patients are in dire need of support. In all of this, a simple act of charity can make all the difference.
We at Breast Cancer Car Donations have provided a convenient platform for Cincinnati residents to extend support to breast cancer patients in their own city through our Cincinnati, Ohio car donations program. The program allows you to make a difference in your own community.
Many poor uninsured women in the city have no access to healthcare facilities that can detect and treat breast cancer. This puts most women at risk of succumbing to this deadly disease.
To save lives, Breast Cancer Car Donations has partnered with other reputable non-profit organizations that are dedicated to providing assistance to needy people seeking assistance in the screening, diagnosing and treatment of breast cancer. Through our car donation programs, we help generate funds for our two charity partners — American Breast Cancer Foundation (ABCF) and Women Involved In Nurturing, Giving, Sharing, Inc. (WINGS) – so they can pursue their various programs to fight breast cancer. These charities use the funding they get from us to:
Provide financial assistance to uninsured and underserved Americans who are battling breast cancer;
Pursue research on prevention, screening, diagnosis, and treatment of breast cancer;
Boost campaigns for public awareness on the causes, symptoms, prevention, and detection of breast cancer; and
Sponsor charity and outreach events for the benefit of breast cancer patients.
Although we operate car donation programs all over the country, we use the funds generated from each local car donation program to benefit underprivileged patients living in that particular locality. Hence, here in Cincinnati, our Cincinnati, Ohio car donations program allocates funds solely for the benefit of breast cancer-affected residents in the city. This means funds will be fully enjoyed by the locals in the community. This ensures that all of the breast cancer communities in Cincinnati, Ohio are well taken care of.
Make a Difference in the Lives of Breast Cancer Victims
The fight against breast cancer in Cincinnati is ongoing. You can help make a difference in the lives of many breast cancer sufferers in the city by donating to us an old unwanted vehicle that is just gathering dust in your garage or backyard.
Your Cincinnati, Ohio car donations will put a new value on your old vehicles. We repurpose what you may already consider as "scrap metal" so that it can be used as an instrument to fight breast cancer in Cincinnati.
Instead of selling your vehicle or dumping it in the junk shop, you will find more satisfaction by donating it instead to us at Breast Cancer Car Donations. Grab this opportunity to make a worthy contribution to breast cancer communities in Cincinnati. It's a chance for you to help people fight cancer and the consequences it brings. Give breast cancer patients a better chance of surviving the disease by taking part in our Cincinnati, Ohio car donations program.
How to Donate Cars for the Benefit of Breast Cancer Patients
Donating a vehicle to Cincinnati, Ohio car donations is quick and easy. We have integrated a three-step process for the convenience of our donors.
A simple call can change the lives of many. Once you're ready to make a donation, pick up your phone and give us a call at 866-540-5069. Instead of calling us, you may prefer to reach out to us by filling out our online donation form. State policies may vary, but we may require you to be ready with the title of the vehicle you're donating. If you've misplaced that document and can't find it anymore, that's not a problem. Just call us and we will help you secure a replacement title.
We will ask you to pick a convenient date, time, and place for the vehicle pick-up. Please note that this is absolutely free of charge. We will arrange for a licensed towing company to pick up your vehicle. We will issue a tow receipt during the pick-up. This will relieve you from any liabilities on your vehicle, which means you can cancel and stop paying for your car registration and insurance coverage. The receipt is also a requirement for the processing of your top tax deduction claim.
After picking up your car, we will send it to an auction house to sell it. Within days after your vehicle is sold, we will send you by mail your 100-percent tax deductible sale receipt. The latter shows your vehicle's final selling price, which you can claim as your tax deduction when you file your itemized federal tax return.

Types of Vehicles We Accept for Donation
We accept nearly all types of vehicles in our Cincinnati, Ohio car donations program. On a case-to-case basis, even if your car doesn't run anymore or its headlights aren't working, we can accept it for donation. However, we cannot accept an offered donation when the vehicle is stolen or abandoned and has no title. We also decline an offered donation if the cost of towing a badly damaged vehicle is more than its actual value.
Aside from cars, we welcome donations of trucks, vans, motorcycles, SUVs, snowmobiles, RVs, campers, lawn mowers, trailers, golf carts, tractors, fleet vehicles, farm equipment, boats, jet skis, and even non-commercial planes.
We gladly welcome multiple Cincinnati, Ohio car donations. If you have more than one automobile you'd want to get rid of, don't think twice about donating it to us.
Contact us at 866-540-5069 and join our Cincinnati, Ohio car donations program. Enjoy the experience of donating to a worthy cause!
or Call Us Now at 866-540-5069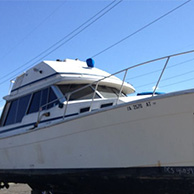 Excellent customer service!