Dayton, Ohio Car Donations
Donate Your Vehicle and Save Lives!
Car Donations in Dayton, Ohio: Give Hope to Breast Cancer Sufferers
Your generous act of donating your car to our Dayton, Ohio car donation program can impact greatly on the lives of women with breast cancer. By handing us your car that you no longer find useful, you will provide hope and a positive outlook on life to these women who badly need help. Also, your old or unneeded automobile might help scientists find a possible cure for the disease.
When you work with us at Breast Cancer Car Donations, you will have the chance to help save lives in Dayton, Ohio. We collaborate with reputable nonprofits that are committed to supporting cancer patients and their families the best way they could. Through the funds collected from your donated car, you will enable nonprofit organizations like the American Breast Cancer Foundation and the Women Involved in Nurturing, Giving, Sharing, Inc. to pursue their programs to serve breast cancer sufferers.
Contributing an idle vehicle to our Dayton, Ohio car donations program means more than just ridding yourself of a burden. Much more important, it can make a meaningful difference in the lives of thousands of breast cancer patients in need. If you've always wanted to play a part in a truly noble cause, this is it.
Experience the Simplicity of Our Donation Process
If you're planning to donate a car in Dayton, Ohio, it's always better to pick a donations program that guarantees you quality service. Take Breast Cancer Car Donations, for example. Because we care so much about you, we've decided to free you from all the responsibilities involved in the donations process.
All you have to do is to let us know that you're ready to donate to our car donations program in the city. You don't have to bother yourself with the processing of the necessary documents; neither do you have to worry about paying for a towing company. We have it all taken care of.
You may inform us about your decision to donate either through the phone or by just filling out our online donation form. Give us a few details about the car you wish to donate, including its make, model, and mileage.
After that, a time and place will be arranged for your vehicle's pickup. Be informed that you don't have to be present at the time we haul your car away.
Funds from your Dayton, Ohio car donations will be generated when we auction it off. The proceeds from your donated vehicle will support nonprofit organizations that specialize in the field of cancer research.
As our way of expressing gratitude, you will receive a towing receipt on the day we pick up your car. That will allow you to terminate your car's insurance and registration details, thus saving you money.
At least 30 days after your car is sold at auction, we will send you a 100 percent tax-deductible sales receipt indicating the sale price of your vehicle. If your vehicle sells for less than $500, you can claim the selling price or the vehicle's fair market value up to $500, whichever is higher, as your top tax deduction. You can calculate the fair market value of your car by checking the prices online for vehicles of the same make, model, year and condition as your car.
However, if your vehicle sells for more than $500, you can claim only the exact amount for which it was sold, even if the fair market value is greater than the selling price. For more information on this, please call us at 866-540-5069.
Do you have any more questions about our charity auto donation process, or about us in general? You may check out our FAQs page here.
Kinds of Vehicles for Breast Cancer Car Donations
Do you want to donate a van or an RV to our Dayton, Ohio car donations program but you're not sure about its poor condition? No worries: Breast Cancer Car Donations takes almost all types of vehicles, running or non-running. Since our tow truck will take care of the hauling, feel free to donate even a car that's not in running condition.
From land vehicles such as buses, SUVs, motorcycles, or scooters, to watercraft such as boats and jet skis, we're more than glad to accept whatever vehicle you wish to donate. We even take RV donations like motorhomes, pop-up trailers, or campers. Specialty vehicles are no exceptions, either. Breast Cancer Car Donations happily takes farm equipment, ATVs, motorized wheelchairs, and snowmobiles.
If you're still wondering about the eligibility of your vehicle for our Dayton, Ohio car donations program, don't hesitate to talk to us. If you're ready to give up your old car, donate it to us now at 866-540-5069.
Local Resources for Breast Cancer
Dayton is located in Montgomery County and is known as the birthplace of aviation. It also boasts a rich culture and history, green parks and delicious food scene. Popular attractions include the Dayton Aviation Heritage National Historical Park, Boonshoft Museum of Discovery, Dayton Art Institute and National Aviation Hall of Fame, among others. It's also home to some local cancer treatment centers. These include the Kettering Health Cancer Center on Southern Blvd. and the Miami Valley Hospital on Miami Valley Dr. 
The Kettering Health Cancer Center offers comprehensive cancer care, including treatment for breast cancer. In fact, the building features a full-service breast evaluation center, which provides patients with ultrasound-guided biopsies and 3D mammography. Moreover, this center focuses on healing the whole person. It offers an infusion center, support services, integrative medicine such as exercise and massage, plastic and reconstructive surgery, and a boutique and spa. The latter carries specially designed wigs, headwear, bras, wigs, etc. Treatment includes chemotherapy, various therapies, hormone treatment, surgery and more.
The Miami Valley Hospital offers advanced care for breast cancer. It provides diagnosis, screenings, treatment, education and support to patients to help them thrive and survive. Its multidisciplinary care team consists of doctors, nurses and navigators who treat patients with the utmost compassion and respect. Physicians utilize nationally recognized cancer care best practices and protocols. Treatment may involve radiation therapy, surgery, chemotherapy, hormone therapy, clinical trials and breast reconstruction. This center continues to focus on advancements in various therapies and surgery.
Get to Enjoy Benefits from Your Car Donations for Breast Cancer
Another reason you'll love working with Breast Cancer Car Donations is the fact that you have the opportunity to enjoy several benefits that go with your donation. While you already know that your Dayton, Ohio car donations will help cancer-stricken women and their families, you may not know yet that your charitable act will bring you benefits as well.
Going through a quick and worry-free donation process and the possibility of a huge tax deduction aren't the only advantages you'll be getting by donating your car. These other perks await you:
More space for your garage or driveway

Freedom from going through the complicated process of selling

Freedom from handling loads of paperwork

Save more money when you cancel your car's insurance and registration

No need to deal with irritating hagglers or potential buyers

Last but definitely not least, get a sense of fulfillment knowing that your Dayton, 

Ohio

 

vehicle donations for a tax deduction

will be supporting women in the battle against breast cancer
Start Making a Difference Today
Do you want to get rid of your old car for a worthwhile cause? Donate to Breast Cancer Car Donations today. Let these women stricken with breast cancer know that you are also looking out for them. Give us a call at 866-540-5069. We'll be waiting for you! We serve the entire region, including nearby Cincinnati.
or Call Us Now at 866-540-5069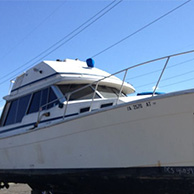 Excellent customer service!