Car Donations Cleveland, Ohio
Donate Your Vehicle and Save Lives!
Car Donations in Cleveland: Better to Donate a Vehicle for the Benefit of Breast Cancer Patients Than to Sell It
There comes a time when cars begin to break down due to wear and tear. When this happens, sending them to the auto shop may become impractical because of the high cost and the chances of experiencing more vehicle malfunctions, leading to more costly repairs whose total amount could eventually come close to the price of a brand-new car.
You may consider selling such a car, but selling a clunker is tough, and there's no guarantee that you can get a good price for it. Instead, you may want to consider donating your old car to Breast Cancer Car Donations through our program for car donations in Cleveland, OH. We will show you why deciding to donate cars in Cleveland for a worthy cause and to a trusted charity organization is so much better than selling them.
Resources in Cleveland
While this vibrant and eclectic city is known as the birthplace of rock and roll, it's also home to several local cancer treatment centers. These include the Cleveland Clinic on Carnegie Avenue, University Hospitals Seidman Cancer Center on Euclid Avenue and the MetroHealth Medical Center on Metrohealth Drive. These facilities are some of the nation's top hospitals. They offer cancer experts, leading edge treatments and state-of-the-art technology to help patients overcome the disease. 
Care teams are comprised of medical and surgical oncologists, nurses, counselors and other medical professionals. They work with patients throughout their entire cancer journey, even after treatment is done through screenings and continued support.
Breast Cancer in Ohio
There are nearly 600 organizations that offer breast health services in Northeast Ohio. Ironically, however, many women are not able to access the resources of these organizations due to poverty.
According to the Prevention Research Center for Healthy Neighborhoods at Case Western Reserve University, the majority of women in Northeast Ohio are the least likely to obtain mammograms, with 87 percent of them living in poverty; 65 percent having low literacy rates while 85 percent are either uninsured or underinsured.
Several factors play a part in the development of breast cancer, including female gender, early menstrual period, increasing age, sedentary lifestyle, change in breast cancer genes, and personal or family history of breast cancer.
Rewards for Your Cleveland Car Donation
Aside from the inner joy you will feel for being of service to others, you will also receive major rewards for taking part in our Cleveland, Ohio auto donation program. Here are some of them:
First, a car donation in Cleveland, Ohio, entitles you to a 

hefty tax deduction

 when you file your itemized tax return. You will get at least a $500 tax cut or even more depending on your vehicle's final selling price. In effect, you get back a portion of the cash value of your donated car.

Second, you get rid of something that you've long wanted to dispose of anyway, and you get it out of your property for free and without lifting a finger.

Third, you will actually save money donating your car in Cleveland, OH rather than trying to sell it because selling your car would mean spending money for repairs and repaint since you can't possibly find a good buyer for a car that does not run and looks messy. Chances are, the cost of repairs and repaint would even be higher than the payment you would get for selling your car. You also don't have to pay for your car's insurance anymore if you just

donate a car for charity

in Cleveland, OH.
Types of Vehicle Donations We Accept in Cleveland
We accept almost all types of vehicles as car donations for breast cancer in Cleveland. We only say "no" to abandoned cars since such vehicles will have no proof of ownership, which is a prerequisite for selling. We also cannot accept vehicles that are a total wreck or those with little or no value.
If you've lost your title, you need not worry since we would help you get a replacement title quickly.
We love multiple Cleveland, Ohio car donations because more breast cancer patients would benefit from them. You may find this list of acceptable vehicles helpful:
Cars:

 sedans, vans, SUVs, trucks, motorcycles

Boats and watercraft:

 sailboats, motorboats, fishing boats, yachts, pontoon boats, houseboats, personal watercraft (like jet skis)

RVs:

 recreational vehicles, motorhomes, campers, travel trailers, pop-up trailers, 5-wheelers

Specialty vehicles: 

ATVs, snowmobiles, motorized wheelchairs, riding lawn mowers, tractors, farm equipment

Fleet vehicles:

 cars, passenger vans, cargo vans, SUVs, pickups, trucks, buses

Non-commercial airplanes
Our Convenient Car Donations Process
Our Cleveland, Ohio car donations process is quick and simple. Just follow three easy steps:
Get in touch with us either by filling out our 

online donation form

 or calling us at 866-540-5069. Tell us about the details of your vehicle – year purchased, model, brand, and a few more details.

After we receive your request, you can schedule the fast and free pick-up of your car at your earliest convenience. We'll immediately arrange for a local towing company to pick up your vehicle. We will give you a towing receipt that releases you from all liabilities on your car, giving you the right to cancel your car insurance and registration.

Lastly, you will receive your IRS tax-deductible receipt in the mail after your vehicle is sold. Keep in mind that you'll need the receipt to support your top tax deduction claim when you file your federal tax return.
Enjoy the Donations Experience!
Car donation is a powerful way to support programs designed to fight breast cancer. Are you ready to donate your old vehicle for the benefit of struggling breast cancer patients in your city?
Contact us at 866-540-5069 and enjoy a great Cleveland, Ohio car donations experience from start to end. Donate a vehicle to charity today! We serve the entire region, including nearby Akron, Parma and Youngstown.
Breast Cancer Car Donations: Cleveland, Ohio
2550 Detroit Ave
Cleveland, OH 44113
Phone: (866) 540-5069
or Call Us Now at 866-540-5069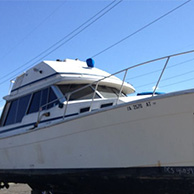 Excellent customer service!