Akron, Ohio Car Donations
Donate Your Vehicle and Save Lives!
Help Save Lives of Breast Cancer Victims with Your Akron, Ohio Car Donations
Despite continuing efforts to contain it, breast cancer remains a deadly and devastating beast that continues to claim more lives of Americans all over the country, including here in Akron, Ohio.
The number of cases and the death toll continue to rise all over America. For 2018, Breast Cancer.org estimates that 266,120 new cases of invasive breast cancer would be diagnosed in women as well as 63,960 new cases of non-invasive (in situ) breast cancer. This means that about one in eight U.S. women (or about 12.4 percent) will develop invasive breast cancer over the course of her lifetime. About 40,920 women in the U.S. are expected to die this year from breast cancer.
However, we at Breast Cancer Car Donations still hope that with the concerted action of all concerned sectors, including the public at large, breast cancer can still be tamed. That is why we are relentlessly pursuing our car donations drive all over the country, including the one here in the city.
Your participation in our Akron, Ohio car donations program will definitely be a big help in turning back the onslaught of breast cancer, increasing the chances of survival of breast cancer victims.
If you want to help ease the suffering of breast cancer victims and join the fight against this monstrous disease, donate your car to Breast Cancer Car Donations.
Why Join Akron, Ohio Car Donations?
When you donate to our Akron, Ohio car donations program, you will make a big impact on the lives of needy breast cancer patients and their families as well. The proceeds from the sale of your donated car will go directly to our non-profit partners that are the ones directly in the front line in the battle against breast cancer. They use the funding they get from Breast Cancer Car Donations to provide financial assistance to indigent breast cancer patients, boost research on breast cancer treatment, and spread breast cancer awareness among the public to facilitate treatment.
Our partners are America's most notable and trustworthy breast cancer non-profit organizations. They are American Breast Cancer Foundation (ABCF) and Women Involved In Nurturing, Giving, Sharing, Inc. (WINGS).
Benefits for Akron, Ohio Car Donors
Another great thing about taking part in our Akron, Ohio car donations program is that you will receive substantial rewards for your generosity. Here are some of the benefits that await you:
Get rid of an old vehicle that you no longer need for free.
Avoid the hassle of selling your car.
Give space in your garage for your potentially new car.
Save money as you don't need to have it repaired or pay your car insurance and registration.
We handle everything, including paperwork and towing services
Get that rewarding feeling, knowing you did something pretty spectacular for your fellow Americans.
Get a top tax deduction.
Types of Vehicles We Accept for Donation
We at Breast Cancer Car Donations accept vehicles of all sorts. We rarely turn down a vehicle donation. Even if the vehicle you're donating is not running anymore because of some mechanical problems, even if its body has scratches and dents, we will most likely still accept it. What we don't accept, however, are abandoned vehicles with no ownership, and those that have little or no value anymore because of extensive damages.
Here are examples of vehicles that we accept:
Common vehicles: cars, SUVs, pickup trucks, vans or minivans
Recreational vehicles: campers, trailers, five-wheelers, motorhomes, travel trailers, and toy haulers.
Motorcycles: standard motorcycles, cruiser, touring, sports bikes and scooters
Watercraft: boats, fishing boats, pontoon boats, yachts, jet skis, sailboats, and motorboats
Special vehicles: golf carts, ATVs, snowmobiles, farm equipment, motorized wheelchair, and tractors
If you are not certain about the eligibility of the vehicle you intend to donate, give us a call or check out our accepted vehicles page.
Our Akron, Ohio Car Donations Process
We have a very easy, quick, and highly convenient car donations process. All you need to do is to take that phone and give us a call at 866-540-5069 or fill our online donation form. We will need to gather a few details about yourself and the car you're donating for both options. We will then schedule a convenient date and time for the pickup with your approval.
Before we tow your car, we will issue you a donation receipt that will allow you to legally cancel your car registration and insurance.
We will then auction off your car. Once the latter is sold, we will transfer the proceeds to our non-profit partners.
A few days later, we will send you by mail your tax-deductible sales receipt. The amount indicated there will serve as the basis of your tax deduction claim when you file your itemized tax return.
Get Ready to Donate!
Take part in our Akron, Ohio car donations program to help save the lives of breast cancer victims here in Akron, Ohio. Contact us at 866-540-5069 and donate a car for their benefit.
If you know someone from other parts in the U.S., spread the good news because we also do car donations in all 50 states!
or Call Us Now at 866-540-5069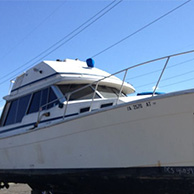 Excellent customer service!