Canton, Ohio Car Donations
Donate Your Vehicle and Save Lives!
Canton, Ohio Car Donations: Turn Your Old Vehicle Into a Source of Hope for Breast Cancer Victims
Do you know that a car donation in Canton, Ohio can provide a tremendous amount of support for a lot of people battling breast cancer? It is so simple yet it creates a huge impact on hundreds, perhaps even thousands, of lives.
If you're planning to dispose of your old car that you no longer find interesting, you might as well put it to good use by donating it to our Canton, Ohio car donations program. Your dusty old car may mean nothing to you now, but to people dealing with breast cancer, trust us, it's a huge thing. Breast Cancer Car Donations will turn your old car into a source of funding that will be used to provide various life-sustaining services to breast cancer patients who could not afford the high cost of treatment for the disease that has befallen them.
By taking part in our Canton, Ohio car donations program, you'll ease the difficulty of these people in their battle against breast cancer and, hopefully, enable them to beat the monstrous disease.
The proceeds from the sale of your car donation will go to our reputable non-profit organization partners: the American Breast Cancer Foundation (ABCF) and Women Involved In Nurturing, Giving, Sharing, Inc. (WINGS). With this funding, they will be able to continue what they do best: reaching out to people with breast cancer and helping them. You will also empower these non-profits to continue doing research on more effective ways to detect, diagnose, and treat breast cancer and to spread breast cancer awareness to more places in the United States.
Still unsure of whether to join our car donations program in the area? Let's make things clearer for you to help you decide.
How Do You Make a Car Donation?
Are you thinking that taking part in our Canton, Ohio car donations will take too long to process? That there will be hidden fees and a lot of paperwork? We are here to tell you that you have nothing to worry about. Our car donation process is quick and simple. Definitely, we will not collect any fees from you. We will even shoulder the cost of the towing service. With regards to paperwork, we will take care of that, too.
Here are the three simple steps of our car donation process:
Either call us at 866-540-5069 or fill out our online donation form. You need to tell us a few details about yourself and the car you're donating such as its year, make, and model. Tell us your preferred time and date for towing your car. Shall we pick it up in your home?
We will arrange for a licensed towing company to pick up your car. You don't have to be present during the towing. We will give you your donation receipt that releases you from all liabilities on your car, giving you the right to cancel your car insurance and registration.
We will then sell your car at auction. Within 30 days, we will send you by mail your IRS tax-deductible receipt. You'll need this document to support your top tax deduction claim when filing your federal tax return.
Once your car is sold, the proceeds will go straight to our non-profit partners.
If you have questions on anything about our Canton, Ohio car donations, please give us a call. We will gladly answer all your queries. You can also check out our frequently asked questions page for answers that may help you.
Will Any Vehicle Make the Cut in Our Canton, Ohio Car Donations?
Of course! Your car will definitely make the cut in our Canton, Ohio car donations program. Here at Breast Cancer Car Donations, we accept nearly all types of vehicles regardless of their age and condition. Even if your car doesn't run anymore or has scratches and dents on its body, we will still accept it! The only vehicles we cannot accept for donation are those that have been abandoned or stolen since those vehicles have no legitimate titles. Without titles, we cannot sell those vehicles.
We also gladly accept multiple Canton, Ohio car donations. Here are the common types of vehicles we accept for donation:
Cars: sedans, vans, SUVs, trucks, motorcycles
Boats and watercraft: sailboats, motorboats, fishing boats, yachts, pontoon boats, houseboats, personal watercraft (like jet skis)
RVs: recreational vehicles, motorhomes, campers, travel trailers, pop-up trailers, fifth wheelers
Specialty vehicles: ATVs, snowmobiles, motorized wheelchairs, riding lawn mowers, tractors, farm equipment
Fleet vehicles: cars, passenger vans, cargo vans, SUVs, pickups, trucks, buses
Non-commercial airplanes
Why Pick Breast Cancer Car Donations?
When you donate a vehicle to our Canton, Ohio car donations program, you'll not only extend a helping hand to needy breast cancer victims; you'll also be helping yourself by way of the benefits you stand to receive. Expect to receive these perks when you donate a car to Breast Cancer Car Donations:
Top tax deduction! You'll deduct the selling price of your auctioned vehicle, or its fair market value (if not exceeding $500), from your itemized federal tax return.
No need to sell your car by yourself! We will do that for you.
Get rid of that old unwanted car filling up space in your garage.
Quit paying for insurance and maintenance on a vehicle you haven't been using for a long time now.
Give yourself that great feeling of satisfaction knowing you delivered hope to people with breast cancer and their families
What Are You Waiting For?
Now that you know what our Canton, Ohio car donations program is all about, the donation ball is now in your court. Are you ready to donate a car for the benefit of breast cancer patients in your own city? We sure do hope so. Contact us at 866-540-5069 and start your car donation process!
or Call Us Now at 866-540-5069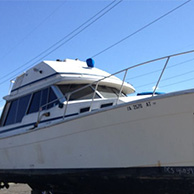 Excellent customer service!