South Carolina Boat Donations
Donate Your Vehicle and Save Lives!
Bring Sunshine into Other People's Lives Through South Carolina Boat Donations
How do you feel about putting that old and unwanted boat of yours to good use by donating it to our South Carolina boat donations program? If you need a lifestyle change and that boat just has to go, donating it to Breast Cancer Car Donations would be the most practical solution for you. That way, you'll not only get to free yourself from a vessel you no longer need, you'll also get to make a difference in somebody else's life!
Check Out Your Awesome Donation Rewards!
As a generous donor, you'll be handsomely rewarded for taking part in our South Carolina boat donations fundraiser! If you think about it, it's really a win-win situation! Here are some of the major rewards you could enjoy:
Skip the hassles of selling the boat on your own.
Looking for prospective buyers and handling all the paperwork that comes with the sale is far from easy. Plus, selling also means putting up signs and ads to let everyone know the boat is up for grabs – not to mention the viewing times you need to schedule for each prospective buyer.
Knock off extra expenses for a boat you're not using anymore.
We all know that winter storage and marina fees don't come cheap. To top it all off, general upkeep and occasional repairs are other sources of expenses.
Get rid of your extra, unwanted or decrepit boat for FREE.
All boat donations made through the service of Breast Cancer Car Donations will entitle you to free towing services! A licensed towing company will pick your vessel at no cost and at a date, time, and place most convenient to you.
Receive a hefty tax deduction for your vehicle.
This deduction would be based on your vessel's actual sale price at auction.
Get a sense of fulfillment knowing that you'll be helping thousands of individuals.
Your donation will give countless people with breast cancer a real chance at surviving it.
Breast Cancer Can Affect Anyone
According to Ambry Genetics, breast cancer is a deadly disease that can affect anyone regardless of gender, race, and health condition. Everyone has a chance to develop breast cancer. True enough, about 292,130 women and 2,350 men in 2014 suffered from this deadly disease.
In South Carolina, a 2014 report by the South Carolina Cancer Alliance estimated 3,750 new cases of breast cancer. Ranking 13th in the nation for breast cancer deaths, South Carolina accounted for about 670 breast cancer deaths in 2014.
Hope Is A Ray of Sunshine
When you think about South Carolina, the Palmetto State, what pops into your mind is probably their string of breathtaking beaches, or their charming little towns and long summers. What you don't know is, South Carolina is a state that brings sunshine not only to those who need a good sun-kissed glow but also to the lives of those who are in need. Today, you can bring hope that shines even brighter than the noonday sun into the lives of these people.
What South Carolina Boat Donations Can Do
By taking part in our South Carolina boat donations program, you'll be able to support a worthy cause and actively help in life-saving missions such as:
Research funding for breast cancer treatment;
Prevention, screening, and diagnosis of breast cancer;
Effective treatment and rehabilitation of men and women suffering from breast cancer;
Financial assistance to uninsured and underserved Americans battling breast cancer;
Support for breast cancer patients' families and support systems;
Campaigns to raise public awareness of the causes, symptoms, prevention, and detection of breast cancer.
We have been tirelessly fighting breast cancer for more than 20 years now, and we have effectively helped hundreds of thousands of people in the country. Standing at the forefront of fundraising, Breast Cancer Car Donations doesn't work alone. Behind us are highly esteemed nonprofit organizations including American Breast Cancer Foundation (ABCF) and Women Involved in Nurturing, Giving, Sharing, Inc. (WINGS).
Together, they make the world a better place and continue to fight breast cancer. Join us by donating your unwanted vehicle!
We Need Your Help!
Ready to donate? The process is extremely simple!
Simply call us at 866-540-5069 or go online to fill out our donation form. This will only take two to three minutes of your time. All we need is a quick rundown of your boat's information including its make and model, year and general condition. You also need to leave your contact details so that we can easily get in touch with you as well.
After arranging for a convenient day, time, and place for pickup, a licensed towing company will haul your boat for FREE. You don't have to worry because we are currently affiliated with some of the best professional towing companies in the country and we can guarantee a seamless transaction.
Upon the sale of your boat, its 100-percent tax-deductible sales receipt will be sent to you via mail. This document will be helpful when you claim your tax deductions in your itemized federal income tax return for the next tax-filing season.
Donating Another Vehicle? No Worries!
If you intend to donate another vehicle other than your boat, Breast Cancer Car Donations is open to accept multiple donations. We have an extensive list of vehicles acceptable to us for donation. The more common ones are:
Cars, vans, SUVs (sport utility vehicles), trucks, motorcycles
Fleet cars, passenger vans, cargo vans, SUVs, pickups, trucks, buses
Recreational vehicles (RVs), motorhomes, campers, travel trailers, pop-up trailers, 5-wheelers
Sailboats, motorboats, fishing boats, yachts, pontoon boats, houseboats, personal watercraft (i.e. Jet skis)
ATVs, snowmobiles, motorized wheelchairs, riding lawn mowers, tractors, farm equipment
Airplanes, jet planes, other types of flying vessels
Help Make Lives Better
You can make a difference in this world by giving up an unwanted thing like your old boat. Contact us at 866-540-5069 to join our South Carolina boat donations program and enjoy free pickup services and maximized tax deductions now!
or Call Us Now at 866-540-5069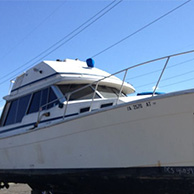 Excellent customer service!