Ski Boat Donations
Donate Your Vehicle and Save Lives!
Dispose of an Unwanted Watercraft for a Worthy Cause
Believe it or not, your old and worn-out ski boat that you might have deemed useless can be transformed into a powerful weapon in the fight against breast cancer. How's that possible? Allow us to explain.
We at Breast Cancer Car Donations are on a lifelong mission to support breast cancer-stricken individuals throughout the country. We operate vehicle donation programs in all parts of the U.S., which means that everybody can take part and extend their helping hands to their fellow Americans who have fallen victim to this nefarious disease.
When you donate your ski boat to us, we'll sell it and use the proceeds to support the life-saving programs and services of our IRS-certified 501(c)3 nonprofit partners. These programs and services include:
Financial assistance for uninsured patients who need to undergo screening, diagnosis, and treatment;
Funding for ongoing research on breast cancer cure and treatment;
Organizing charity events and fundraisers for the benefit of breast cancer patients and their families;
Spreading public awareness through information campaigns; and
Counseling services for patients, survivors, and their families.
How Our Donation Process Works
One of the many things you'll love about Breast Cancer Car Donations is our fast and convenient donation process. We always see to it that our donors wouldn't have to go through a troubling experience when making a ski boat donation. Contacting us is the only task you'll need to do. Everything else will be taken care of by our team of donation experts.
Here's a simple three-step guide to our donation process:
1. Contact us.
Once you're ready to hand over your unneeded ski boat to us, just get in touch with us either by calling us at 866-540-5069 or by filling out our online donation form. Tell us a few basic details about your ski boat.
2. We tow your boat.
We'll call you back to schedule your ski boat's free pick-up and towing based on your preferred date, time, and place. This service won't cost you a single dime. On the day of pick-up, be sure that your vessel is ready to be taken out of its storage. Depending on your state's policy on title transfer, we might require you to submit your boat title. In case you've lost the title, tell us about it and we'll help you get a replacement copy of your title as soon as possible.
We'll issue you a towing receipt before we take your donation. You can use this receipt to cancel your boat's registration and insurance coverage.
3. You receive your tax-deductible receipt.
We'll have your ski boat donation sold at an auction. A few weeks after the sale, we'll send you by mail your 100-percent tax-deductible sales receipt. The receipt will indicate the selling price of your boat, which serves as the basis for your tax deduction claim when you file your itemized income tax return in the next tax season.
Got a question for us? Call us anytime at 866-540-5069 or leave us a message here. You may also check out our FAQs page for more information on our donation program.
Perks to Expect When You Make a Ski Boat Donation
Did you think that your donation will only benefit the underprivileged and uninsured breast cancer patients in your local area? Think again! At Breast Cancer Car Donations, everybody benefits – and they include you!
By choosing us as your partner in charity, we'd like to express our thanks in so many ways. Here are some of them:
Get the maximum tax deduction!
Have your ski boat picked up for free – anytime and anywhere you prefer!
No paperwork for you to deal with!
Skip the headaches of selling an old and damaged vessel!
Free yourself from the financial woes of owning a ski boat!
No need to get your boat in a presentable shape when you donate it!
Know what it's like to be a local hero!
Other Types of Vessels and Vehicles You Can Donate
If you have other marine vessels or motor vehicles you'd like to dispose of besides your ski boat, you can donate them to us as well. Breast Cancer Car Donations accepts nearly all types of boats and motor vehicles. Here is a list of the various types of vessels and vehicles that we have been receiving from our donors:
Boats: fishing boats, tugboats, speedboats, pontoon boats, yachts, cruise ships, catamaran boats, sailboats
Cars: luxury cars, sports cars, wagons, hybrids, hatchbacks, sedans, coupes, convertibles
Trucks: extended cab pickup, panel trucks, box trucks, pickup trucks
SUVs: compact, midsize, full-size or crossover versions
Vans: camper vans, cargo vans, passenger vans, family minivans
Motorcycles: scooters, touring bikes, off-road bikes, cruisers, sports bikes,
Recreational vehicles: motorhomes, snowmobiles, Jet Skis
Aircraft: gliders, helicopters, private non-commercial planes
Specialty vehicles: ATVs, golf carts, riding lawnmowers, motorized wheelchairs
Work-related vehicles: buses, construction vehicles, large trucks, farm equipment, landscaping vehicles
Build Hope with Us Now!
Help increase the number of breast cancer survivors in your local area. It only takes a simple ski boat donation to make that happen. Call us at 866-540-5069 or fill out our online donation page now!
or Call Us Now at 866-540-5069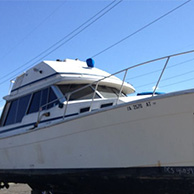 Excellent customer service!