Center Console Donations
Donate Your Vehicle and Save Lives!
Center Console Donations: Show Breast Cancer Patients There Is Hope
Are you aware that making a center console donation with us can make you an instant hero to the struggling breast cancer patients in your community? By teaming up with us at Breast Cancer Car Donations, you can help improve their chances of beating the disease. You'll be helping them get free access to local facilities that offer quality breast health services and resources.
No matter how old or damaged your center console might be, we'll accept it once you donate it to us. While your boat might not operate that well anymore, we can still use it to help fund the critical programs and services of our IRS-certified 501(c)3 nonprofit partners. We'll sell it through auction and transfer all proceeds to these charities, helping them achieve the following objectives:
Provide assistance to breast cancer patients and survivors who are struggling financially;
Help uninsured and underprivileged patients gain access to medical facilities that offer free breast cancer screening, diagnosis, and treatment;
Raise awareness about the prevention, early detection, and causes of breast cancer;
Fund ongoing breast cancer research; and
Organize local fund-raising events to support patients and their families.
Amazing Perks You Can Look Forward To
When you make a center console donation to us, you'll receive plenty of rewards. Excited to know what we have in store for you? Here are some of them:
We'd love to maximize your tax deduction from your center console donation. We'll do this by delivering your boat to one of the best auction houses in our nationwide network where we will sell it at its highest possible price.
We take care of your paperwork.
We know how frustrating it is to have documents scattered all over your desk. That is why we're sparing you from such a burden!
Dispose of your unneeded watercraft at no cost to you.
With our free pickup and towing services available in all 50 states, there's no reason for you to worry about looking for a towing company to haul off your boat and pay for its services.
No need to look for a buyer.
Selling a used vessel can be a time-consuming and grueling process. You'd need to post advertisements, entertain prospective buyers, and make necessary repairs to make your boat sellable. Rather than get terrible headaches from those actions, you might as well dispose of your boat with just one short phone call to us.
When you've finally gotten rid of your center console, you can finally breathe easy knowing that you have no more costly repairs, insurance, and maintenance fees to pay!
An Overview of Our Center Console Donation Process
At Breast Cancer Car Donations, we make sure that our donors go through a stress-free and satisfying donation experience. We do that by having our donation experts handle all the necessary paperwork on behalf of our donors.
If you're ready to make a center console donation to us, here's a step-by-step guide to the process:
1. Reach out to us.
The first and only thing you need to do is contact us. You can either call our hotline 866-540-5069 or fill out our online donation form. We'll ask for certain details regarding your vessel, as well as your personal contact details.
2. We pick up your center
After verifying the information you provided us, we'll call you back to set a schedule that's convenient for you for the free pickup and towing of your center console. We'll coordinate with a licensed towing company to haul your vessel away, after which you will be handed a tow receipt. You'll need this receipt to de-register your boat and cancel its insurance coverage.
3. You receive your tax-deductible receipt.
We'll auction off your boat. Once it is sold, all proceeds will go directly to our charity partners. Within 30 days after the sale of your donated watercraft, expect your 100-percent tax-deductible sales receipt to arrive in your mail.
If you want to know more about tax deductions, our donation process, and other related matters, check out our FAQs page. For any questions or concerns that you may still have, call us at 866-540-5069 or send us a message online.
Other Types of Watercraft and Vehicles We Accept
Want to know what other watercraft donations we accept besides center console donations? Find out below!
Catamarans
Pontoon boats
Jet Skis
Tugboats
Trawlers
Yachts
Cabin cruisers
Houseboats
Motorboats
Bowriders
Ferries
Electric boats
Ships
Water scooters
Boston Whalers
Chris-Craft boats
Center consoles
Cuddy cabins
Fishing boats
Speedboats
Cruise ships
Sailboats
If you want to know the other types of vehicles that you can donate to us, browse through our Accepted Vehicles page.
Are you embarrassed to offer us a damaged watercraft? No reason to feel that way! As long as we see that there's still some good-enough cash value to it, we'll be more than happy to consider it ours!
Saves Lives with Breast Cancer Car Donations Now!
Turn your decrepit boat into a source of hope for breast cancer victims in your community today! Make a center console donation with us by giving us a call at 866-540-5069 or filling out our online donation form now!
or Call Us Now at 866-540-5069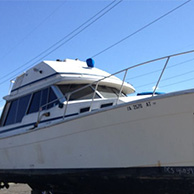 Excellent customer service!