Bus Donations
Donate Your Vehicle and Save Lives!
Help Save Lives of Breast Cancer Victims with Your Bus Donations
Old buses that have been phased out by a transport company can immediately regain their worth back once they're handed over to us at Breast Cancer Car Donations. We'll transform those buses into powerful fund-generating tools to help our charity partners in their relentless battle against breast cancer and their unceasing effort to provide life-saving assistance to victims of this devastating disease.
If you are the owner of outdated and soon-to-be-phased-out company buses or if you represent the owner, donating those buses to us will surely make a huge difference in your community. We will auction them off and use the proceeds to help fund the comprehensive breast health services being provided by our charity partners.
These IRS-certified 501(c)3 nonprofit organizations provide uninsured and underserved breast cancer patients with easy access to medical facilities where they can undergo full treatment, which includes surgery, chemotherapy, and radiation treatment. These charities also provide breast cancer survivors with follow-up care such as laboratory work, annual mammograms, and physician visits five years after remission. Other beneficiaries receive free breast cancer screening and prevention and education services.
Our Hassle-Free and Straightforward Donation Process
At Breast Cancer Car Donations, we guarantee all our donors a most satisfying giving experience. Our donation process is free of complications and wearisome paperwork. We have a team of donation experts who'll get the job done on your behalf. Just reach out to us, tell us that you'd like to make bus donations to us, and that's it for you!
To get a clearer idea of our fast and convenient donation process, check out this three-step guide:
Step 1: Get in touch with us.
You have two options in making your donations: Either contact us at our hotline 866-540-5069 or fill out our online donation form. Provide us a few details about the buses you're donating, such as their makes and models, general condition, and title availability. Tell us your preferred time, date, and location for their free pickup.
Step 2: We collect your bus donations.
We'll assign a licensed towing company to haul off your buses wherever they're located. Before we take your vehicles, we'll issue a towing receipt for each of the buses you're donating. These receipts release you from any liability on those vehicles from that point forward. The receipts also allow you to cancel the registration and insurance coverage of your buses.
Step 3: Get your tax-deductible receipts.
We'll have your bus donations auctioned off. Within 30 days following their sale, we'll send you the 100-percent tax-deductible sales receipt of each of those buses. You'll need these receipts in claiming your deductions when you file your itemized tax returns in the next tax season.
Should you have any inquiries or concerns, feel free to call us at 866-540-5069 or write to us online. We will respond to you as soon as we can. For more information on our vehicle donation programs, check out our FAQs page.
Why Make Bus Donations to Us?
Making bus donations to help provide life-saving assistance to breast cancer sufferers in your area will surely give you a rewarding feeling. This is so because you'll be giving these patients hope of beating the devastating disease that has befallen them.
Aside from that, you stand to receive material rewards for your charitable contribution to us. Here are some of the perks you'll get to enjoy once you decide to donate your buses to Breast Cancer Car Donations:
You'll receive hefty tax deductions.
Once your buses are auctioned off, we'll send you your tax-deductible sales receipts. We will exert our best effort to sell your vehicles at their highest possible prices so you can claim a maximum tax deduction for each of them.
You'll get to dispose of your unwanted buses for free.
You won't need to pay for the cost of towing your buses because it's on us! Aside from the added convenience of choosing the time, date, and place of your buses' pickup, we won't even require you to be present when we haul off your buses.
All paperwork is efficiently handled by our staff.
This includes the issuance of your towing receipts, the processing of your title ownership transfers, the delivery of your tax-deductible receipts, and anything else that has to do with legal documents.
With your buses off your hands, you no longer have to pay for their costly maintenance, repairs, insurance, storage, and registration expenses.
Skip the costs and hassles of selling used buses yourself.
By donating your fleet of buses to us, you save yourself from wasting your energy and loads of cash on advertising, refurbishing your buses, and negotiating with prospective buyers.
The Other Types of Vehicles You Can Donate
We at Breast Cancer Car Donations are pleased to let you know that we accept various vehicle types aside from bus donations. We welcome all sorts of vehicle donations regardless of their age or physical state.
If you own other fleet vehicles such as SUVs, pickups, trucks, cars, passenger vans, cargo vans, limousines, ambulances, and taxicabs, you can donate them all to us. The same goes if you have other work-related vehicles such as construction vehicles, large trucks, farm equipment, and landscaping vehicles.
Here is a comprehensive list of the other types of vehicles you can turn over to Breast Cancer Car Donations:
Cars: sedans, luxury cars, coupes, convertibles, hybrids, sports cars, wagons, hatchbacks
Vans: family minivans, camper vans, cargo vans, passenger vans
SUVs: compact, midsize, full-size or crossover versions
Motorcycles: touring bikes, cruisers, scooters, off-road bikes, mopeds, sports bikes, choppers
Trucks: box trucks, pickup trucks extended cab pickup, panel trucks, refrigerator trucks, tank trucks
Boats: fishing boats, sailboats, tugboats, speedboats, houseboats, cruise ships, catamarans, pontoon boats, yachts
Specialized vehicles: riding lawnmowers, motorized wheelchairs
Others: noncommercial planes; campers, travel trailers, snowmobiles, Jet Skis, RVs, motorhomes, pop-up trailers, ATVs
Join the Fight Against Breast Cancer Now!
Breast cancer has taken countless lives in the country. With your generous donations, the numbers can definitely go down. Show the breast cancer sufferers in your area that they're not alone in their fight for survival. Call us at 866-540-5069 today or fill out our online donation form to make your bus donations now!
or Call Us Now at 866-540-5069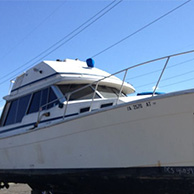 Excellent customer service!