Fontana, California Car Donations
Donate Your Vehicle and Save Lives!
Fontana, California Car Donations: Old Clunkers Beat Breast Cancer
You may think that the rusty old clunker gathering dust in your backyard is good-for-nothing. It may thus surprise you to know that such a vehicle could still save countless of lives in your community if you decide to donate it to our Fontana, California car donations program. With such a donation to Breast Cancer Car Donations, you can be sure that all proceeds from its sale will be used for the benefit of people who have been diagnosed with breast cancer.
Breast Cancer: Then and Now
People often whisper when they talk about cancer. That's because cancer is one of the deadliest diseases that most people dread. In fact, breast cancer remains as the second leading cause of cancer deaths in the United States.
Situated along the San Bernardino Mountains, Fontana is a vibrant city that's known for its diversity as well as its sporting, recreational and cultural opportunities. Popular attractions include the Todd Prather Art Gallery, Historic Route 66 Museum and Auto Club Speedway. Nature lovers may enjoy exploring the Mary Vagle Nature Center or hiking the Jurupa Hills North Trail. The area is also home to some local cancer treatment centers, including Fontana Medical Center on Sierra Ave. and Riverside Community Hospital Cancer Center on Brockton Ave. 
In San Bernardino County, the average annual count for cancer deaths is 554. Moreover, the poverty rate for residents of Fontana with income below the poverty level is 11.4%. In the state of California, it's 11.8%. Those living in poverty may have trouble funding their cancer treatments. Fortunately, Breast Cancer Car Donations actively works to help these individuals through our car donation program. 
By contributing an old or unused vehicle to our program, you can help us fight breast cancer. The proceeds from your donation will be used to fund organizations that are battling this disease. We accept many types of vehicles and offer free towing as well as a tax deduction for your car.  
Be a Hero the Fontana Way
Through the years, we at Breast Cancer Car Donations have been operating and managing vehicle donations such as our Fontana, California vehicle donations program. We do this on behalf of our nonprofit organization partners that are focused on providing comprehensive breast health services for all individuals all over the country. These services include:
Helping uninsured and underserved breast cancer patients gain access to medical facilities for screening, diagnosis, treatment and proper care;
Funding research for the most effective treatment of breast cancer;
Providing financial support to breast cancer patients, survivors, and their families;
Promoting campaigns to the public so they would be aware of the causes, signs, symptoms, early detection and prevention of breast cancer.
You can be a part of something that's bigger than yourself – something that would tremendously affect individuals, families, and communities in a positive manner. This can happen if you decide to join our cause. Donate a car for charity today by calling 8665405069.
One Old Car Can Make a Difference
If you have an old vehicle that you no longer need, why don't you put it to good use by donating it to our car donations program in the city? We accept nearly all types of vehicles. We also welcome multiple car donations for cancer.
Here are the most common vehicles that we accept:
Cars, sedans, vans, SUVs, trucks, motorcycles;
Recreational vehicles, motorhomes, campers, travel trailers, pop-up trailers, 5-wheelers;
Fleet vehicles, passenger vans, cargo vans, SUVs, pickups, trucks, buses;
Boats, sailboats, motorboats, yachts, fishing boats, pontoon boats, houseboats, personal watercraft such as jet skis;
All-terrain vehicles (ATV), tractors, motorized wheelchairs, riding lawn mowers, snowmobiles, farm equipment;
Airplanes, helicopters, and other non-commercial aircraft.
It doesn't matter if your vehicle is in non-running condition! We accept vehicles in nearly any shape – with or without missing parts.
The Best Part – Your Rewards!
Your generous giving to our Fontana, California car donations program will reap you benefits that you would surely enjoy! Check these out:
You can contribute to charity and help give a second chance at life to those who are suffering from breast cancer.
You can experience a sense of fulfillment by supporting a life-saving cause.
You can conveniently get rid of an obsolete car for FREE!
You can avoid the hassles of selling the car yourself – no need to put up ads and scout for interested buyers.
You can get rid of additional and unnecessary expenses for car insurance and maintenance.
You won't handle the paperwork – we got this covered — from title transfer to tax deduction receipt issuance.
You can get financial advantages by deducting your charitable contribution from your next income tax return.
Your Pleasant Giving Experience
The entire Fontana, California car donations process is simple, fast and best of all, FREE.
Step 1: Tell us all about it!
To get you started on your philanthropic mission, all you need to do is to give us a call at 866-540-5069 or fill out our online donation form. Give us an overview of your vehicle by giving us information such as the make and model, model year, current mileage, general condition, and of course your contact details.
Step 2: Schedule a pickup date!
A professional towing company will pick up your vehicle for FREE. You don't even have to be around during the pickup if you have to be somewhere else. Before we take away your vehicle, we'll give you a towing receipt that releases you from any liabilities on the vehicle you're donating from then on. You can use this receipt to cancel your vehicle's registration and insurance coverage.
Step 3: Enjoy equitable tax deduction!
To thank you for your generosity, Breast Cancer Car Donations will give back something that you can enjoy and benefit from. Within days after the sale of your vehicle at auction, we will send you by mail your 100-percent tax-deductible sales receipt. This document will support your IRS tax deductions when you file your federal income tax return.
Ready to Save Lives?
Contact us at 866-540-5069 today and get free towing services plus tax rewards for your Fontana, California car donations for breast cancer! We serve the entire area, including nearby Anaheim, Los Angeles and Riverside.
or Call Us Now at 866-540-5069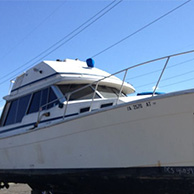 Excellent customer service!