Anaheim, California Car Donations
Donate Your Vehicle and Save Lives!
Anaheim, California Car Donations: Are You Ready to Join the Fight Against Breast Cancer?
Following a breast cancer diagnosis, many people afflicted with this illness find comfort in connecting with friends, family, and support groups. However, some of them choose to live quietly with their illness, making sure everything remains private.
That is because they fear that their loved ones would worry especially when talks about prognosis and treatment are going on, or they may want to avoid being tagged as sick at home and at work.
In the United States, hundreds of thousands of women are suffering from breast cancer, some of them living here in Anaheim, California. Some of them are lucky enough to be diagnosed at an early stage of cancer. Increasing breast awareness is an effective method to reduce the incidence of breast cancer.
For this reason, Breast Cancer Car Donations is working hard in spreading information about the deadly disease and its devastating impact on women and their families. Our Anaheim California car donations program encourages everyone to support the fight against breast cancer through car donations.
Anaheim, California: The Heart of Orange County
Anaheim, California was incorporated as a city in 1878. It is known to be the 10th largest city in California. Anaheim is in southern California where the Santa Ana River runs through, 36 miles southeast of Los Angeles and 15 miles east of the Pacific Ocean.
As of 2016, there are around 39.25 million people living in California. Of this number, roughly 351,000 live in Anaheim.
Anaheim came into prominence in 1857 with the arrival of German migrant farmers. In 1955, Disneyland started its operation here. The Anaheim Convention Centre, which is the biggest on the west coast, is situated in Anaheim. Hospitality became a large part of the economy.
The city manages its own utilities. It provides its residents and businesses lower rates compared to other municipalities.
There are several historical, cultural, and leisure attractions in Anaheim including the Disneyland Resort, the Featherly Regional Park, Yorba Regional Park, the Anaheim Museum, and the Ramon Peralta Adobe Historic Site.
Latest Breast Cancer Statistics in the U.S.
This 2018, BreastCancer.org estimates that 266,120 new cases of invasive breast cancer would be diagnosed in women in the United States as well as 63,960 new cases of non-invasive (in situ) breast cancer.  To put the situation in clearer perspective, the projection is that about one in eight U.S. women (or about 12.4 percent) will develop invasive breast cancer over the course of her lifetime.
As of January 2018, records show that breast cancer has so far afflicted more than 3.1 million women, including those currently being treated and those who have finished treatment.
About 40,920 women in the U.S. are expected to die in 2018 from breast cancer.
For women in the U.S., breast cancer death rates are higher than those for any other cancer, besides lung cancer. Besides skin cancer, breast cancer is the most commonly diagnosed cancer among American women.
Why Donate to Our Anaheim Car Donation Program?
When you donate your car to support a worthy cause, it's a great way to show you care for others. Whether it is an old pickup truck or a riding lawnmower that you want to do away with, when you donate your car to charity through our Anaheim, California car donations program, you will play a vital part in helping fight breast cancer.
Donating a car to us at Breast Cancer Car Donations involves a simple, fast, and convenient process. Moreover, you obtain lots of benefits by donating your old vehicle or truck to our Anaheim, California car donations program. Here are just some of them:
The donation process only takes a few minutes of your time.

We'll pay for the pick-up and towing of the vehicle you're donating.

Receive a hefty 

tax deduction

 for your donation.

Avoid the difficulties of selling your car.

No need to bother with paperwork – we do that for you.

Save money by not paying any more for car repair, registration, and insurance.

Support a worthy cause that will give you a deep sense of personal satisfaction.

More space in your backyard or garage to house your new car.
Vehicles You Can Donate in Anaheim, California
If you are not sure whether or not your vehicle is acceptable for our Anaheim, California car donations program, we have good news for you! We accept almost all makes and models of various vehicle types. And since we will pick up your car as soon as you complete the initial steps in the donation process, you do not need to be worried that your car is not in running condition.
The types of vehicles we accept for Anaheim, California car donations include cars, vans, trucks, SUVs, sports cars, riding lawn mowers, motorcycles, jet skis, various types of watercraft, and aircraft as well.
You can be certain that the proceeds from your car donation will be used to sustain and enhance the programs designed to support breast cancer victims.
Donate a Car to Fight Breast Cancer
Donating a car to our Anaheim, California car donations program is a powerful way to fight breast cancer, increase breast cancer awareness, and assist breast cancer victims. Are you ready to join the fight against breast cancer?
Contact us at 866-540-5069 and enjoy a well-structured Anaheim, California car donations experience from beginning to end. Donate today!
or Call Us Now at 866-540-5069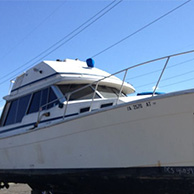 Excellent customer service!