Car Donation Antioch, California
Help Save Lives of Breast Cancer Victims
Do you have an old car that's just gathering dust and collecting rust while hogging up space in your garage? Are you thinking about how best to get rid of it?
If you donate that vehicle to us at Breast Cancer Car Donations through our Antioch, California car donations program, you'd give destitute breast cancer patients in your city greater chances of beating this deadly disease. Plus, you'd also get your hands off that unwanted vehicle for free with very little effort on your part.
Antioch, California at a Glance
With an estimated population of 111, 502 as of the July 2019 census, Antioch is the second-largest city in Contra Costa County, California. Lying along the San Joaquin River, the city was founded in 1849 and was first named Smith's Landing. The name was changed in 1851 to Antioch as the city started shifting from a small agricultural community to a major industrial complex.
How You Can Help Breast Cancer Patients in Antioch
By making a car donation to us in Antioch, California, you'll help us generate the money that our charity partners need to cover the cost of their operations. We'll sell your donated vehicle through an auction and use the proceeds to support the comprehensive breast health services that our charity partners provide to uninsured and underserved individuals in your city.
These IRS-approved 501(c)(3) nonprofits provide their beneficiaries with financial assistance and easy access to breast cancer screening, diagnosis, treatment, and follow-up care. Our charity partners also have referral systems for breast cancer patients to help them gain free access to local resources, services, and information. These charities are also involved in raising public awareness of the nature of breast cancer, how to prevent it, and the importance of early detection.
Our Donation Process  Super Convenient
Once you decide to donate your unwanted vehicle to Breast Cancer Car Donations, we will take care of everything for you. Imagine a hassle-free, fast, and cost-free way to get that machine out of your property while you help save the lives of breast cancer patients in your city. With our quick and simple donation process, expect to be treated to a most satisfying giving experience.
Here is our quick three-step guide to our Antioch, CA car donations program:
1. Reach out to us.
You have the option to donate your car over the phone by calling us at 866-540-5069 or by filling out our donation form on this website. We'll ask for your contact information and a few details about your vehicle such as its year, make, model, mileage, availability of its title, and working condition.
2. Tell us when, what time, and where you want us to pick up your vehicle.
We'll call you to make arrangements for your vehicle's free pickup and towing. We'll assign a licensed towing company to send its tow truck to pick up your vehicle. Once we get hold of your donation, we'll issue you a towing receipt. This releases you from all liability on your vehicle from that point onward. The receipt also allows you to cancel your vehicle's DMV registration and insurance coverage.
3. Receive your tax-deductible receipt by mail.
We'll coordinate with one of our vehicle liquidation vendors so that we can auction off your donated vehicle. Within a few days following its sale, we'll mail your 100% tax-deductible sales receipt to your given address. You'll need this document to claim your tax deduction when you file your itemized federal income tax return in the next tax season.
For more information about our donation process, tax deductions, and other related matters, feel free to visit our FAQs page. If you can't find there the answers to your questions, call us at 866-540-5069 or send us a message online and one of our donation specialists will be glad to answer all your queries.
We Accept a Wide Range of Vehicle Types
Feel free to donate almost any type of vehicle to our Antioch, CA car donations program. Even if the vehicle you're donating is no longer in good condition, even if it's no longer running, we'd still welcome it with open arms.
The only vehicles we can't accept are the ones that don't have titles or any document showing proof of ownership. This is simply because we cannot sell vehicles without these documents.
However, if you've lost your car title but would still like to make a car donation, give us a call at 866-540-5069. We'd One of our title experts would gladly help you obtain a duplicate copy of your title.
Take a look at the different types of vehicles we welcome in our car donations program in Antioch, California:
Cars: sedans, luxury cars, coupes, convertibles, hybrids, sports cars
Vans: family minivans, camper vans, cargo vans, passenger vans
SUVs: compact, midsize, full-size, or crossover versions
Motorcycles: touring bikes, cruisers, scooters, off-road bikes
Trucks: box trucks, pickup trucks extended cab pickup, panel trucks
Boats: fishing boats, sailboats, tugboats, speedboats, houseboats
Specialized vehicles: riding lawnmowers, motorized wheelchairs
Fleet vehicles: SUVs, pickups, trucks, buses, cars, passenger vans, cargo vans
Recreational vehicles: noncommercial planes; campers, travel trailers, snowmobiles
Work-related vehicles: construction vehicles, tractors, and farm equipment, buses
Your Generous Donation Won't Go Unrewarded
When you donate a vehicle to Breast Cancer Car Donations, it won't just be you doing the giving. You'll get your fair share of rewards, too!
Here are some of the rewards that you stand to receive for your Antioch, CA car donation:
You'll receive a top tax deduction in the next tax season.
You'll get free vehicle pickup and towing at your convenience.
We'll take care of all the logistics and the paperwork concerning your donation.
Quit paying for an unwanted vehicle's insurance coverage, registration, storage, maintenance, and repairs.
Experience the priceless joy and satisfaction of doing an act of charity that will help save lives.
Help Save Lives with Your Car Donation Today!
You can be a beacon of hope for breast cancer sufferers in your city. Your car donation will help provide lifelines to them. Take part in our Antioch, CA car donations program by calling Breast Cancer Car Donations at 866-540-5069 or filling out our secure online donation form now!
or Call Us Now at 866-540-5069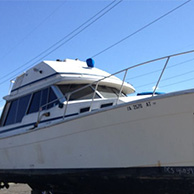 Excellent customer service!