Car Donation Antioch, California
Use Your Unwanted Vehicle to Join the Fight Against Breast Cancer in Your City!
If you're looking to dispose of your old car in a way that will make you proud, you'll find it when you donate that vehicle to us at Breast Cancer Car Donations. Your participation in our Antioch, California car donations program will go a long way in helping needy breast cancer patients in your city get the medical assistance they desperately need to survive.
About Antioch, California
Antioch is the third-largest city in Contra Costa County, California. It is located in the East Bay region of the San Francisco Bay Area along the Sacramento–San Joaquin River Delta. The latest U.S. Census Bureau estimates put its population at 115,264, with 7.7% of them listed as persons without health insurance under age 65 and 12.9% as persons in poverty.
Breast cancer is a prevalent health issue in Antioch just like other places in America. For those who are uninsured and impoverished, being diagnosed with the devastating disease is possibly the most frightening and distressful experience they'll ever have.
How Your Antioch, CA Car Donation Will Help Breast Cancer Sufferers in Your Area
You can help ease the worried minds of Californians diagnosed with breast cancer and pave the way for their full recovery by supporting Breast Cancer Car Donations through our Antioch, CA car donations program.
By donating to us any vehicle you no longer use or need, you'll help us deliver much-needed comprehensive breast health services for those who are battling breast cancer.
Our team will have your car auctioned off, with the proceeds used to support the life-saving programs and services of leading breast cancer nonprofit organizations that we have partnered with.
Thanks to your donation, these IRS-certified 501(c)(3) nonprofits will be able to provide uninsured and indigent breast cancer patients in your city with financial assistance to help cover the costs of their treatments, doctor consultations, hospital fees, medications, follow-up care, and other essential healthcare services.
Our charity partners also provide underprivileged individuals with easy access to local healthcare facilities where they can get free breast cancer screening and diagnosis. Moreover, they provide breast cancer survivors with follow-up care such as laboratory work, annual mammograms, and physician visits five years after remission.
These charities likewise make use of the funding they received to promote breast cancer awareness and provide prevention, education, and counseling services to the public.
Your Antioch, CA car donation will thus become a lifeline for those affected by breast cancer, providing them with the resources and support they need to survive.
The Amazing Rewards You'll Get from Your Antioch, CA Car Donation
Aside from helping save the lives of breast cancer sufferers in Antioch, CA, your car donation will bring you immense benefits. Here are some of them:
1. You will get the maximum tax deduction.
After your car is sold at auction, we will mail you your vehicle's 100% tax-deductible sales receipt. We will exert our best effort to sell your vehicle at its highest possible price so you can claim the highest possible tax deduction that can significantly lower your tax bill in the next tax season.
2. You'll get our free towing service.
Breast Cancer Car Donations will provide you with our free towing service at a date, time, and place convenient to you.
3. You'll enjoy our quick and easy donation process.
We guarantee that our donation process won't take so much of your time. Our team will handle the heavy lifting, which includes the logistics and all the required paperwork.
4. You'll save money.
The longer your unwanted vehicle stays with you, the more money you'll spend on car maintenance, insurance, and registration.  However, when you donate it to us, we will take this burden off your shoulders.
5. You'll experience emotional satisfaction.
There's no better feeling than supporting a mission that helps save lives. Your vehicle donation will allow you to directly contribute to funding critical programs and services to support disadvantaged breast cancer patients and their families.
Our Quick and Simple Vehicle Donation Process
We want you to have the most satisfying donation experience with us. That's why we'll make sure that you'll go through the smoothest, quickest, and most convenient donation process. You can count on our team to do all the work for you.
Here are the three easy steps in our Antioch, CA car donation process:
1. Contact us.
You can choose to jumpstart your donation process by giving us a call at 866-540-5069 or filling out our secure online donation form here. We'll need to have your name and contact information, as well as your vehicle's year, make, model, and mileage. We'll also ask you to confirm if you have the vehicle's title with you and to give us an idea about your car's working condition.
2. We tow your vehicle for free and at your convenience.
As soon as we receive your request and verify your given information, we'll get in touch with you as soon as possible to schedule your vehicle's fast and free pickup. We'll let you pick the date and time for us to collect your donation. A professional towing company will collect your car from a location of your choice at no cost to you. You'll receive a towing receipt from us on the same day. This will allow you to cancel your car's insurance coverage and de-register your car from your local DMV.
3. Receive your tax-deductible receipt by mail.
Following the sale of your vehicle, we'll mail you its 100% tax-deductible sales receipt. You can use this to claim your tax deduction when you file your itemized federal income tax return in the next tax season.
You can donate not just a car but almost any other type of vehicle regardless of its age or condition. Check out this page to find out what we've been getting from our donors.
If you have any questions or concerns, feel free to call us at 866-540-5069. You may also send us a message here. Check out our FAQs page for more information on our vehicle donation program.
Support Breast Cancer Sufferers in Your City Today!
Give your old car a new and meaningful purpose by donating it to support breast cancer sufferers in Antioch, CA. Call Breast Cancer Car Donations at 866-540-5069 or fill out our secure online donation form now!
or Call Us Now at 866-540-5069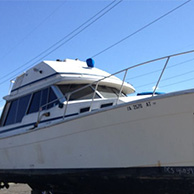 Excellent customer service!