Santa Clarita, California Car Donations
Join Santa Clarita, California Car Donations to Help Women Win the Fight Against Breast Cancer!
The last thing you need is a major car repair that's looming on the horizon. If you want to make your recent trip to the auto repair shop your last one, consider donating your old beater to us at Breast Cancer Car Donations through our Santa Clarita, California car donations program. You'll be amazed at how easy it is to rid yourself of a huge burden while helping others win the fight against one of the world's deadliest diseases – breast cancer.
We Can Beat Breast Cancer Together!
Receiving a breast cancer diagnosis marks the beginning of a journey that's painful in so many different ways. Not only does this disease take its toll on the body, but it also significantly affects the emotional and financial well-being of those diagnosed with it together with their families. Since breast cancer treatment is far from being cheap, the uninsured and underserved patients often decide to forego it altogether.
In case you're not aware, in the United States alone, a woman gets diagnosed with breast cancer every two minutes. In fact, one in eight American women is expected to develop invasive breast cancer within her lifetime. For women in the U.S., breast cancer is the second leading cause of cancer deaths, next to lung cancer.
According to the data published by the United States Census Bureau, the city of Santa Clarita had 210,089 residents. Incidentally, more than half of the city's population comprised of women and 9.4 percent had no health insurance.
Learn More About Santa Clarita
Nestled in a little valley just 30 miles north of Los Angeles, Santa Clarita boasts small town charm, sunny weather and stunning scenery. It's also home to many attractions including Vasquez Rocks, Gibbon Conservation Center, Six Flags Magic Mountain, The Gentle Barn and more. The area also has some local cancer treatment centers such as City of Hope Santa Clarita Radiation Oncology on McBean Pkwy and UCLA Health Santa Clarita Cancer Care on Tourney Rd.
According to the American Cancer Society, cancer rates across the nation have steadily declined. Overall, men are more likely to die from cancer than women. Breast Cancer Car Donations is dedicated to helping individuals with this ailment through our car donation program.
If you want to help your fellow city residents who are grappling with breast cancer, then join our Santa Clarita, California car donations program today!
It's So Easy to Provide Car Donations for Breast Cancer!
We want our donors to experience a seamless donation process that's both simple and straightforward. What's more, our team is always ready and willing to address all of your questions and concerns.
Here is our quick three-step guide to joining our Santa Clarita, California vehicle donation program:
1. Contact us.
Call us at 866-540-5069 or fill out our secure donation form on this website. Tell us the basic information that we need about you and about the vehicle you're offering to donate. As soon as we verify your given information, expect us to call you within 24 hours so that we can schedule your fast and FREE vehicle pickup.
2. We pick up your vehicle.
Once you've picked the date, time, and location convenient for you for your vehicle's pickup, we'll assign a licensed towing company to collect your vehicle. Before the company's towing team leaves, they'll hand you a towing receipt that clears you from all liabilities on your donated vehicle from that point onward. You can use this receipt to cancel your insurance coverage and to de-register your vehicle at the local DMV.
3. You receive your tax-deductible receipt.
We'll have your vehicle thoroughly assessed before we contact one of our vehicle liquidation vendors to arrange for your vehicle to be displayed at an auction. Within a few days after your car gets sold, we'll send you your IRS tax-deductible receipt by mail. You'll need this receipt in claiming your tax deductions when you file your itemized federal income tax return in the next tax season.
For more information about our donation process, tax deductions, and other related matters, feel free to visit our FAQs page. If you can't find there the answers to your questions, call us at 866-540-5069 or send us a message online.
What Are the Types of Vehicles You Can Donate?
We welcome any type of vehicle donation whether old or new, working or nonworking. The only vehicles we refuse to take are those that have been abandoned or stolen. Keep in mind that we'll need your proof of ownership so that we can auction off the vehicle you're donating.
Look over this comprehensive list of vehicle types that you can freely hand over to us in our Santa Clarita, California car donations program:
Standard vehicles
Cars: 

coupes, convertibles, hatchbacks, luxury cars, sports cars, hybrids, sedans, etc.

Trucks:

 pickup trucks, panel trucks, extended cabs, box trucks, refrigerator trucks, dump trucks, etc.

Vans:

 cargo vans, passenger vans, minivans, family vans, etc.

SUVs:

 crossover versions, compact, mid-size, and full-size
Fun vehicles
Motorcycles: 

touring bikes, dirt bikes, scooters, choppers, mopeds, off-road bikes, cruisers, etc.

ATVs: 

three-wheelers, four-wheelers

Boats: 

fishing boats, catamarans, cruise ships, yachts, tugboats, speedboats, sailboats, pontoon boats, etc.

Others: 

Jet Skis, RVs, noncommercial planes, gliders, golf carts, snowmobiles, campers, trailers, motorhomes, etc.
Work vehicles
Construction vehicles
Landscaping vehicles
Farm equipment
Other vehicles
Riding lawnmowers
Motorized wheelchairs
You'll Be Rewarded!
When you contribute car donations for cancer, you'll be able to reap meaningful rewards. In other words, your donation will have an impact on your life as much as it will on the lives of those who are on their breast cancer journey. Your share of benefits includes the following:
You will get a top tax deduction.
Once your car is auctioned off, we will mail to you your 100-percent tax-deductible sales receipt. We will exert our best effort to sell your vehicle at its highest possible price so you can claim a maximum tax deduction.
You'll get FREE car removal.
You don't have to pay for the cost of towing. With us, towing is absolutely free. Aside from this, we're willing to pick up your vehicle from any location in the country.
The longer your unwanted vehicle stays with you, the more money you'll spend on car repairs, maintenance, insurance, and registration. However, when you donate a vehicle to charity, we will take this burden off your shoulders.
Quick and easy donation process.
We guarantee that our donation process won't take so much of your time. Our team will take care of all the logistics and the required paperwork.
No stress in finding a car buyer.
Finding a buyer for your old car could be stressful and might take a long time. However, when you donate a car for charity, you won't have to go through the hassles associated with selling a second-hand vehicle yourself.
Help Save Lives with Your Car Donation Now!
Don't miss this chance to help others live! Join our Santa Clarita, California car donations program to help women win the fight against breast cancer! Call 866-540-5069 or fill out our online donation form to get started!
or Call Us Now at 866-540-5069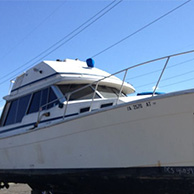 Excellent customer service!