Pasadena, California Car Donations
Donate Your Vehicle and Save Lives!
Pasadena, California Car Donations: Bring Hope to Breast Cancer Patients
You have no idea how important Pasadena, California car donations are to those within the area who are on their breast cancer journey. One of the worst things that could happen to any person is to be diagnosed with breast cancer — the second leading cause of death among women in the U.S. One of the best things that we could do to alleviate the stresses these people are facing is to donate a vehicle to help generate funding for their treatment. 
All About California's 'Crown of the Valley'
Before we get far too ahead of ourselves, allow us to give you a brief overview of Pasadena. This city was founded by a group of friends from Indianapolis who, during one severe Indiana winter, was seeking to form an investment group in the warmer climate of Southern California. Incorporated in 1886, Pasadena's name means "Crown of the Valley" in the Chippewa Indian language because of its lush vegetation and natural beauty.
Today more than 142,000 people live in Pasadena – 51 percent of which is comprised of females. What you may not be aware of is that based on statistics, one in every eight of these women will develop breast cancer within her lifetime. On average, one woman gets diagnosed with breast cancer every two minutes. Another woman dies because of the disease every 13 minutes.
Who We Are and What We Work Hard For
Breast Cancer Car Donations supports certified 501(c)3 nonprofit organizations by operating vehicle donations such as our Pasadena, California car donations program to raise funds for breast cancer programs on their behalf. We do this so that they could focus on strengthening and improving methods for preventing, diagnosing and treating breast cancer. We are proud partners of the following:
American Breast Cancer Foundation (ABCF)
ABCF's mission is to narrow down the disparity in access to breast cancer diagnosis and treatment among the poor. It gives full emphasis on the importance of providing education, medical access, and financial assistance to underserved and uninsured women in every state to enable early detection and treatment of their breast cancer.
Women Involved in Nurturing, Giving, Sharing, Inc.

 

(WINGS)
Since WINGS was founded in 1999 by two women, it's been committed to bridging the gap between breast cancer diagnosis and treatment by providing comprehensive breast health services including surgery, oncology services, hospital fees and medication as needed. Beyond treatment, WINGS is dedicated to raising breast cancer awareness and outreach.
Your Top Benefits!
When you do something to make other people's lives better, you make your life better as well. Donating a shabby old car to our Pasadena, California vehicle donations program would gain you more than you initially thought it would. Let's take a closer look at the perks you'd get for donating your car:
The convenience of going through a quick and painless donation process.
To show you how much we appreciate your act of generosity, we purposely made our donation process as simple as possible! It only takes three ridiculously easy steps to get rid of a clunker and save lives!
Get 100% FREE pickup and towing!
The eyesore that you've been itching to get rid of will finally be hauled away for free!  You don't even have to be present when the local towing company comes to pick up your car! Just tell them where they could find the keys and the title inside your car before they get there.
No insurance liabilities from the day of pickup!
Since our insurance coverage applies to the vehicle once it's picked up, you won't be liable for your car anymore as soon as we get our hands on it.
We won't let you handle the paperwork!
When you donate to Breast Cancer Car Donations for cancer, you won't have to deal with all required documentation. We'll cover everything for you — from title transfer to tax-deductible receipt issuance.
We work with certified 501(c)3 nonprofits, that's why your donation would qualify you for potential tax rewards. You can count on us to work hard so you could get a healthy tax write-off when you itemize your deductions on your federal tax return.
No need to sell your unwanted vehicle!
Selling a car isn't as easy as it may seem to be. You'd need to run some ads, haggle with potential buyers, negotiate with strangers, take some calls and get back to emails while you wait for a decent offer. When you decide to donate a car for charity, you won't have to go through all the trouble associated with selling.
Costly maintenance and repairs – begone!
It's undeniably true that the price of vehicle ownership skyrockets over time, especially when warranty and free maintenance periods are over. Save yourself the trouble of spending so much more than your car is actually worth by donating your car!
Have a clutter-free backyard!
If you donate your car for charity, you can finally knock that "clean up garage" item off your to-do list and get rid of the biggest clutter you have!
You Can Donate Other Types of Vehicles!
One good thing about donating to Breast Cancer Car Donations is that we accept almost all types of vehicles in our Pasadena, California car donations program as long as they come with your proof of ownership! There's also no limit to how many cars you want to donate at one time because we love multiple donations!
Another thing we'd like you to be aware of is that our title clerks will happily assist you if you've lost your vehicle's title. With their help, you can obtain a replacement title in no time!
Meanwhile, here's a list of vehicles that we commonly accept from donors:
Cars:

 sedans, vans, SUVs, trucks, motorcycles

Boats and watercraft:

 sailboats, motorboats, fishing boats, yachts, pontoon boats, houseboats, personal watercraft (like jet skis)

RVs:

 recreational vehicles, motorhomes, campers, travel trailers, pop-up trailers, 5-wheelers

Specialty vehicles:

 ATVs, snowmobiles, motorized wheelchairs, riding lawn mowers, tractors, farm equipment

Fleet vehicles:

 cars, passenger vans, cargo vans, SUVs, pickups, trucks, buses
How Does Our Car Donation Process Go?
Breast Cancer Car Donations takes pride in our easy-breezy Pasadena, California car donations process that's guaranteed to give our donors the best giving experience they could ever have. You can become a local community hero by following these three simple steps:
This is the part where you'd let us know of your intent to donate. We also need to have your personal contact details and the year, make, model, and mileage of the vehicle you're donating. Tell us also your vehicle's overall running condition and availability of its title.
Schedule your vehicle's pick-up.
Once you tell us your preferred time, date and place for your car's pickup, we'd arrange for a professional towing company to get the job done. After they haul your car away, they'd hand you a donation receipt showing that your clunker was picked up and that you're released from all liability from there on out.
Receive your tax-deductible receipt.
Within days after we sell your car at auction, you'd receive your tax-deductible receipt by mail. You can use this to claim your tax deduction when you file your itemized federal tax return.
Let's Help People with Breast Cancer Live Longer!
One of the most devastating things that could happen to a woman is when she gets diagnosed with breast cancer. The reality of dying and leaving behind everyone you love sinks in and you come face to face with fear. This feeling can be very isolating at most times.
With your car donation, every person diagnosed with breast cancer doesn't have to face fear alone. Call us at 866-540-5069 and get free towing services for your Pasadena, California car donations! We serve the entire Los Angeles area, including nearby communities such as North Arroyo, North Central, Bungalow Heaven, South Arroyo, and Hastings Ranch.
or Call Us Now at 866-540-5069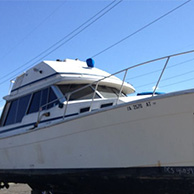 Excellent customer service!