Car Donation Brentwood, California
Support Needy Breast Cancer Sufferers in Your City!
Do you have an old car that's been sitting in your garage for ages? Are you looking to dispose of it in a way that will make you proud? If you do, you'll find what you're looking for when you donate that vehicle to us at Breast Cancer Car Donations through our Brentwood, California car donations program. Such a donation will make you a hero in the eyes of the needy breast cancer sufferers in your city whose lives you'll help save.
About Brentwood, California
Brentwood is a city in Contra Costa County, California, that's located in the East Bay region of the San Francisco Bay Area. According to the U.S. Census Bureau, Brentwood had an estimated population of 66,127 as of July 2022. More than 52% of its residents were listed as females and 6.6% as persons living in poverty, while 2.0% were identified as persons under 65 years who didn't have health insurance.
The city's impoverished residents who have no health insurance possibly include those diagnosed with breast cancer. By taking part in our Brentwood, CA car donations program, you can extend life-saving assistance to these destitute breast cancer patients.
How We Will Use Your Car Donation in Brentwood, CA
When you donate a vehicle to us, we'll turn your donation into a financial resource to help underprivileged Californians diagnosed with breast cancer.
We'll auction off your car, with the proceeds going straight to our nonprofit partners. These IRS-certified 501(c)(3) nonprofit organizations use the funding they get from us to provide indigent breast cancer patients with financial assistance to help cover the costs of their treatments, doctor consultations, hospital fees, medications, follow-up care, and other essential healthcare services.
Our charity partners also provide financially struggling individuals with easy access to local healthcare facilities where they can get free breast cancer screening and diagnosis. Moreover, they provide breast cancer survivors with follow-up care such as laboratory work, annual mammograms, and physician visits five years after remission.
These charities likewise make use of the funding they received to promote breast cancer awareness and provide prevention, education, and counseling services to the public.
Your Brentwood, CA car donation can help sustain the delivery of all these services meant for the sole purpose of saving lives.
The Valuable Rewards You'll Get from Your Gift
You'll receive great rewards when you partner with us at Breast Cancer Car Donations. Here are some of the perks you'll get when you take part in our Brentwood, CA car donations program:
You'll qualify to claim a top tax deduction that will significantly reduce your tax bill.
You'll get free professional towing service at a date, time, and place of your preference.
We'll handle all donation paperwork for you.
You get to skip the hassles associated with selling an old vehicle yourself.
You'll finally be free from exorbitant repair, maintenance, insurance, and registration expenses.
You'll have the ultimate pleasure and satisfaction of doing something extraordinary that can help save lives.
Donating a Vehicle to Breast Cancer Car Donations Is Super Easy!
Making a difference in the lives of breast cancer sufferers in Brentwood, California, is incredibly easy. Here's our simple three-step vehicle donation process:
STEP 1: Call us and let us know about your intention to donate.
Start your donation process by calling us at 866-540-5069 or filling out our donation form on this page. One of our donation specialists will ask for your contact information and a brief description of your vehicle, including its year, make, model, current mileage, and condition.
STEP 2: Schedule your FREE pickup.
Once we've verified your information, we'll schedule your vehicle's pickup. We'll assign a licensed towing company to collect your vehicle at no cost to you.
STEP 3: Get your tax deduction receipt.
Once we have your car, we'll sell it at an auction. After it is sold to the highest bidder, we'll mail you its 100% tax-deductible sales receipt. You'll need that to claim your tax deduction when you file your itemized tax return in the next tax season.
You're Free to Donate Any Type of Vehicle
Breast Cancer Car Donations welcomes almost any type of vehicle whether old or new. In some cases, we even accept vehicles that no longer run. What's more, you can also make multiple donations if you want to dispose of every useless piece of machinery on your property.
The only vehicles we refuse to accept are those that have been stolen or abandoned because we require the donor's title or proof of ownership. However, if you've only misplaced your vehicle title, give us a call at 866-540-5069, and one of our title experts will be glad to help you obtain a replacement copy of your title quickly, so you can proceed with your donation.
Here are the different types of vehicles that we've been receiving from our donors all over the country:
Cars: coupes, luxury cars, convertibles, sedans, compact cars, hybrids, sports cars
SUVs: compact, mid-size, full-size, and crossover versions
Vans: cargo vans, passenger vans, family vans, minivans
RVs: toy haulers, folding and tent trailers, travel trailers, motorhomes, hybrid trailers, campers
Trucks: mobile cranes, tank trucks, dump trucks, garbage trucks, refrigerator trucks, extended cabs, box trucks
Fleet vehicles: limousines, buses, minivans, vans, taxis, ambulances
Motorcycles: scooters, mopeds, choppers, touring bikes, sports bikes, dirt bikes, off-road bikes, cruisers
ATVs: three-wheelers, four-wheelers
Specialty vehicles: motorized wheelchairs, riding lawnmowers, ATVs, golf carts, snowmobiles
Work vehicles: tractors, farm equipment, construction vehicles, landscaping vehicles
Water vessels: tugboats, sailboats, cruise ships, yachts, speedboats, fishing boats, motorboats
Aircraft: non-commercial planes, helicopters, gliders
Do Something Awesome in Brentwood, CA Today!
If you want to provide a beacon of hope for Californians diagnosed with breast cancer, take part in our Brentwood, CA car donations program. Your gift can help save a life. Call Breast Cancer Car Donations at 866-540-5069 or fill out our secure online donation form now to get started!
or Call Us Now at 866-540-5069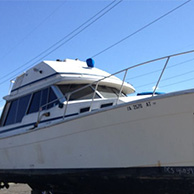 Excellent customer service!