Car Donation Brentwood, California
Be a Hero to Needy Breast Cancer Patients in Your City
The city of Brentwood is located 55 miles east of San Francisco and is a part of Contra Costa County. Described as a charming and desirable community for residents and businesses alike, Brentwood has a community with a long and storied history in agriculture and farming production. You can find numerous farms in the area, brimming with stone fruits, corn, peaches, and cherries in the late spring and summer months.
Tourists can spend their time visiting preserves, vineyards, farms, and markets all over the city. Brentwood also hosts a few golf clubs and a country club for those who prefer to lounge about and spend the day relaxing.
As of July 2019, the city had an estimated population of 64,474.
Breast Cancer Patients In Brentwood Need Your Help
Sadly, not everyone is living a trouble-free life in Brentwood. Some residents are struggling with life-threatening diseases such as breast cancer. It's heartbreaking to know that some breast cancer patients can't avail themselves of life-saving treatment simply because they don't the financial resources to pay for the prohibitive cost of breast cancer treatment.
Fortunately, there's a way for you to help them. You can be a hero to the suffering breast cancer patients in your city by donating a vehicle to us at Breast Cancer Car Donations. When you hand over your unwanted vehicle to our Brentwood, California car donations program, we'll use it to help save the lives of destitute breast cancer sufferers in your city.
We'll sell your vehicle through an auction and use the proceeds to support the breast cancer assistance programs of our charity partners. These IRS-approved 501(c)(3) nonprofits provide uninsured and low-income breast cancer patients with financial aid as well as easy access to medical centers where they can undergo full treatment. These charities also provide breast cancer survivors with follow-up care. Other beneficiaries get to receive free breast cancer screening and prevention and education services.
Our Simple 3-Step Donation Process
We want to make things as easy and convenient as possible for our car donors. That is why at Breast Cancer Car Donations, we simplified our donation process to three simple steps. You won't have to do any paperwork or comply with complicated requirements. We'll do most of the work for you, assuring you of a stress-free donation process.
Here's how easy it is to become a part of our Brentwood, California car donations program:
1. Get in touch with us.
Our toll-free line at 866-540-5069 is available 24/7. Call us anytime you like and let us know you're interested in donating to us. One of our donation specialists will walk you through our donation process, asking you a few details about the vehicle you want to donate to us. You can also choose to send us the information we need through our donation form here. Expect to receive a call from us afterward to verify the information you've sent us regarding your donation.
2. Schedule your free vehicle towing.
When you take part in our car donations program in Brentwood, California, we'll cover the full cost of your vehicle's towing. All you have to do is let us know about your preferred time, date, and location for your car's pickup and towing. We'll dispatch a licensed towing truck to haul off your vehicle. The tow truck driver will give you a towing receipt before towing your car. This receipt will release you from all liability regarding your vehicle. With this receipt, you can now de-register your vehicle at your local DMV and cancel its insurance coverage.
3. Receive the maximum tax deduction.
We'll mail to you the 100% tax-deductible sales receipt of your car within 30 days after we auction it off. With this receipt, you can claim your tax deduction in the next tax season.
For more information about our quick and hassle-free donation process, feel free to visit our FAQs page. You can also call us through our toll-free hotline at 866-540-5069 if you have certain concerns or inquiries you want us to address.
The Vehicle Types Acceptable to Us
We value every vehicle that's donated to us. That's why we at Breast Cancer Car Donations accept nearly all vehicle types regardless of their condition. Feel free to donate any vehicle you no longer need to our Brentwood, California car donations program.
The only vehicles we can't accept are those that don't have titles or proof of ownership. They include vehicles that have been abandoned or stolen.
However, if you only misplaced or lost your car title, give us a call at 866-540-5069. We'll have one of our title specialists assist you in obtaining a replacement copy so we can move forward with your car donation.
Here's a detailed list of the different types of vehicles we accept in our car donations program in Brentwood, CA:
Cars: sedans, compact cars, hybrids, sports cars, coupes, luxury cars
SUVs: compact, mid-size, full-size, crossover versions
Vans: cargo vans, passenger vans, family vans, minivans
RVs: toy haulers, folding and tent trailers, campers, hybrid trailers
Trucks: mobile cranes, garbage trucks, refrigerator trucks, tank trucks, box trucks
Fleet vehicles: limousines, buses, minivans, vans, taxis, ambulances
Motorcycles: scooters, mopeds, sports bikes, dirt bikes, off-road bikes
ATVs: three-wheelers, four-wheelers
Specialty vehicles: motorized wheelchairs, snowmobiles, riding lawnmowers
Work vehicles: tractors, landscaping vehicles, farm equipment, construction vehicles
Water vessels: cruise ships, tugboats, sailboats, speedboats
Aircraft: gliders, noncommercial planes, helicopters
The Valuable Rewards that Await You
As our vehicle donor, you're entitled to get outstanding benefits and rewards. You won't be going home empty-handed, so it's a win-win for everyone involved. Here are some of the rewards you'll get when you participate in our Brentwood, California car donations program:
Receive the maximum tax deduction in the next tax season.
You'll get our free professional car removal service at your convenience.
We'll handle all the paperwork for you.
Our donation process takes just a few minutes to finish.
Save yourself from the hassles associated with selling a used car yourself.
Free up space in your garage.
Feel good about yourself for doing something that can help in saving the lives of needy breast cancer sufferers.
Help Save Lives of Breast Cancer Sufferers Today!
Turn your unwanted vehicle into a powerful weapon against breast cancer by donating it to Breast Cancer Car Donations. Become a hero to breast cancer sufferers in your city by taking part in our Brentwood, CA car donations program. Call us at 866-540-5069 or fill out our secure online donation form now!
or Call Us Now at 866-540-5069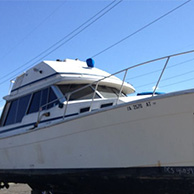 Excellent customer service!