Elk Grove, California Car Donations
Donate Your Vehicle and Save Lives!
Elk Grove, California Car Donations for Cancer: How to Get a Hefty Tax Deduction Out of Your Clunker
Did you know that taking part in our Elk Grove, California car donation program will make you a significant contributor in the fight against breast cancer and in saving the lives of its victims? If you have an unwanted vehicle that you've been itching to dispose of, donating that vehicle to Breast Cancer Car Donations would give breast cancer patients a real chance of surviving the disease.
Breast Cancer at a Glance
Most of us have heard about this dreadful disease, but what is it really? Breast cancer, one of the most common types of cancer in the world, is an uncontrolled growth of cells in the breast. When left untreated, it may spread to other parts of the body, becoming even more fatal.
Breast cancer is the second leading cause of cancer death in women in America. 
Contrary to popular belief, breast cancer affects men, too. In fact, the American Cancer Society reports an estimate of about 2,550 cases of breast cancer in American men this year.
The Goals We Set Our Eyes On
Taking heed of the cries of those whose lives have been touched by this disease, Breast Cancer Car Donations has launched numerous vehicle donation fundraisers in various cities and towns in the country, including the one here in Elk Grove, California. Through these, making charitable donations becomes a lot easier, faster and without a doubt, more advantageous for both beneficiaries and donors.
We have partnered with America's largest nonprofits that share the same mission and vision as ours: American Breast Cancer Foundation (ABCF) and Women Involved in Nurturing, Giving, Sharing, Inc. (WINGS). We assist these nonprofit organizations in their funding for the fight against breast cancer by forwarding to them the proceeds made from the sale of vehicles donated to us.
How Can You Help?
All you need to do is to donate a vehicle to our car donations program in the city. Your donation will go a long way as it will help support our programs such as:
Prevention, screening, and diagnosis of breast cancer

Effective treatment and rehabilitation of men and women suffering from breast cancer

Support for breast cancer patients' families and support systems

Financial assistance to uninsured and underserved Americans who are battling with breast cancer

Research funding for breast cancer treatment

Enhancing campaigns for public awareness of the causes, symptoms, prevention, and detection of breast cancer.
If you want to touch the lives of individuals going through their breast cancer journey, donate a vehicle to Breast Cancer Car Donations by calling 540-5069 now!
What's in It for You?
By contributing to our Elk Grove, California car donations program, you will provide benefits not just to breast cancer sufferers but to yourself as well! Here are some of the rewards you'll get to enjoy:
The car you're giving up may be junk to you, but are you aware that to someone who's suffering from breast cancer, it may be the only hope for another chance at life?
You can get rid of your unwanted car for FREE!
Your donated vehicle will be picked up by a professional towing company for free! You don't even have to be there during the pickup, which makes it even more convenient for you.
You get to skip all the hassles of selling!
Selling a used vehicle by yourself can be a tedious process. First of all, finding a buyer is not that easy. Second, selling comes with a lot of paperwork and a great deal of effort — from posting "For Sale" ads, newspaper listings and even possible repair and bodywork that you may need to spend for to make your used vehicle marketable.
You can finally get a load off your expenses!
Insurance and maintenance of a car you don't use, barely use or don't want to use anymore are unnecessary expenses.
You will enjoy a maximum tax write-off!
To thank you for your generosity, you will be handsomely rewarded with an IRS-approved tax deduction. The tax-deductible amount will depend on your vehicle's selling price or fair market value.
In order for you to claim this, you need to itemize your deductions in which you will be needing documents from the sale. These documents will be mailed to you once your vehicle has been sold.
You can donate in about five minutes without leaving your house!
The entire process for donating a vehicle is incredibly easy and fast. Details will be discussed below, but this is one guarantee: You don't even have to leave your house during the whole process!
How You Can Donate a Car for Charity
Taking part in our Elk Grove, California car donations program starts with a call to our toll-free 24/7 hotline 866-540-5069. Another option is to fill out our online donation form. Here's how you can provide car donations for breast cancer:
In calling or filling out our online donation form, give us details about the vehicle you're donating. We need pertinent information including its make, model, year, current mileage, vehicle type, and overall condition. We will also need your contact details and the easiest way to reach you.
We will call you back to schedule your vehicle pickup at your convenience. Note that if your vehicle is parked somewhere other than your home, tell us about it when you arrange for the schedule. All our towing services are FREE OF CHARGE.
Wait for your tax-deductible receipt.
This 100-percent tax-deductible sales receipt will be mailed to you once your donated vehicle has been auctioned off. If the final selling price of your vehicle as shown on the receipt is more than $500, this figure will be the exact amount you can claim as your tax deduction when you file your itemized federal income tax return for the next tax-filing season. If it's less than $500, you have the option to base your tax deduction claim on your vehicle's fair market value but not exceeding $500, based on IRS rules. To be able to claim this amount of tax deduction, you will need to attach this receipt to your IRS form.
If you have questions regarding our car donation process or any related matter, feel free to call us at 866-540-5069. For more information, you can also visit our FAQ's page or send us a message online.
Learn More About Elk Grove
Situated between the California delta waterways and wine country, Elk Grove boasts a small-town feel, art displays, diverse culture, many recreational activities and great schools. Moreover, the area is also home to many parks that include picnic areas, softball fields, playgrounds, swim centers and more. Additionally, Elk Grove has a cancer treatment center — Dignity Health Medical Plaza — located on Wymark Dr. 
Nationally, men are more likely to perish from cancer than women. Moreover, the poverty rate for residents with income below the poverty level in Elk Grove is 7.7% and 11.8% in the state. The poverty rate for residents with income below 50% of the poverty level is 3.0%. These individuals may have difficulty funding their cancer treatments. Fortunately, Breast Cancer Car Donations works to help these individuals through our vehicle donation program. We use the proceeds from your vehicle donation to fund organizations that are fighting breast cancer. These organizations can help residents gain access to resources, care and other support. We accept a wide range of cars and will take care of all the details of your car donation. We only need a few bits of information as well as the title to your vehicle.
The Types of Vehicles You Can Donate
Here are samples of the common and uncommon types of vehicles you can donate in our Elk Grove, California car donations program:
Cars, vans, SUVs, trucks, motorcycles;
Fleet cars, passenger vans, cargo vans, pickups, trucks, buses;
ATVs, snowmobiles, motorized wheelchairs, riding lawn mowers, 4x4s, tractors, farm equipment;
Recreational vehicles, motorhomes, campers, travel trailers, pop-up trailers, 5-wheelers;
Sailboats, motorboats, fishing boats, yachts, pontoon boats, houseboats, personal watercraft (i.e. Jet skis);
Airplanes, helicopters, other personal aircraft.
Turn Your Clunker into a Life-Saver!
What are you waiting for? Turn that clunker into a powerful tool that could save lives! Call 866-540-5069 and take part in our Elk Grove, California car donations program today. We serve the entire state of California, including nearby Sacramento and Roseville.
or Call Us Now at 866-540-5069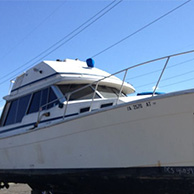 Excellent customer service!