Car Donations in Sacramento
Donate Your Vehicle and Save Lives!
Car Donations in Sacramento, California: Your 'Useless' Car Can Save Lives of Breast Cancer Sufferers
If you live in Sacramento and have an old vehicle that you are looking to get rid of, consider donating to Breast Cancer Car Donations. 
Breast Cancer Car Donations in Sacramento manages vehicle donation programs on behalf of well-known and certified 501(c)3 nonprofit organizations that are committed to helping ease the burden of those who are affected by breast cancer. When you donate your old car to us, you help us make it possible for these nonprofits to devote more of their time to running programs geared toward providing comprehensive breast health services to uninsured and underserved Americans.
You Can Choose to Help
The only way to bring breast cancer numbers down is to come up with better prevention strategies and develop more effective treatment modalities. This isn't possible without adequate funding. This is where your Sacramento car donation can be so helpful.
When you donate a vehicle to us, the proceeds will generate funding for programs that are directed toward breast cancer prevention, early detection, treatment and/or cure. 
You Will Benefit From Donating, Too!
Donating a vehicle to our car donation program offers a lot of benefits for you! Check out the great stuff that you're going to get:
Because our charities are certified 501(c)3 nonprofits, you are may qualify for a tax deduction. We send all donated vehicles to the best auction houses so that when they sell for top value, you can enjoy an itemized tax deduction.
We'll pay for pickup and towing!
You won't need to coordinate with the local towing company – we'll do it for you! Just tell us your preferred time, date and your vehicle's location and you're good to go. The best part is, you won't have to shell out a single dime for this service!
We'll handle the paperwork!
You can be sure that our team will handle all the paperwork – from title transfer to a tax receipt you can use to qualify for a tax deduction!
You won't be tied down to regular maintenance and repair!
The harsh reality is that the longer you keep a car you hardly use, the bigger the financial hit you'll take. Costs of repair and general upkeep skyrocket after the free maintenance and warranty periods are over. So, be nice to yourself and let that old car go!
Getting rid of that ancient piece of metal could mean an extra room in your garage! Finally, you'll have the space you've always wanted!
Learn More About Sacramento
Capital of California, Sacramento is one of the most ethnically diverse cities in the nation. Residents and visitors enjoy its laid-back atmosphere, wineries and breweries, and delicious farm-to-table cuisine. Observe rare and endangered animals at Sacramento Zoo, view impressive art collections at the Crocker Museum of Art, or check out the State Capitol building's Neoclassical architecture.  
Donate Your Pre-loved Vehicle Today
If you're ready to donate a car to charity, just fill out our online car donation form or call us at 866-540-5069, and you'll be all set. We welcome multiple vehicle donations and we accept almost any vehicle as long as you have proof of ownership.
Donate a car for cancer in Sacramento through Breast Cancer Car Donations today: You can contact us to pick up your car, or, if you'd rather drop off your vehicle at our Sacramento location, please contact us beforehand to schedule a time. We serve the entire Sacramento region, including (but not limited to) communities such as Elk Grove, Roseville, Citrus Heights, Folsom, Rancho Cordova and Davis. 
Breast Cancer Car Donations: Sacramento, California
3400 Cottage Way, #109
Sacramento, CA 95825
Phone: (866) 540-5069
or Call Us Now at 866-540-5069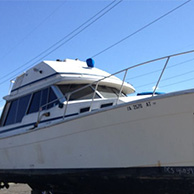 Excellent customer service!