Cupertino, California Car Donations
Donate Your Vehicle and Save Lives!
Car Donations in Northern California: Give New Hope to Breast Cancer Victims By Giving Up Your Old Car
The simple act of donating an old car — one that's not running and just lying there in your backyard gathering dust – can go a long way in helping breast cancer victims and their families in Northern California recover from their unfortunate situation. Let's give these people better chances of surviving the deadly disease by participating in our Northern California car donations program.
When you donate a car to Breast Cancer Car Donations, you will be helping the most reliable breast cancer non-profits to come up with several outreach programs that will benefit breast cancer victims. Your donation will also help researchers in further expanding their knowledge of breast cancer. It will bring new options for treatments, detecting and diagnosing early signs of the devastating disease, and one day find a cure for it.
Our non-profit partners that are dedicated to fighting breast cancer are the American Breast Cancer Foundation (ABCF), and Women Involved In Nurturing, Giving, Sharing, Inc. (WINGS)
Why Choose Us?
We are not the only organization engaged in seeking donations for the benefit of underserved breast cancer victims. But what makes us different from others is the package of rewards we give to our car donors. When you take part in our Northern California car donations, you will receive huge benefits. This is our way of saying thanks to your generosity. Here are some of these benefits:
Top tax deduction

Quick, easy, and convenient donation process

Avoid hassle of selling your car

No more paying for your car's insurance, registration, and maintenance

The feeling of happiness knowing that you will be making a big difference in the lives of breast cancer sufferers
How to Join Northern California Car Donations
Donating a car in our Northern California car donations program will take just a few minutes of your time. You can choose between two options: Give us a call at 866-540-5069 or fill out our online donation form. In both options, you only need to state a few bits of information about yourself and the car you're donating such as its year, make, model, and mileage.
We will then make arrangements for picking up and towing your car for free. If you have something to do on that day, don't worry, we can take away your car without you being there. We will give you a donation receipt that will enable you to cancel your car registration and insurance.
We will then auction off your car. Once the car is sold, we will quickly transfer the proceeds to our charity partners so that they could immediately make use of the funds to finance their various programs for the benefit of needy breast cancer patients. After a few days, you will receive from us your tax-deductible sales receipt by mail. You will need this when claiming your top tax deduction when you file your itemized federal tax return.
If you have some questions on your mind regarding our Northern California car donations process, feel free to give us a call. We would be glad to assist you in every way possible.
Types of Vehicles We Accept for Donation
We at Breast Cancer Car Donations are not choosy in accepting vehicles for donation. We accept nearly all types of vehicles that are used on land, air, and sea. The condition of the vehicle you're donating doesn't even matter to us. Even if your car is all messed up and has not run in years, we'll still take it!  We will take care of refurbishing those vehicles before putting them at auction. What matters to us more is to get your donations so we can help more breast cancer victims.
We accept common road vehicles such as sedans, SUVs, vans or minivans, pickup trucks, trucks, and various types of motorcycles.

Recreational vehicles like campers, five-wheelers, toy haulers, motorhomes, travel trailers, and pop-up trailers are also welcome.

We also welcome specialty vehicles such as snowmobiles, ATVs, golf carts, riding lawn mowers, motorized wheelchairs, farm equipment, and tractors.

We also accept watercraft such as boats, sailboats, motorboats, fishing boats, yachts, personal watercraft, and many more.

Aircraft like non-commercial airplanes and helicopters are also in our checklist of acceptable donations.
However, we cannot accept abandoned cars and wrecks that have little or no value because we cannot sell them. The vehicles being donated should also have titles to prove their ownership. If you lost your title, don't worry; we will help you find a replacement title. Just give us a call.
Local Cancer Resources
Northern California encompasses 164 cities and 21 counties. The area is home to several local cancer treatment centers. These include the UCSF Cancer Center Redwood City on Whipple Ave., the Stanford Cancer Center Palo Alto on Blake Wilbur Dr. and the UC Davis Comprehensive Cancer Center on 45th St.
The UCSF Cancer Center Redwood City provides patients with compassionate, advanced care and lab services for various types of cancers, including breast cancer. Care teams consist of oncologists, surgeons, radiologists, psychologists, and nutritionists that work on physically and emotionally healing patients. The Stanford Cancer Center Palo Alto offers the latest advances in patient-focused treatment. Various treatments include clinical trials, therapies, nutrition services, palliative care, and more.
The UC Davis Comprehensive Cancer Center provides comprehensive, multidisciplinary care for individuals with all stages of breast cancer. Treatments include new and innovative therapies and clinical trials. The center treats the whole patient, including providing him or her with counseling and other services.
If you have questions on any aspect of our Northern California car donations process, just give us a call or visit our frequently asked questions page for more details.
By the way, we also do car donations in multiple locations! You can visit our locations page for more!What are you waiting for? Come and participate in our Northern California car donations program now! Contact us at 866-540-5069! Donate your car now! We serve the entire region, including cities such as Oakland, Sacramento, San Francisco, San Jose, Stockton, and more.
FAQs
Can I get a tax deduction for donating my car?
Yes. When you make a vehicle donation to our program, you can get a tax deduction as long as you itemize your tax deductions. 
How can I ensure my car donation is eligible for a tax deduction?
You should donate your old or unwanted vehicle to an IRS-accredited non-profit organization. You will then receive a written acknowledgement from the organization regarding your contribution. Additionally, if your donation is worth more than $500, you need to complete the form 8283 and include it in the tax return.
What should I remember when contributing a vehicle for a tax break?
Remember to get a written acknowledgement from the charity, determine your car's value and itemize the donation. You may also want to take pictures of your donation as a form of evidence.
How can I maximize tax deductions when donating a car?
Consider donating your vehicle to Breast Cancer Car Donations. We work with IRS-certified non-profit partners who fight to end this devastating disease. Our skilled team also strives to ensure vehicle donations are sold at the highest possible price. This can help you maximize your tax deduction
Which organizations does Breast Cancer Car Donations support?
We are proud to support the American Breast Cancer Foundation (ABCF) and Women Involved in Nurturing, Giving, Sharing, Inc. (WINGS). These organizations provide individuals with free breast health services.
How can I donate my car to Breast Cancer Car Donations?
If you're ready to donate to our program, fill out our online form or call us at 866-540-5069. We'll schedule a free pickup and tow of your car at your convenience.
or Call Us Now at 866-540-5069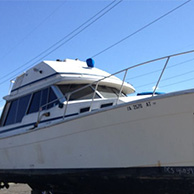 Excellent customer service!