Cupertino, California Car Donations
Donate Your Vehicle and Save Lives!
Give Breast Cancer Sufferers a Fighting Chance to Beat the Disease!
If you have an unwanted car that's just gathering dust and taking up valuable space in your garage, we have this good news for you: You can easily get rid of it without the hassle and the cost! All you have to do is contact Breast Cancer Car Donations and tell us that you're donating that vehicle to our Cupertino, CA car donations program. That's the best solution to your clunker problem!
What's more, your donation will allow you to give the uninsured and underserved breast cancer patients in your city a fighting chance to beat breast cancer!
Breast Cancer in Cupertino, California
Cupertino is a city in Santa Clara County, California, on the western edge of the Santa Clara Valley. Its population was 57,856 as of the July 2022 census. It is well known for being the home of Apple Inc., which is headquartered at Apple Park.
Even in a relatively prosperous city like Cupertino where the poverty level is just 5.1% of the population, there are still breast cancer patients who desperately need medical assistance, the cost of which they can't afford.
Your car donation to Breast Cancer Car Donations will touch the lives of these women. You'll help provide them with much-needed resources as they fight breast cancer. Your donation might just save their lives.
How Your Cupertino, CA Donation Will Benefit Breast Cancer Sufferers
Right now, about 200,000 women in California are known to be living with breast cancer. More than 4,200 women die of breast cancer in the state every year. That's more than 11 women dying of breast cancer every day!
Your Cupertino, CA car donation will help reduce these numbers.
Upon receiving your vehicle donation, we will put it up for auction, with the proceeds going to our breast cancer-focused charity partners. These IRS-approved 501(c)(3) nonprofit organizations cater to uninsured and destitute women needing comprehensive breast health services.
Thanks to your gift, our charity partners will be able to provide indigent breast cancer patients in your area with financial assistance to help cover the costs of their treatments, doctor consultations, hospital fees, medications, follow-up care, and other essential healthcare services.
These charities also provide deserving individuals with easy access to local healthcare facilities where they can get free breast cancer screening and diagnosis. They likewise provide breast cancer survivors with follow-up care.
Furthermore, your donation will help our charity partners in sustaining their campaign to promote breast cancer awareness and provide prevention, education, and counseling services to the public.
Why It's Better to Donate Your Unwanted Car Than Sell It
There are several reasons why you should opt to donate your unwanted car rather than sell it. For one, you'd get to avoid going through the inconvenience of looking for prospective buyers, haggling with strangers, handling the paperwork, and what-have-you.
Here are the other rewards you get to enjoy when you take part in our Cupertino, CA car donations program:
Since Breast Cancer Car Donations is in partnership with IRS-approved 501 (c)(3) nonprofits, your vehicle donation will entitle you to claim the maximum tax deduction in the next tax season.
We'll provide you with our free professional towing service.
You don't have to do any paperwork.
Experience a hassle-free and straightforward donation process.
You'll stop taking your car to the repair shop and avoid paying for costly maintenance and repairs.
You'll also stop paying monthly insurance premiums, thus saving money.
You get to experience the satisfaction of making a charitable act that can help save lives.
Making a Cupertino, CA Car Donation Is Incredibly Easy!
We made our donation process quick and easy to help our donors save precious time. You can complete your Cupertino, CA car donation in a jiffy! It starts with you picking up your phone or filling out our donation form here.
Are you ready to donate? If so, here are the three simple steps to our donation process:
1. Contact us!
Call us at 866-540-5069 or fill out our online donation form — whichever suits you best. You would need to provide your name and email as well as your contact number. Please give some information about the vehicle you're going to donate.
2. Schedule your vehicle's FREE pickup!
Your donation will then be processed. Once done, we will contact you again to set up a convenient time and date for your vehicle's pickup and towing. We'll arrange with a licensed towing company to do the job — at no expense to you.
3. Receive your tax-deductible receipt!
Your car will then be displayed at an auction. Once it is sold, the proceeds will be transferred to our charity partners. You can expect the 100% tax-deductible receipt of your vehicle to arrive in your mailbox within 30 days after its sale. You'll need this receipt to claim your tax deduction.
We accept nearly all types of vehicles, including those that need a lot of work. Feel free to visit this page to learn what else you can donate aside from cars.
Head over to our FAQs page for more information about Breast Cancer Car Donations. If you have any questions or concerns, don't hesitate to write to us here or call us anytime through our toll-free hotline at 866-540-5069.
Retire Your Beloved Car in a Meaningful Way Today!
If your car no longer functions well, you can give it a new and worthy purpose by using it to help save the lives of struggling breast cancer patients in Cupertino, CA. Donating it to Breast Cancer Car Donations is such a great way to retire your beloved car. Call us at 866-540-5069 or fill out our secure online donation form now!
or Call Us Now at 866-540-5069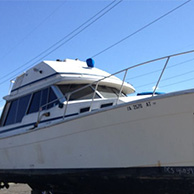 Excellent customer service!