Stockton, California Car Donations
Fight Breast Cancer through Stockton, California Car Donations
Perhaps you're beginning to feel the strain on your wallet because of your clunker that has seen more days in the auto repair shop than you care to remember. If the next big car repair that your mechanic warned you about seems like the beginning of a slew of new problems, consider donating that vehicle to us at Breast Cancer Car Donations through our Stockton, California car donations program.
Instead of throwing more money into that junk, why don't you get rid of it for free so you could buy yourself a new car? Besides, it makes much more sense to donate it if it would mean helping the needy breast cancer patients in your city.
Learn More About Stockton
Situated along the San Joaquin River, Stockton is home to some of the best cancer treatment centers. These include the St. Joseph's Cancer Institute on North California Street, St. Teresa Comprehensive Cancer Center on Quail Lakes Drive and the Stockton Hematology Oncology Medical Group on North California Street.
Stockton is a city rich in culture and diversity. It's located in the heart of California and is within a short driving distance to Yosemite, San Francisco and Sacramento. It also boasts many landmarks and attractions, including Banner Island Ballpark, the Historic Bob Hope Theatre and the University of the Pacific.
What Is Breast Cancer?
A woman develops breast cancer when malignant cells in her breast tissues develop and form into a tumor. In the United States alone, one in eight women is bound to develop invasive breast cancer in her lifetime. Furthermore, some 41,760 American women are expected to lose their lives to this disease this year. That shows why breast cancer remains the second leading cause of cancer deaths among females.
Let's Work Together to Beat Breast Cancer!
Breast Cancer Car Donations serves as an online vehicle donations platform of reputable IRS-determined 501(c)3 nonprofit organizations that we're in proud partnership with. We auction off the vehicles we receive from our donors so we can raise money for our charity partners. They use the money to sustain their delivery of comprehensive breast health services to all individuals who need them. Their services include providing financial assistance for the breast cancer diagnosis and treatment of uninsured and underserved individuals. They are also committed to increasing breast cancer awareness by educating people about the disease and the importance of early detection. We serve the entire state of California, including (but not limited to) nearby communities such as Modesto.
How You Can Benefit from Stockton, California Car Donations
Aside from the deep sense of personal satisfaction that you'll feel in knowing that you'll be helping us save lives, you also stand to receive material benefits when you take part in our Stockton, California car donation program. Check out these donation perks that you'll get to enjoy:
Reduce your tax bill in the next tax season.
When you donate a vehicle to charity, you'll get at least a part of the cash value of your old beater through the maximum tax deduction that you'll be entitled to receive. If your car sells for less than $500, you'll be allowed to deduct from your tax payment the amount that's equivalent to its sales price or its fair market value not exceeding $500, whichever is higher. On the other hand, if it sells for more than $500, you can claim your vehicle's total sales price as your tax deduction regardless of its fair market value.
We'll pick up and tow your vehicle at no cost to you.
Our team will coordinate with a licensed towing company for your vehicle's free pickup.
Our team will handle all the heavy lifting.
Since we want you to experience a smooth and stress-free donation process, we'll take care of your towing arrangements, paperwork handling, and the issuance of your tax-deductible receipt. You'll get your unwanted vehicle off your property without breaking a sweat and spending a dime!
You can donate any type of vehicle regardless of its condition.
You can finally declutter your garage and get back the space that your clunkers have been hogging since forever.
How You Can Join Stockton, California Car Donations
We make it easy for you to help bring breast cancer numbers down in Stockton, California. To prove this point, check out our quick and painless donation process:
STEP 1: Get in touch with our team.
Donate your car to our Stockton, California, vehicle donation program by calling us at 866-540-5069 or by filling out our donation form here on this website.
STEP 2: Schedule your FREE vehicle pickup.
You can expect a call from us on the same day you contacted us after we verify your given information. Tell us when, what time, and where you want us to pick up your vehicle.
STEP 3: Receive your IRS tax-deductible receipt.
After we sell your vehicle via auction, we'll send you your IRS tax-deductible receipt by mail. Use this document in itemizing your deductions when you file your income tax return in the next tax season.
The Types of Vehicles You Can Donate
The best thing about joining our Stockton California car donations program is that it allows you to get rid of practically all types of unwanted vehicles you might have on your property.
The only requirement we'll ask from you is your proof of ownership because we can't auction off your vehicle without its title. For this reason, we have to say no to abandoned and stolen vehicles. However, if you've misplaced your vehicle's title, all you have to do is call our title experts at 866-540-5069 so that we can make the necessary arrangements to provide you with a replacement copy of your title.
Check out this list of the various vehicle types that you can donate to us:
Cars: 

sedans, luxury cars, coupes, convertibles, hybrids, sports cars, wagons, hatchbacks

Vans: 

family minivans, camper vans, cargo vans, passenger vans

SUVs: 

compact, midsize, full-size or crossover versions

Motorcycles: 

touring bikes, cruisers, scooters, off-road bikes, mopeds, sports bikes, choppers

Trucks: 

box trucks, pickup trucks extended cab pickup, panel trucks, refrigerator trucks, tank trucks

Boats: 

fishing boats, sailboats, tugboats, speedboats, houseboats, cruise ships, catamarans, pontoon boats, yachts

Specialized vehicles: 

riding lawnmowers, motorized wheelchairs

Fleet vehicles:

 SUVs, pickups, trucks, buses, cars, passenger vans, cargo vans, limousines, ambulances, taxicabs

Recreational vehicles: 

noncommercial planes; campers, travel trailers, snowmobiles, Jet Skis, RVs, motorhomes, pop-up trailers, ATVs

Work-related vehicles: 

construction vehicles, tractors and farm equipment, buses, large trucks, landscaping vehicles
Save Lives Today!
If you want to support a worthwhile cause, don't hesitate to take part in our Stockton, California car donations program. You have no idea how valuable your clunker can be to those whose lives have been touched by breast cancer. Call us at 866-540-5069 or fill out our online donation form to get started!
or Call Us Now at 866-540-5069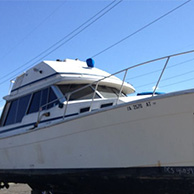 Excellent customer service!