Modesto, California Car Donations
Donate Your Vehicle and Save Lives!
Join Modesto, California Car Donations To Support Breast Cancer Patients
You don't have to spend thousands of dollars to do something great that will benefit a lot of people in your community. In fact, all it takes is a heart for the needy and an unwanted clunker that you've been planning to dispose of. If you want to ease the burden of breast cancer patients in Modesto, California while getting your hands off a money pit on wheels, all you have to do is donate your no-longer-wanted clunker to Breast Cancer Car donations through our Modesto, California vehicle donations program.
Breast Cancer Facts
Breast cancer is a life-threatening disease that affects one in eight women in the United States, making it the most common cancer type among females, except for skin cancers. Furthermore, an American woman gets diagnosed with breast cancer every two minutes. For 2019 alone, about 41,760 women are expected to lose their lives to this deadly disease.
The city of Modesto is home to 215,030 people, with women comprising 50.9 percent of its total population. Moreover, 10.2 percent of those who live in Modesto City, California don't have health insurance.
Learn More About Modesto
Modesto is known as the geographical heart of California. It's also one of the largest cities in the state. Modesto boasts many historical landmarks as well as several local cancer treatment centers. These include the Doctors Medical Center of Modesto on Florida Avenue and Memorial Medical Center-Modesto on Coffee Road.
According to the American Cancer Society, cancer death rates for men and women have been declining since the 1990s. However, men are naturally more likely to die from the illness compared to women. In 2018, about 180 men per 100,000 died from this disease in Stanislaus County, CA, compared to about 140 women per 100,000.
What We Do to Help People with Breast Cancer
A woman gets diagnosed with breast cancer when a malignant tumor is detected in her breast tissues. With no proper treatment, the disease can progress into a more advanced stage where the cancer cells spread to other parts of the body.
Unfortunately, breast cancer treatment doesn't come cheap. Those who bear the brunt of the disease are the uninsured and underserved breast cancer patients who don't have enough money to cover the cost of their treatment.
For this reason, Breast Cancer Car Donations has teamed up with like-minded IRS-registered 501(c)3 nonprofit organizations that are working hard to provide breast health services to those who badly need them. These charities provide their beneficiaries with easy access to medical facilities so they can undergo full treatment. They also offer free breast cancer screening as well as other breast cancer prevention and education services.
When you donate a vehicle to us, we'll have it auctioned off, with the proceeds going to our charity partners so they can sustain the delivery of their programs and services to their beneficiaries.
If it's your first time to donate a vehicle to charity or if you want to know more about how your gift can help the people in your community, please don't hesitate to give us a call at 866-540-5069 now or send us a message online. We'd love to hear from you!
These Donation Benefits Await You
Providing car donations for breast cancer will make a huge impact on your life as much as it will on the lives of the needy breast cancer patients in your city. Here are some of the rewards you'll get when you team up with us at Breast Cancer Car Donations:
Top tax deduction

Easy disposal of your old vehicle

Free towing services

Paperwork-free transaction

Save money that you would have spent on car repairs, maintenance, registration, and insurance
Making a Difference Is Incredibly Easy!
When you choose to contribute car donations for cancer, you'll be setting yourself up for a quick and painless donation process. This won't take longer than five minutes of your time to initiate. To give you an idea, take a look at what happens when you donate your vehicle to us.
1. You reach out to us.
Feel free to donate your vehicle through this website by filling out our online donation form. You can also kickstart your donation process by calling our hotline number at 866-540-5069. We'll need your name, contact information, your car's year, make, model, mileage, and a few other details.
2. We'll schedule your fast and FREE pickup.
As soon as we verify your given information, we'll call you back to schedule your vehicle's free pickup. Tell us when, what time, and where you want us to haul off your vehicle. We'll issue you a towing receipt on the day of pickup. You can use this receipt to cancel your car's insurance coverage and to de-register your vehicle at the local DMV.
3. We'll send you your IRS tax-deductible receipt by mail.
Within days after your vehicle gets sold at an auction, we'll mail to you your IRS tax-deductible receipt. The IRS requires you to use this document in itemizing your deductions when you file your federal income tax return next year.
We Gladly Accept Nearly All Types of Vehicles
Feel free to donate any type of vehicle to Breast Cancer Car Donations. We'll even take multiple donations of vehicles that need a lot of work. Just present your proof of ownership and you're all set.
Here's a list of the types of vehicles that we welcome in our Modesto, California car donations program:
Cars

: coupes, sedans, compact cars, hybrids, luxury cars, convertibles, sports cars

Vans: 

cargo vans, passenger vans, family vans, minivans

SUVs: 

compact, mid-size, full-size, crossover versions

Trucks

: mobile cranes, dump trucks, extended cabs, garbage trucks, refrigerator trucks, tank trucks, box trucks

RVs

: toy haulers, folding and tent trailers, motorhomes, hybrid trailers, travel trailers, campers

Motorcycles: 

scooters, mopeds, choppers, dirt bikes, touring bikes, sports bikes, off-road bikes, cruisers

Specialty vehicles

: motorized wheelchairs, riding lawnmowers, ATVs, golf carts, snowmobiles

Fleet vehicles

: limousines, buses, minivans, vans, taxis, ambulances

ATVs: 

three-wheelers, four-wheelers

Work vehicles: 

tractors, farm equipment, landscaping vehicles, construction vehicles

Water vessels: 

cruise ships, yachts, pontoon boats, catamarans, tugboats, sailboats, speedboats, fishing boats, motorboats

Aircraft: 

gliders, helicopters, noncommercial planes
Support Breast Cancer Patients in Modesto, California Today!
If you're interested in getting free car removal, a healthy tax write-off, and the opportunity to help breast cancer patients and their families in your local area, all you need to do is call 866-540-5069 or fill out our online donation form to join our Modesto, California car donations program today! We serve the entire state of California, including nearby communities such as Ashwood, Creekwood, Fara Estates, Hacienda Villas, Lakewood, Nottingham East, Rosemore, Timberlake and Wyldewood Grove.
or Call Us Now at 866-540-5069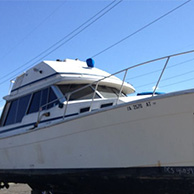 Excellent customer service!