San Mateo, California Car Donations
Donate Your Vehicle and Save Lives!
San Mateo, California Car Donations: Have That Amazing Experience as a Breast Cancer Lifesaver!

Breast cancer is continuing its rampage across the country, taking out lives by the thousands despite advances made in cancer screening, diagnosis, and treatment. No place is immune from the disease, including here in San Mateo, California.
For 2018, the American Cancer Society estimates that 266,120 new cases of invasive breast cancer would be diagnosed in women as well as 63,960 new cases of non-invasive cancer, also known as carcinoma in situ or CIS. It warns that about 40,920 women in the U.S. are expected to die this year from breast cancer.
The Society also states that about one in eight American women (or about 12.4 percent) will develop invasive breast cancer over the course of her lifetime.
These shocking and frightening numbers give us at Breast Cancer Car Donations more compelling reasons to double our efforts in generating funds to fight the devastating disease and provide assistance to its hapless victims. We are relentlessly pursuing our car donations drive all over the country, including the one here in the city.
Want to Become a Lifesaver?
We are encouraging everyone who has old and unwanted cars to give away to take part in our San Mateo, California car donations program. Your contributions will definitely be a big boost in the fight against breast cancer, leading to more successful treatment and higher cancer survival rates. We remain hopeful that with greater public awareness and involvement in the fight against this disease, more lives will be saved.
Latest estimates made in 2017 placed the population of San Mateo at 97,207. Of this number, 49,742 are women, some of whom could be victimized by breast cancer. The disease is one of the most commonly identified forms of cancer and one of the leading causes of death of women in this city located in the San Francisco Bay Area.
If you are planning to sell that old van you're keeping in your garage, think about donating it to us instead. That vehicle may mean little to you now, but to financially hard-up residents of San Mateo with breast cancer, that vehicle could be the one that could enable them to survive the disease. Think about that: Your old clunker could turn out to be their lifesaver.
How Your Car Donations Will Be Used
Proceeds from the sale of all our San Mateo, California car donations will be forwarded to our charity partners – the reputable non-profits American Breast Cancer Foundation (ABCF) and Women Involved In Nurturing, Giving, Sharing, Inc. (WINGS). The funding will enable them to sustain and improve their existing services such as:
Providing financial assistance to aid in early detection, treatment of breast cancer patients, covering their surgery, oncology services, consultation, hospital fees and outpatient medication;
Connecting all affected individuals regardless of gender, socioeconomic and ethnic background, to local facilities that offer free and accessible resources, information and other comprehensive breast health services;
Raising public awareness on breast cancer prevention, diagnosis, and treatment;
Pursuing research on prevention, screening, diagnosis, and treatment of breast cancer; and
Sponsoring charity and outreach events for the benefit of breast cancer patients.
These Rewards Await You as Car Donor
What's special about our San Mateo, California car donations program is that benefits go both ways – to the beneficiaries (breast cancer patients) and the donors themselves. When you donate a vehicle to us at Breast Cancer Car Donations, expect to receive these rewards:
Receive a hefty tax deduction for your donation.
We'll pay for the pick-up and towing of the vehicle you're donating.
No need to bother with paperwork – we do that for you.
Save money by not paying any more for car repair, registration, and insurance.
More space in your backyard or garage to house your new car.
Avoid the difficulties of selling your car.
Give yourself a deep sense of personal satisfaction for supporting a noble cause.
How to Become a San Mateo Car Donor
We have come up with a quick and simple San Mateo, California car donations process for the convenience of our donors.
Let us know that you want to donate your car. We'd need your personal contact details, your vehicle's year, make, model, mileage, availability of a title, and overall running condition as well.
Second, allow us to pick up your vehicle for free and at your preferred date, time, and place.
A local professional towing company will tow your car, and we'll be the one to pay for this. Your presence is not required on the day of pickup. However, please let us know where we could locate your vehicle's title and keys inside your car. Before we leave, we will give you a donation receipt that will free you from all liabilities on the car, which means you can now cancel its registration and insurance coverage.
Third, receive your tax-deductible receipt by mail.
Within days after we auction off your vehicle, we'll send you your 100 percent tax-deductible sale receipt, indicating your donated vehicle's final selling price. This will serve as the basis of your tax deduction claim when you file your itemized federal tax return.

The Vehicles You Can Donate
Breast Cancer Car Donations accepts nearly all types of vehicles in our San Mateo, California car donations program. You don't need to worry if the vehicle you intend to donate is not in running condition. Every single donation is greatly appreciated. The common types of vehicles we accept for donation include cars, vans, trucks, SUVs, ATVs, motorcycles, riding lawn mowers, jet skis, boats, and even non-commercial planes.
Donate Now!
All the funding that comes from your donation will be used to provide assistance to breast cancer patients in your city. Call us now at 866-540-5069 and make your San Mateo, California car donations!
or Call Us Now at 866-540-5069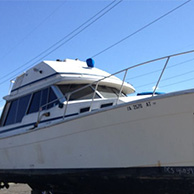 Excellent customer service!