Fresno, California Car Donations
Donate Your Vehicle and Save Lives!
You Can Make a Difference in the Fight Against Breast Cancer
Did you know that by donating your car in Fresno, you can help those afflicted with breast cancer to have a better chance of surviving the disease? Donating an old car that you don't use anymore will not only free you from being tied down to a vehicle that you don't actually need; it will also give good opportunities for treatment (and so much more) to those who are battling breast cancer. Sounds good, right?
Who We Are and What We Do
We at Breast Cancer Car Donations work in partnership with certified 501(c)3 nonprofit organizations who are committed to providing accessible and comprehensive breast health services across the United States. Because we want our partners to focus on these life-saving programs, we support their fundraising efforts through our vehicle donation program.
The proceeds of every donation will automatically be used for funding breast cancer programs that do the following:
Raise public awareness on the nature of breast cancer, focusing on disease prevention through early detection;

Provide financial assistance to aid in the screening, diagnosis, and treatment for those who are uninsured and underserved;

Utilize link and referral systems that allow free access to local resources, services, and information that are ethnically and linguistically customized according to the needs of the individual.
How to Donate a Vehicle
Is your vehicle the automotive equivalent of a senior citizen? Because we want you to have the best giving experience, we came up with a donation process that would help you get rid of your unwanted vehicle in less than 15 minutes. Here's how it works:
You can fill out our online donation form, or you can call us at 866-540-5069. Give us your contact information and a few basic details about the vehicle you're donating.
Schedule your vehicle's FREE pickup.
You heard us right – we will tow your vehicle away for free! Just tell us when and where you'd want us to pick it up, and we' get the job done. You don't even have to be present when we haul your car away!
Receive your IRS tax receipt.
We work with certified 501(c)3 non-profit organizations and as such your car donation automatically qualifies you to get  once you itemize your deductions. After your vehicle is sold, we'll send you a sales receipt or IRS form that you would use to file your taxes.
Vehicles That We Accept
Breast Cancer Car Donations accepts almost all types of vehicles as long as they're not abandoned ones. We require vehicle titles or proof of ownership since vehicles without titles cannot be sold at auction. If you have any title issues, just give us a call and we'd be happy to address your concerns.
We love multiple Fresno, California car donations, too! The more you give, the more lives you touch!
Still not sure if that piece of metal that's sitting uselessly in your backyard is acceptable for donation? Check out this list of vehicles that we won't refuse to accept:
Cars:

 sedans, vans, SUVs, trucks, motorcycles

Boats:

 sailboats, motorboats, fishing boats, yachts, pontoon boats, houseboats, personal watercraft (like jet skis)

RVs:

 recreational vehicles, motorhomes, campers, travel trailers, pop-up trailers, 5-wheelers

Specialty vehicles:

 ATVs, snowmobiles, motorized wheelchairs, riding lawn mowers, tractors, farm equipment

Fleet vehicles:

 cars, passenger vans, cargo vans, SUVs, pickups, trucks, buses

Non-commercial aircraft
Give Back to Fresno
Being diagnosed with breast cancer can be very disheartening. When you donate a vehicle, you will be helping the people in Fresno who have been touched by this disease in their fight for survival.
Are you ready to donate your vehicle through Breast Cancer Car Donations? Contact us at 866-540-5069 or fill out the form below and get free towing services for your Fresno car donations!
or Call Us Now at 866-540-5069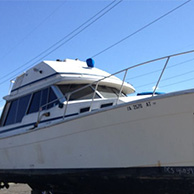 Excellent customer service!