https://www.cardonations4cancer.org/wp-content/themes/naked/img/banner-faq-01.jpg
Fresno, California Car Donations
Donate Your Vehicle and Save Lives!
Fresno, California Car Donations: Help Breast Cancer Victims Live Longer

Do you know that if you make Fresno, California car donations, you will be helping those afflicted with breast cancer to have a better chance of surviving the disease? Donating an old car that you don't use anymore will not only free you from being tied down to a vehicle that you don't actually need; it will also give good opportunities for treatment (and so much more) to those who are battling breast cancer. Sounds good, right?
What You Need to Know About Fresno
You probably know that Fresno literally means "ash tree" in Spanish. Historical records say the early Spanish explorers named the place after seeing the glorious stretch of white ash trees along the San Joaquin River that flows up all the way to the north. Perhaps as these guys were excitedly talking about their new discovery, they marveled at the majestic Sierra Nevada mountain range on the east and the view of the Central Coast to the west.
Another thing that you may already be in the know of is that Fresno is the best place to raise future athletes. The sunny weather coupled with tremendous coaching and stiff sports competitions make Fresno the perfect place to breed Major League Baseball players or Olympic gold medalists in softball.
This city has an estimated population of 515,986, more than half of which is composed of females. What you may not be aware of is that each year, it is estimated that over 252,710 American women will be diagnosed with breast cancer and more than 40,500 of them will die from it. Along with the rest of the female population of the United States, Fresnans face this harsh reality with fear and trepidation.
How Breast Cancer Affects Your Community
Breast cancer is a deadly disease that occurs when the breast cells abnormally multiply due to an abnormality in a person's genetic material. This abnormality can either be inherited from the parents or it just simply happens as a result of the normal aging process. In the United States alone, one woman is diagnosed with breast cancer every two minutes and another dies every 13 minutes.
Who We Are and What We Do
We at Breast Cancer Car Donations work in partnership with certified 501(c)3 nonprofit organizations who are committed to providing accessible and comprehensive breast health services across the United States. Because we want our partners to focus on these life-saving programs rather than manage car donations, we support their fundraising efforts through our vehicle donation program such as our Fresno, California car donations program.
The proceeds of every donation will automatically be used for funding breast cancer programs that do the following:
Raise public awareness on the nature of breast cancer, focusing on disease prevention through early detection;
Provide financial assistance to aid in the screening, diagnosis, and treatment for those who are uninsured and underserved;
Utilize link and referral systems that allow free access to local resources, services, and information that are ethnically and linguistically customized according to the needs of the individual.
How to Donate a Vehicle
Is your vehicle the automotive equivalent of a senior citizen? Has it seen better days and has now hit the end of the road? Don't hold on to it for sentimental reasons if the cost to keep it is greater than its worth — donate it through Breast Cancer Car Donations!
Because we want you to have the best giving experience, we came up with a donation process that would help you get rid of your unwanted vehicle in less than 15 minutes. Here's how it works:
You can fill out our online donation form, or you can call us at 866-540-5069. Give us your contact information and a few basic details about the vehicle you're donating.
Schedule your vehicle's FREE pickup.
You heard us right – we will tow your vehicle away for free! Just tell us when and where you'd want us to pick it up, and we' get the job done. You don't even have to be present when we haul your car away!
Receive your IRS tax receipt.
We work with certified 501(c)3 non-profit organizations and as such your car donation automatically qualifies you to get tax rewards once you itemize your deductions. After your vehicle is sold, we'll send you a sales receipt or IRS form that you would use to file your taxes.

Vehicles That We Accept
Breast Cancer Car Donations accepts almost all types of vehicles in our Fresno, California car donations program as long as they're not abandoned ones. We require vehicle titles or proof of ownership since vehicles without titles cannot be sold at auction. If you have any title issues, just give us a call and we'd be happy to address your concerns.
We love multiple Fresno, California car donations, too! The more you give, the more lives you touch!
Still not sure if that piece of metal that's sitting uselessly in your backyard is acceptable for donation? Check out this list of vehicles that we won't refuse to accept:
Cars: sedans, vans, SUVs, trucks, motorcycles
Boats: sailboats, motorboats, fishing boats, yachts, pontoon boats, houseboats, personal watercraft (like jet skis)
RVs: recreational vehicles, motorhomes, campers, travel trailers, pop-up trailers, 5-wheelers
Specialty vehicles: ATVs, snowmobiles, motorized wheelchairs, riding lawn mowers, tractors, farm equipment
Fleet vehicles: cars, passenger vans, cargo vans, SUVs, pickups, trucks, buses
Non-commercial aircraft
Give Back to Fresno
Being diagnosed with breast cancer can be very disheartening. When you take part in our Fresno, California car donations program, the people in this city who have been touched by this disease will know that you're joining them in their fight for survival.
Are you ready to donate your vehicle through Breast Cancer Car Donations? Contact us at 866-540-5069 and get free towing services for your Fresno, California car donations!
or Call Us Now at 866-540-5069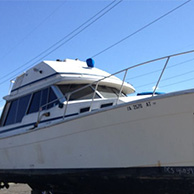 Excellent customer service!