https://www.cardonations4cancer.org/wp-content/themes/naked/img/banner-faq-01.jpg
Bakersfield, California Car Donations
Donate Your Vehicle and Save Lives!
Bakersfield, California Car Donations: Experience the Joy of Giving Life-Sustaining Support to Breast Cancer Victims

Taking part in our Bakersfield, California car donations program is the best way to support the campaign against breast cancer, a devastating disease that has claimed the lives of countless American women, including those from Bakersfield.
If you have old vehicles that you no longer use and are just gathering dust in your garage or backyard, do consider donating it to us at Breast Cancer Car Donations. In so doing, you will be helping save the lives of thousands of women afflicted with breast cancer.
Breast Cancer Car Donations works tirelessly to enable our dedicated non-profit organization partners to provide life-sustaining services to uninsured and underserved women victimized by breast cancer. Our charity partners are also engaged in raising awareness about the symptoms of this terrible illness and in pursuing research on better ways to confront the disease and possibly find a sure-fire cure for it.
Breast Cancer Risks in America
As of 2017, there are about 363,612 people living in Bakersfield, California. Roughly 50.6 percent of them are women, some of whom could be battling breast cancer right now.
Next to skin cancer, breast cancer is the most common cancer in American women. Currently, according to the American Cancer Society, the average risk of a woman in the United States developing breast cancer sometime in her life is about 12 percent. This means there is a one in eight chance she will develop breast cancer.
There are a variety of factors that give rise to the progression of breast cancer such as female gender, increasing age, early menstrual period, change in breast cancer genes, an inactive way of life, as well as personal or family history of breast cancer.
Bakersfield: California's Country Music Capital
Established in 1858, Bakersfield is situated in inland Southern California, a little less than two hours of driving distance north of Los Angeles. The city was a past finalist and past champion of the National Civic League's coveted "All-America City Award."
The breakthrough discovery of gold on the Kern River in 1851 captivated the first wave of leaders. Bakersfield was officially incorporated in 1898. For a city of moderate size, Bakersfield offers a great choice of arts and authentic cultural offerings.
For sports fans, Bakersfield boasts of its own Minor League Baseball (MiLB) team, the Bakersfield Blaze. The Blaze is a Class A Advanced member of the Texas Rangers.
Bakersfield and the surrounding areas give opportunities for a plethora of outdoor activities, including auto racing, camping, golf, fishing, biking, hiking and backpacking, mountain biking, jet skiing, kayaking, tennis, white water rafting, and more.
Reasons to Donate a Car in Bakersfield, California
Whether it is a new riding lawnmower or an old pickup truck that you no longer need and want to dispose of, donating this to our Bakersfield, California car donations program will enable you to join our relentless campaign to help victims of breast cancer, spread awareness of the devastating disease, and find new ways to fight it.
Breast Cancer Car Donations offers substantial rewards for car donors. The following are some of the incentives for taking part in our Bakersfield, California dar donations:
The donation process is fast, taking just a few minutes of your time.
Breast Cancer Car Donations pays for the pick-up and towing of the vehicle you're donating.
You get to receive a handsome tax deduction for your donation.
You avoid the hassles of selling your car.
You don't need to bother yourself with paperwork; we do that for you.
You save money by not paying any more for car repair, registration, and insurance.
You support a worthy cause that will give you a deep sense of personal satisfaction.
You give more space in your backyard or garage to house your new car.
Cars You Can Donate in Bakersfield, California
If you are not sure as to whether the vehicle you intend to donate is acceptable to us, we have good news for you: We accept nearly all types of vehicles and all makes and models. And since we pick up your vehicle as soon as you opt to donate it, you do not have to worry that it is not in running condition.
The types of vehicles we accept for Bakersfield, California car donations include cars, vans, sports cars, trucks, SUVs, motorcycles, jet skis, riding lawn mowers, boats and even non-commercial airplanes. For the full list, see our accepted vehicles page here.

How Our Bakersfield, California Car Donations Process Works
We at Breast Cancer Car Donations work in conjunction with other non-profit charitable institutions dedicated to fighting breast cancer. To facilitate our Bakersfield, California car donations process, we made it as simple, quick, and convenient as possible:
Let us know that you want to donate your car. We'd need your personal contact details, your vehicle's year, make, model, mileage, availability of a title, and overall running condition as well.
Second, allow us to pick up your vehicle for free and at your preferred time and date.
A local professional towing company will tow your car, and we'll be the one to pay for this. Your presence is not required on the day of pickup. However, please let us know where we could locate your vehicle's title and keys inside your car. Before we leave, we will give you your donation receipt that will free you from all liabilities on the car, which means you can now cancel its registration and insurance coverage.
Third, receive your tax-deductible receipt by mail.
Within 30 days after we sell your car, we'll send you this document that shows how much your vehicle was sold. You'll need this to claim your maximum tax deduction once you itemize your deductions on your federal tax return
Join the Fight Against Breast Cancer
Donating a vehicle to our Bakersfield, California dar donations program is the most convenient and most effective way to join the fight against breast cancer.
Contact us at 866-540-5069 and experience the joy of giving to others. Donate today!
or Call Us Now at 866-540-5069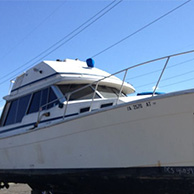 Excellent customer service!