Mountain View, California Car Donations
Donate Your Vehicle in Mountain View, California & Receive a Top Tax Deduction!
Donate a Vehicle to Charity to Help Fight Breast Cancer
The cost of repairing or getting rid of an old vehicle can be stressful. Save time, hassle, money, and trouble by donating it to Breast Cancer Car Donations. When you donate a car in Mountain View CA, you'll receive a top tax deduction and you'll provide critical support to our partner nonprofits that provide vital services and research to those battling breast cancer.
How Does It Work?
The donation process is easy! First, you call and speak with our team for a convenient appointment or you can just fill out the online form. Then, we will prearrange a pickup at a time and place convenient for you. Towing is always free for you. Lastly, we mail your charitable car donation tax deduction directly to you.
That's it! You'll finally be rid of that old vehicle that's been occupying precious real estate, not to mention, costing you insurance, maintenance, and other fees. Breast Cancer Car Donations ensures all the appropriate paperwork is handled including all title paperwork.
We accept all types of vehicles for donation, including RVs, boats, golf carts, personal watercraft, riding lawn mowers, and more! Simply call and let us know you are ready.
How Your Vehicle Helps
Every car donation for breast cancer counts. Your vehicle donation directly helps those suffering against life threatening diseases such as breast cancer. Our partner nonprofits specialize in the research and treatment of breast cancer, as well as deliver personal and family counseling, food, housing, and essential access to medical care.
Help us reach our goals in funding research and treatment to those struggling to survive. Do you feel empowered yet to make a difference?
Call now or complete the simple online form below to donate a car for tax credit and we'll take care of everything for you. Or, if you wish to drop off your vehicle at our Mountain View location, please contact us first to schedule a time! 
FAQs
What steps should one take to prepare a vehicle for donation?
If you wish to contribute your car to an auto donation program, you need to first give your license plates to the DMV as well as cancel the vehicle's registration, which can be done online or in-person. This enables you to comply with your state's regulations for donation. Additionally, you'll need to transfer the automobile's title to the charity of your choice. Be sure to complete any necessary forms and keep them on hand. Next, reach out to your insurance agent and cancel the vehicle's insurance.
The local DMV in Mountain View, CA, is the Mountain View Industry Business Center. This facility is located at 595 Showers Dr. Moreover, it's a good idea to clean the car before handing it over for donation. Don't forget to take any personal belongings. 
What are the perks of contributing a vehicle to charity, and how does it support a worthy cause?
If you're searching for places to donate cars, look no further than Breast Cancer Car Donations. Contributing to our organization provides you with several benefits. Not only is it a convenient way to get rid of an old or unwanted car, but also you can receive a potential tax deduction. 
Breast Cancer Car Donations auctions off donated vehicles and gives the proceeds to our partner nonprofits that are dedicated to fighting this devastating disease. These nonprofits help fund research for breast cancer and provide services to patients, including screenings and treatments. For more information about our program, you can visit our FAQs page or reach out to us directly.
What other resources are available for breast cancer patients in the area?
Mountain View is home to the El Camino Hospital Cancer Center located at 2505 Hospital Dr. This medical facility offers comprehensive cancer care services and concierge support for patients. It treats numerous types of cancer such as brain, liver, breast, lung, and more.
Breast Cancer Car Donations serve the entire region, including nearby communities such as Los Altos, Santa Clara, and Sunnyvale.
Breast Cancer Car Donations: Mountain View, California
2520 Old Middlefield Way
Mountain View, CA 94043
Phone: (866) 540-5069
or Call Us Now at 866-540-5069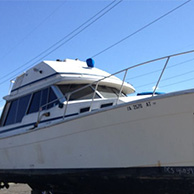 Excellent customer service!