Santa Clara, California Car Donations
Donate Your Vehicle and Save Lives!
Santa Clara, California Car Donations: Do Something Truly Special In Your Life – Help Save Lives!
When you donate to our Santa Clara, California car donations for cancer, you will make a big impact on the lives of financially struggling breast cancer patients and their families in your city.
The proceeds from the sale of your donated vehicle will go directly to our non-profit partners that are the ones directly on the front line in the battle against breast cancer. They use the funding they get from us at Breast Cancer Car Donations to provide financial assistance to indigent breast cancer patients, boost research on breast cancer treatment, and spread breast cancer awareness among the public to facilitate treatment and save more lives.
Our partners are two of America's most trustworthy non-profit organizations dedicated to fighting breast cancer. They are the American Breast Cancer Foundation (ABCF) and Women Involved In Nurturing, Giving, Sharing, Inc. (WINGS). We operate a nationwide vehicle donations program to generate funds for their programs that provide services geared towards breast cancer prevention, early detection, and treatment.
We take pride in handling car donations for breast cancer with the highest degree of professionalism and integrity. We make sure that the proceeds from the sale of all Santa Clara, California car donations we receive will exclusively benefit the residents of the city. You can donate your preloved car today by calling us at 866-540-5069.
About Santa Clara, California
Santa Clara is the ninth most populous city in the San Francisco Bay Area and is situated 45 miles southeast of San Francisco. The city was established in 1777 and was later incorporated in 1852. The city is bounded by Sunnyvale, San Jose, and Cupertino.
Santa Clara is home to a number of high tech companies, including Intel. It also hosts the oldest institution of higher learning in California, the Santa Clara University. The university was built around Mission Santa Clara de Asís.
Santa Clara also hosts Levi's Stadium, the home of the NFL's San Francisco 49ers. The city served as the venues of Super Bowl 50 in February 2016 and the Pac-12 Football Championship Game in December 2017. It will also host the fifth National Championship game of the College Football Playoff on Jan. 7, 2019.
There are about 116,468 people living in Santa Clara. Of this number, 57,658 are women. The breast cancer rates in Santa Clara vary by ethnicity, with African American women having the highest rates, followed by White Americans, the Latinos, and the Asians and Pacific Islanders.
What You Get from Donating Your Vehicle
If you think donating your car will only benefit us, our non-profit partners, and the breast cancer patients we serve, well, that's not the complete picture. It may sound amazing, but our donors do get their own share of benefits for taking part in our Santa Clara, California car donations program.
We at Breast Cancer Car Donations convey our gratitude to our donors for giving away their vehicles by offering them these benefits:
A very easy donation process

Get more space by getting rid of the vehicle you don't need.

Quit paying for fees that come with storing, insuring, and maintaining your vehicle.

Save yourself the trouble of trying to sell your old vehicle.

You won't be overwhelmed with paperwork – we'll handle it for you.

Get your car towed for free.

You could qualify for a 

top tax deduction

.

It can be quite uplifting to provide much-needed assistance to others.
Our Quick and Easy Car Donations Process
Our Santa Clara, California car donations process gives donors a quick and convenient way to reach out to us. The process consists of three simple steps:
A simple call can change the lives of many. Once you're ready to make a donation, pick up your phone and give us a call at 866-540-5069. You may also fill out our online donation form to begin the process. Either way, we will respond promptly. We may require donors to present the titles of their vehicles. For the list of common vehicle types we accept for donation, check out this page.
You will hear from us after we verified the information you shared about your vehicle. We will ask you to pick the most convenient date, time, and place for the vehicle pick-up. Please note that this is absolutely free of charge. We will issue you a donation receipt during the pick-up. This will relieve you from any liabilities on your vehicle and gives you the right to cancel your car registration and insurance coverage and stop paying for them. The receipt is also a requirement for the processing of your tax deductions.
This is one of our car donation program's biggest benefits. Within days after we auction off your vehicle, we'll send you your 100 percent tax-deductible sale receipt, indicating your donated vehicle's final selling price. This will serve as the basis of your tax deduction claim when you file your itemized federal tax return.
Donate a Car Now!
With your support, breast cancer rates can be reduced and deaths from the disease can be prevented by making people become more aware of its signs and symptoms. Call us at 866-540-5069 and do something truly special in your life by making your Santa Clara, California breast cancer vehicle donation! Help save lives! We serve the entire San Jose area, including nearby Freemont and Sunnyvale.
or Call Us Now at 866-540-5069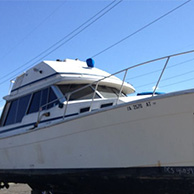 Excellent customer service!