Sunnyvale, California Car Donations
Donate Your Vehicle and Save Lives!
Sunnyvale, California Car Donations: Help Save Lives!
Despite progress made in cancer screening and treatment, breast cancer continues to touch and claim thousands of American lives, including here in Sunnyvale, California.
The number of cases and the death toll remain high. For 2018, the American Cancer Society estimates that 266,120 new cases of invasive breast cancer would be diagnosed in women as well as 63,960 new cases of non-invasive cancer, also known as carcinoma in situ or CIS. It warns that about 40,920 women in the U.S. are expected to die this year from breast cancer.
The Society also states that about one in eight American women (or about 12.4 percent) will develop invasive breast cancer over the course of her lifetime.
These are shocking and frightening numbers indeed. However, we at Breast Cancer Car Donations remain hopeful that with greater public awareness and involvement in the fight against this disease, more lives will be saved.
That is why we are relentlessly pursuing our car donations drive all over the country, including the one here in Sunnyvale. Your participation in our car donation program will definitely be a big boost in the fight against breast cancer, leading to more successful treatment and higher cancer survival rates.
If you are planning to sell or get rid of your old car or van or any other vehicle that is no longer beneficial to you, think about donating it to us instead.
That vehicle may not be valuable to you anymore, but to needy people with breast cancer, such vehicle donations could be the one that could help them beat the disease. You will become part of something wonderful in their lives, and your old rusty clunker could turn out to be their lifesaver.
Sunnyvale, California: The Heart of Silicon Valley
The city of Sunnyvale is part of the Santa Clara County in California and was incorporated in 1912. It is the seventh most populous city in the San Francisco Bay Area and is one of the major cities embracing Silicon Valley.
The city is the headquarters of several tech companies and is a major operating center for a lot more. Examples are Advanced Micro Devices, Yahoo, SanDisk, Maxim, Spansion, Network Appliance and many more. It is also home to different aerospace or defense companies.
It is also one of the few cities in the U.S. that have a single unified Department of Public Safety. This is where all staffs are trained as police offers, firefighters, and EMTs so that they can respond to an emergency in any of the different roles.
Where Your Car Donations for Breast Cancer Will Go
The proceeds of your Sunnyvale, California car donations for cancer will go straight to our two trusted charity partners — the American Breast Cancer Foundation (ABCF) and Women Involved In Nurturing, Giving, Sharing, Inc. (WINGS). These are two IRS-registered 501(c)3 nonprofit organizations that have dedicated themselves to fighting the scourge of breast cancer. They use the funding we give to them to sustain and improve these existing services, such as:
Providing financial assistance to uninsured and underserved breast cancer patients, covering their surgery, oncology services, consultation, hospital fees and outpatient medication;

Connecting these patients to local facilities that offer free and accessible resources, information and other comprehensive breast health services;

Raising public awareness on breast cancer prevention, diagnosis, and treatment;

Pursuing research on prevention, screening, diagnosis, and treatment of breast cancer; and

Sponsoring charity and outreach events for the benefit of breast cancer patients.
The Benefits that Await You as Car Donor
Clearly, the main point of making the choice to donate a car to charity is to come to the aid of suffering people. That holds true with our Sunnyvale, California car donations. But we devised ways to make the donation experience more pleasant and rewarding to our donors. Here are some of the perks you'll receive when you donate your car to us at Breast Cancer Car Donations.
We will send your donated vehicle to the best auction house where it would be sold for the top dollar. The result would be maximized tax deductions on your federal tax return.
We'll pay for your vehicle pick-up and towing.
Expect quick and efficient towing service at the date, time, and place of your own choosing for free!
Avoid the hassle of selling.
Selling a car, especially an old car, can be irritating, time-consuming, and expensive as well. If you simply donate your car to us, you won't have to run ads, deal with phone calls or emails, show vehicle to potential buyers, and haggle over the sales price.
No need to bother yourself with paperwork.
When you donate your car to us, we'll handle all the paperwork from beginning to end — from handling the title transfer to the documentation required in receiving your charitable tax deduction.
Save money on repairs, other payments.
You can now stop wasting money in paying for the never-ending repairs, maintenance, registration, and insurance of your vehicle by simply donating it to us.
Unclog your garage or backyard.
Donating your old car will allow you to make room for a new car in your garage or backyard. Even if you don't plan to buy a new vehicle, a clutter-free backyard is a pleasant sight to see.
Support a worthy cause that brings out the best in you.
Donating your car to a truly worthy cause, one that saves lives, will give you a deep sense of personal satisfaction.
Our Quick and Simple Car Donation Process
We made our Sunnyvale, California car donations process quick and simple for the convenience of our donors. It consists of only three steps:
First:
Get in touch with us either by filling out our online donation form or calling us at 866-540-5069. Tell us about the details of your vehicle – year purchased, make and model, and VIN.
Second:
After we verify your donation offer, you yourself can schedule our fast and free pick-up at your earliest convenience. We'll immediately arrange for a professional towing company to get your vehicle for you. We will give you a donation receipt that releases you from all liabilities on your car, giving you the right to cancel and stop paying for your car insurance and registration.
Third:
Within days after we auction off your vehicle, we'll send you your 100 percent tax-deductible sale receipt, indicating your donated vehicle's final selling price. This will serve as the basis of your tax deduction claim when you file your itemized federal tax return.
Donate a Car Now!
Are you ready to join the fight against breast cancer by donating your car or truck or any other vehicle you don't need anymore? If you are, call us now at 866-540-5069. Help save lives with your Sunnyvale, California car donations!
We serve the entire San Jose area, including nearby neighborhoods like Autumn Hills, Bella Lago, Castle Park, Del Mar Ave, Eucalyptus, Falcon Valley, Guava Ave, Hillsborough, Indigo, Lake Pointe, Mariposa Circle, Ocean Crest North, Palm City, Rogers Park, Summer Hill, Terra Nova, Vista Del Mar, and Wueste Road.
or Call Us Now at 866-540-5069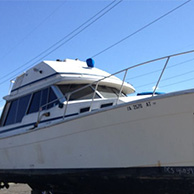 Excellent customer service!