Los Altos, California Car Donations
Donate Your Vehicle and Save Lives!
Los Altos California Car Donations: Help Save Lives By Donating Your 'Junk'
Your ugly beat-up car may look like a piece of junk to you now as you think of ways to get rid of it. However, to us at Breast Cancer Car Donations, we still see beauty in it because we know it can still generate funds to help in our relentless campaign against breast cancer, including the treatment of breast cancer patients in your city who do not have the financial resources to fight the disease.
We are thus appealing to your good heart to help the folks in your own city who are suffering from breast cancer by joining our Los Altos, California car donations program.
We assure you that your car donation will make a big difference in the lives of struggling breast cancer patients and their families as well.
How Your Car Donation Can Transform Lives
We at Breast Cancer Car Donations operate vehicle donations on behalf of our certified 501(c)3 non-profit partners to generate funds for their programs that provide free and accessible comprehensive breast health services across the country. These services are geared towards breast cancer prevention, early detection, treatment and/or cure. We are proud partners of:
American Breast Cancer Foundation (ABCF)
ABCF seeks to make breast cancer diagnosis and treatment accessible and available among the uninsured and the underserved in every locality, including here in Los Altos, CA. ABCF directs its efforts in giving education, access and financial assistance to every person particularly among the poorest of the poor. Through its extensive link referral systems, people from various ethnic, socioeconomic and cultural backgrounds are connected to their local facilities that provide free and accessible resources, services and information that are linguistically customized according to their individual needs.
Women Involved in Nurturing, Giving, Sharing, Inc. (WINGS)
Since 1999, WINGS have been committed to giving financial assistance for breast cancer treatment including surgery, oncology services, hospital fees, outpatient medication, as needed. They are also actively involved in outreach and are advocates of raising public awareness for breast cancer prevention.
We handle vehicle donations with the highest degree of professionalism and integrity. We assure you that the proceeds of your Los Altos, California car donations will exclusively benefit the residents of your city.
You Are One Phone Call Away to Saving Lives
With just one phone call to us at Breast Cancer Car Donations, you can begin a process that will eventually lead to medical interventions that will save the lives of breast cancer victims. Here is our quick and easy Los Altos, California car donations process to facilitate your life-saving action:
The first thing you have to do is contact us.
Once you're ready to make your car donation, pick up your phone and give us a call at 866-540-5069. You may also fill out our online donation form to begin the process. Either way, we will respond promptly. Share with us your contact information and a few details about the car you're donating, including its year, make and model. We may require you to present the title of the vehicle you're donating. It depends on your state's policies. We will clarify this point when we talk to you on the phone.
After verifying the information you shared with us, we will ask you to pick the most convenient date, time, and place for us to pick up your vehicle. Please note that this is absolutely free of charge. We will issue you a donation receipt during the pick-up. This will relieve you from any liabilities on your vehicle and gives you the right to cancel your car registration and insurance coverage and stop paying for them. The receipt is also a requirement for the processing of your top tax deductions.
This is one of the biggest perks of donating a car for the benefit of breast cancer patients. Within days after we auction off your vehicle, we'll send you your 100 percent tax-deductible sale receipt, indicating your donated vehicle's final selling price. This will serve as the basis of your tax deduction claim when you file your itemized federal tax return.
The Rewards You'll Get for Your Generosity
Aside from the substantial tax deduction you'll get and the deep sense of satisfaction you'll feel for playing the role of a life-saver, you will also get to enjoy the following benefits when you take part in our Los Altos, California car donations program:
You won't have to experience the hassle of selling your car.
Get rid of the unused car that's stuck in your driveway.
Quit paying for insurance and maintenance on a vehicle you haven't use since ages ago.
No irritating and time-consuming paperwork to do – we'll do it for you.
Free and fast pickup and towing
The Types of Vehicles We Accept for Donation
We accept nearly all types of vehicles in our Los Altos, California car donations program. Even if the vehicle you're donating has seen its better days a long time ago, we will still accept it. We're not choosy at all in accepting vehicles for donation.
Here are some of the vehicles we welcome for donation:
General vehicles: cars, vans, trucks, SUVs, trucks, pickups, and motorcycles
Watercraft: yachts, jet skis, motorboats, fishing boats, pontoon boats
RVs and campers: RVs, campers, 5th wheelers, recreational vehicles, motorhomes, pop-up trailers
Specialty vehicles: ATVs, riding lawnmowers, snowmobiles, motorized wheelchairs, non-commercial airplanes, golf carts and farm equipment
Fleet vehicles: buses, passenger vans, cargo vans
Are You Ready to Save Lives Now?
Are you ready to make your life-saving decision now? Don't delay. Don't hesitate. Call us at 866-540-5069 and make your Los Altos, California car donations now!
or Call Us Now at 866-540-5069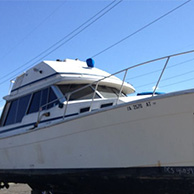 Excellent customer service!