Palo Alto, California Car Donations
Donate Your Vehicle and Save Lives!
Palo Alto, California Car Donations for Cancer: Take Your Old Car to Another Journey – One That Saves Lives
If your car has already taken you to so many places and has already begun malfunctioning, perhaps it's high time to take it to another journey. Let your vehicle go the extra mile by donating it to our Palo Alto, California car donations program for the benefit of indigent breast cancer patients.
When you donate your car to us at Breast Cancer Car Donations, we will take it to the best auction house within our network to be sold. Proceeds from the sale of your car will be used by our two IRS-certified 501(c)3 non-profit organization partners—the American Breast Cancer Foundation (ABCF) and Women Involved In Nurturing, Giving, Sharing, Inc. (WINGS)—to provide comprehensive breast health services to all individuals who need them.
In particular, ABCF seeks to make breast cancer diagnosis and treatment accessible and available among the uninsured and the underserved in every locality. ABCF provides education, medical access and financial assistance to every person particularly the poor. It uses its extensive link referral systems to connect people from various ethnic, socioeconomic and cultural backgrounds to their local facilities that provide free and accessible resources, services, and information.
On the other hand, WINGS has been giving financial assistance for breast cancer treatment including surgery, oncology services, hospital fees, outpatient medication since 1999. The group is also actively involved in outreach programs is an advocate of raising public awareness for breast cancer prevention.
Why We Are Here in Palo Alto
Bringing down the number of breast cancer cases in Palo Alto is a huge challenge. Better prevention strategies and more effective treatment modalities are needed to do so. These can only be achieved with adequate funding. This is the reason why we at Breast Cancer Car Donations are intensifying our car donation program.
With your Palo Alto, California car donations, we will be able to generate funding for programs that are geared towards breast cancer prevention, early detection, treatment and cure. When you donate your old and unwanted vehicles to us, you can be sure that the funds arising from your donations will be used exclusively to benefit the residents of your local community.
Learn More About Palo Alto
Palo Alto is located in Santa Clara County and is named after a 1,000-year-old coastal redwood tree. This city is a leader in cutting-edge technological development and is home to many world-class companies. Several local cancer treatment centers call this home, including Stanford Women's Cancer Center on Blake Wilbur Dr., Cancer Care Clinic: Palo Alto Center: Palo Alto Medical Foundation on El Camino Real and Stanford Cancer Center Palo Alto on Blake Wilbur Dr.
Fortunately, according to the American Cancer Society, the mortality rate for cancer has dropped since the 1990s. This is due to the advancement of treatment and early detection methods. Moreover, Black Americans are more likely to perish from this disease. In 2018, about 140 Black Americans per 100,000 died of cancer in Santa Clara County, CA, compared to 130 white individuals per 100,000.
Latest U.S. Breast Cancer Estimates
Next to skin cancer, the most common type of diagnosed cancer among American women is breast cancer. Based on the American Cancer Society's latest estimates for breast cancer in the United States for 2018, about 266,120 new cases of invasive breast cancer will be diagnosed in women this year while about 63,960 new cases of non-invasive breast cancer (called carcinoma in situ or CIS) will also be diagnosed.
The Society's latest report states that about 40,920 American women will die from breast cancer this year.
It notes that the average risk of a woman in the United States developing breast cancer sometime in her life is about 12 percent, which means that there is a one in eight chance she will develop breast cancer.
It points out that there are currently more than 3.1 million breast cancer survivors in the United States, including women still being treated and those who have completed treatment.
How You Can Join the Fight against Breast Cancer
The numbers cited clearly show the need for more effective ways to confront the breast cancer menace. You can help meet this great challenge by taking part in our Palo Alto, California vehicle donations program. We have come up with a quick and easy three-step car donation process for the convenience of our donors:
First, fill out our online donation form or call us at 866-540-5069.
Let us know that you want to donate your car. We'd need your personal contact details, your vehicle's year, make, model, mileage, availability of a title and overall running condition as well.
Second, allow us to pick up your vehicle for free and at your preferred time and date.
A local professional towing company will tow your car, and we'll be the one to pay for this. Your presence is not required on the day of pickup. Before we leave, we will give you a donation receipt that will free you from all liabilities on the car, which means you can now cancel its registration and insurance coverage.
Third, receive your tax-deductible receipt by mail.
Within days after we sell your vehicle at auction, we'll send you your 100 percent tax-deductible sale receipt, indicating your donated vehicle's final selling price. This will serve as the basis of your tax deduction claim when you file your itemized federal tax return.
The Rewards That Our Car Donors Receive
You will not go home empty-handed when you participate in our Palo Alto, California car donations program. As our way of conveying our gratitude for your generosity, you will receive these rewards:
A hefty tax deduction for your donation.

Avoid the difficulties of selling your car.

No need to bother with paperwork – we do that for you.

Save money by not paying any more for car repair, registration and insurance.

We'll pay for the pick-up and towing of the vehicle you're donating.

More space in your backyard or garage to house your new car.

Give yourself a deep sense of personal satisfaction for supporting a noble cause.
The Types of Vehicles We Accept for Donation
We accept nearly all types of vehicles in our Palo Alto, California car donations program with only very few exceptions. Your car's condition doesn't matter. Even if it has not run for years, we would still gladly accept it as your donation.
The only vehicles we cannot process are those that have been abandoned and without titles or ownership. This is because we cannot possibly sell vehicles without titles. In case you can't find the title to the vehicle you're donating, don't worry. We can help you find a replacement title quickly.
We also cannot accept severely damaged vehicles whose value is less than the cost of towing them.
Here is a partial list of the vehicle types we accept for donation:
Vans or minivans

Trucks

Motorcycles

RVs

Toy haulers

Personal watercraft

Yachts

Snowmobiles

Golf carts

Non-commercial airplanes

Farm equipment
Please check our vehicles accepted page for more information.
Donate a Car for Charity Now!
If you're ready to make car donations for breast cancer, or if you have questions in your mind, call us now at 866-540-5069. Join a truly worthy cause that's meant to save lives with your Palo Alto, California car donations! We serve the entire state of California, including nearby communities such as Alta Torre, Barron Park, Crescent Park, Greendell, Meadow Park, Rosewalk, Southgate and Walnut Grove.
or Call Us Now at 866-540-5069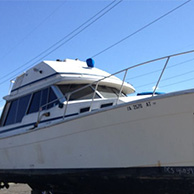 Excellent customer service!