Car Donation Concord, California
Turn Your Old Car into a Powerful Weapon against Breast Cancer
Do you have an old car that's just taking up valuable space in your garage? You'd be happy to know that you can easily get it off your hands while turning it into a life-saving tool for destitute breast cancer patients in your city.
How to do that? Simple. Just hand it over to us at Breast Cancer Car Donations through our Concord, California car donations program.
Thanks to your charitable donation, impoverished breast cancer patients in your city can get the life-saving medical treatment they badly need.
Breast Cancer Stats In the U.S.
Breast cancer is the most commonly diagnosed cancer among women in the United States next to skin cancer. Every two minutes, an American woman is diagnosed with the disease. Approximately one in eight women is bound to have breast cancer throughout her lifetime. It's estimated that this year, 281,550 new cases of invasive breast cancer will be diagnosed in American women and that 44,130 people will die because of the disease.
How You Can Help Breast Cancer Sufferers with Your Donation
Your Concord, CA car donation can help bring these numbers down. We will auction off your donated vehicle and use the proceeds to help fund the comprehensive breast health programs of our charity partners. These IRS-determined 501(c)(3) nonprofit organizations use the funding to provide uninsured and indigent breast cancer patients with financial assistance to cover the costs of their hospital fees, medications, and follow-up care. These patients are also given easy access to medical facilities where they can undergo surgery, chemotherapy, radiation, and other types of treatment they need.
Moreover, our charity partners provide breast cancer survivors with follow-up care, including laboratory work, annual mammograms, and free medical checkups five years after remission.
Other beneficiaries get to receive free breast cancer screening and prevention and education services.
Concord, CA at a Glance
Concord is the largest city in Contra Costa County, California. It's where Academy Award-winning actor Tom Hanks was born. It's also the home of the Concord De La Salle High School's football team, which holds the record for having the longest winning streak of 151 games from 1992 to 2004.
According to the latest data provided by the United States Census Bureau, the city had an estimated population of 129,295 as of 2019. Of this number, 50.3% are women, which means that half of Concord's population is susceptible to developing breast cancer.
Our Fast and Convenient Donation Process
In just a matter of minutes, the car that you no longer need can become a powerful weapon in the battle against breast cancer. That's how fast you can make your Concord, CA car donation to us!
Here's a simple guide to our three-step donation process:
1. Reach out to us.
Fill out our donation form on this website. You can also choose to donate your auto over the phone by calling Breast Cancer Car Donations at 866-540-5069. We'll ask a couple of questions about the vehicle you're donating such as its year, make, model, mileage, etc.
2. Schedule your free car removal.
We'll get in touch with you as soon as we verify the information you provided. We'll then ask about your preferred time and day for the pickup and your car's pickup location. We'll arrange with a licensed towing company to collect your donation at zero cost to you. The driver will hand you a towing receipt before hauling away your vehicle. The receipt will release you from all liabilities on your vehicle from that point onward. You can then cancel your vehicle's DMV registration and insurance coverage.
3. Receive your tax-deductible receipt by mail.
After we thoroughly assess your donation, we'll coordinate with one of our vehicle liquidation vendors to have it auctioned off at its highest possible price so you can maximize your tax deduction claim. Once your vehicle is sold, we'll mail you your 100% tax-deductible sales receipt. You'll need this receipt to claim your tax deduction when you file your itemized federal income tax return in the next tax season.
You can get more information about our vehicle donation program by visiting our FAQs page.  You may also call us at 866-540-5069 or contact us online.
We Accept Almost Any Vehicle That You Can Think Of
We at Breast Cancer Car Donations accept nearly all vehicle types. We even accept damaged or non-working vehicles for as long as they have legitimate titles.
Here's a list of the different vehicle types that we welcome in our Concord, CA car donations program:
Cars: sedans, luxury cars, coupes, convertibles, hybrids, sports cars
Vans: family minivans, camper vans, cargo vans, passenger vans
SUVs: compact, midsize, full-size, or crossover versions
Motorcycles: touring bikes, cruisers, scooters, off-road bikes
Trucks: box trucks, pickup trucks extended cab pickup, panel trucks
Boats: fishing boats, sailboats, tugboats, speedboats, houseboats
Specialized vehicles: riding lawnmowers, motorized wheelchairs
Fleet vehicles: SUVs, pickups, trucks, buses, cars, passenger vans, cargo vans
Recreational vehicles: noncommercial planes; campers, travel trailers, snowmobiles
Work-related vehicles: construction vehicles, tractors, and farm equipment, buses
You Won't Be Going Home Empty-Handed
When you donate a vehicle to us, you won't just be helping despondent women with breast cancer in your city. You'll also be helping yourself.
Here are some of the rewards you make a car donation to us in Concord, CA:
You'll qualify for a maximum tax deduction in the next tax season.
You get free car removal from any location of your choice and according to your preferred schedule.
You won't have to go through all the hassles associated with trying to sell a used vehicle yourself.
You no longer have to spend your hard-earned money on repairs, maintenance, and storage of an unneeded vehicle.
You'll get to experience the priceless joy and satisfaction of giving away something that will be used to help save lives.
Become a Lifesaver in Your City Today!
Give the gift of hope to the suffering breast cancer patients in your city. Your Concord, CA car donation can give them a new lease on life. Call Breast Cancer Car Donations at 866-540-5069 or fill out our secure online donation form now!
or Call Us Now at 866-540-5069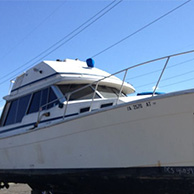 Excellent customer service!