Car Donation Concord, California
Help Fight Breast Cancer in Your City with Your Car Donation!
Breast cancer continues to touch the lives of thousands of women in America, including here in Concord, California. Statistics show that 1 in 8 women will develop breast cancer in her lifetime. Even with medical advancements, breast cancer continues to claim thousands of American lives annually.
According to cancer.net, approximately 297,790 women in the United States will be diagnosed with breast cancer in 2023, with 43,700 estimated deaths. Moreover, over 3.8 million women currently live with breast cancer in the United States.
Worldwide, female breast cancer is the fifth leading cause of death. Here in the United States, breast cancer is the second most common cause of cancer death after lung cancer.
If you feel compassion for needy breast cancer patients in your city and would like to help them, you can do so by donating an unwanted vehicle to us at Breast Cancer Car Donations through our Concord, California car donation program.
About Concord, California
Located in Contra Costa County in California, Concord was founded in 1869 and was initially called Todos Santos. It was later called Concord — a name derived from the Concord stagecoach, a popular mode of transportation in the 1900s.
The latest estimates of the U.S. Census Bureau put the city's population at 122,625, with 9.1% of them listed as persons in poverty, and 6.7% of those under 65 years listed as having no health insurance.
Uninsured and indigent breast cancer patients in Concord, CA, need all the help they can get to overcome their affliction. Your car donation will surely touch their lives.
How We'll Use Your Concord, CA Car Donation to Help Save Lives
Breast Cancer Car Donations is the online vehicle donation platform for reputable IRS-determined 501(c)(3) nonprofit organizations that are waging a relentless battle against breast cancer in communities across the United States.
We will auction off your donated vehicle and use the proceeds to support the life-saving mission of our charity partners. These charities use the funding we give them to provide uninsured and indigent breast cancer patients with financial assistance to help cover the costs of their treatments, doctor consultations, hospital fees, medications, follow-up care, and other essential healthcare services.
Our charity partners also provide underprivileged individuals with easy access to local healthcare facilities where they can get free breast cancer screening and diagnosis.
Moreover, these charities provide breast cancer survivors with follow-up care such as laboratory work, annual mammograms, and physician visits five years after remission. They are also active in promoting breast cancer awareness and providing prevention, education, and counseling services to the public.
What's In It for You as Our Donor?
Taking part in our Concord, CA car donations program will allow you to enjoy certain perks. Listed below are some of the top reasons why donating a vehicle to Breast Cancer Car Donations makes a lot of sense:
1. Enjoy the maximum tax deduction.
Your car donation will not only help save the lives of breast cancer patients in your city, but it will also entitle you to receive the highest possible tax deduction that can substantially reduce your tax bill in the next tax season.
2. Get our free towing service.
Put your wallet back into your pocket as you won't be paying for the towing service that we'll provide. We've got you covered with all towing expenses regardless of the distance it will take us to reach your location.
3. No need to worry about paperwork.
We won't be sending you any long papers to examine and sign or ask a long list of requirements from you. All documentation will be handled by our team.
4. Experience the joy of helping save lives.
Even more valuable than the material perks that await you, you'll get to experience the joy and satisfaction of making a charitable act that can help save precious human lives.
Our Fast and Convenient Concord, CA Car Donation Process
The donation process we follow at Breast Cancer Car Donations is quick and painless. You have the choice of either filling out our online donation form or calling us through our toll-free hotline at 866-540-5069. We've got a team of professionals ready to assist you in processing your donation.
Here's a simple guide to the three-step donation process we follow in our Concord, CA car donations program:
1. Contact us.
We have here an online donation form that you can fill out. You can also call us at 866-540-5069. We have our donation specialists standing by 24/7 to explain and guide you throughout the process.
2. Schedule your vehicle's free pickup.
Let us know your preferred date, time, and location for your vehicle's pickup, and we'll send a licensed tow truck to collect your donation for free. You don't need to be physically present during the pickup. However, be sure to leave your car title and keys inside the vehicle for our tow truck driver to pick up.
Before we tow your vehicle, we'll issue you a towing receipt. This will free you from any liability on your vehicle from that point forward. You'll also need this receipt to de-register your vehicle at your local DMV and cancel its insurance coverage.
3. Receive your tax deduction.
We'll make sure to get the best price possible for your car during its auction sale. Since the proceeds will be used to help provide medical assistance to needy breast cancer patients in your city, we would want to get as much value as we can from your contribution. A high selling price for your vehicle will also benefit you since you can claim the full amount as your tax deduction.
We'll mail your vehicle's 100% tax-deductible sales receipt within 30 days following its sale. You'll need this receipt when claiming your tax deduction.
We accept almost all vehicle types you can think of and they need not be in good running condition either!
For more information, head over to our FAQs page. If you have any questions or concerns, feel free to call us anytime through our toll-free hotline at 866-540-5069. You may also write to us here.
Reach Out to Needy Breast Cancer Sufferers in Concord, CA Today!
There's no better time than now to help the breast cancer sufferers in Concord, CA. You can do it with a simple vehicle donation. Call Breast Cancer Car Donations at 866-540-5069 or fill out our secure online donation form now!
or Call Us Now at 866-540-5069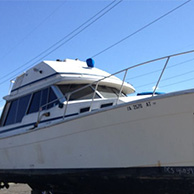 Excellent customer service!