Irvine, California Car Donations
Donate Your Vehicle and Save Lives!
Irvine, California Car Donations: Be a Hero to Breast Cancer Patients in Your Own City!
It is no secret that many women in the United States have no health insurance coverage and could not afford to give themselves proper healthcare due to the expense involved. The same situation applies to a large population of women in Irvine, California. Without assistance, these women could not even afford breast cancer screening, much less treatment once they're diagnosed to be positive for the deadly disease.
This is why we at Breast Cancer Car Donations have set up our Irvine, California car donations program to provide assistance to these women, particularly those breast cancer patients who badly need medical assistance and who do not have the means to access it.
Our car donation program provides a platform for residents of this city to conveniently extend much-needed assistance to indigent breast cancer patients in Irvine by donating their vehicles, whether new or old, running or not running.
Where Proceeds from Your Car Donations Will Go
The proeeds of your Irvine, California car donations for breast cancer will go straight to our two charity partners — the American Breast Cancer Foundation (ABCF) and Women Involved In Nurturing, Giving, Sharing, Inc. (WINGS). These are two of the nation's most trusted non-profits. With the funding they get from us, they are able to do the following services:
Provide financial assistance to uninsured and underserved breast cancer patients, covering their consultation, hospital fees, outpatient medication, oncology services, and even their surgery.

Link these patients to facilities in their own city that offer free and accessible resources, information and other comprehensive breast health services;

Raise public awareness on breast cancer prevention, diagnosis, and treatment;

Pursue research on prevention, screening, diagnosis, and treatment of breast cancer; and

Sponsor charity and outreach events for the benefit of breast cancer patients
Satisfying Rewards for Car Donors
You may come up with several reasons for selling your vehicle. However, we can assure you that donating your car to us will bring you more satisfaction than selling it.
Here are some of the rewards that await you when you take part in our vehicle donation program in the city:
The donation process takes only a few minutes of your time.
Just fill out our online donation form or give us a call, and we'll take care of everything else. In contrast, you'll spend a lot of your precious time—and money as well—when you try to sell your car, with no guarantee that it will fetch a good enough price.
We shoulder the cost of your vehicle pick-up and towing.
You won't spend even a dime in donating your old and unwanted vehicle to us. We will tow your car for free at the date, time, and place of your own choosing.
We can assure you that your donated vehicle will fetch its maximum selling price since we will send it to the best auction house that we know of. This means the highest possible tax deductions on your federal tax return.
Avoid the irritation and security risk of selling.
Selling an old car that has little selling point can be irritating, time-consuming, and expensive as well. If you simply donate it to us, you won't have to subject yourself to such hassle and even security risk when you're forced to deal even with suspicious would-be buyers.
When you donate your car to us, we'll take care of all the paperwork from start to finish — from handling the title transfer to the documentation required in receiving your charitable tax deduction.
Save money on repairs, other payments.
No need to spend money on car repairs, maintenance, registration, and insurance coverage when you donate your vehicle to us.
Clear your garage or backyard.
Donating your old car would make room for a new car in your garage or backyard.
Support a noble cause that makes you a hero to your beneficiaries.
Donating your car to save lives will give you a deep sense of personal satisfaction and make you the hero of breast cancer aid beneficiaries.
Our Swift and Simple Car Donation Process
Our Irvine, California car donations process is a breeze. All you have to do is follow three easy steps to donate a car for charity:
Get in touch with us either by filling out our online donation form or calling us at 866-540-5069. Tell us about the details of your vehicle – year purchased, make and model, brand, and mileage.

After we receive your donation request, we will let you schedule the towing of your car at your convenience. We'll immediately arrange for an affiliate towing company to pick up your vehicle. We will give you a donation receipt during the pick-up that releases you from all liabilities on your car, giving you the right to cancel your car insurance and registration.

Lastly, you will receive your IRS tax-deductible receipt in the mail after your vehicle is sold at auction. You'll need the receipt to support your top tax deduction claim in the next tax filing season.
Learn More About Irvine
Fortunately for the residents of Irvine, CA, there are several distinguished cancer treatment centers in the area dedicated to helping people who are facing a battle with breast cancer. One such center is the Cancer Center For Healing, located on the corner of Alton Pkwy and Hughes. Another option is Hoag Cancer Center Irvine, which can be found along Sand Canyon Ave. Patients can also seek treatment at UCLA Health Irvine Cancer Center, situated on the corner of E Yale Loop and Barranca Pkwy.
The Types of Vehicles We Accept for Donation
Our Irvine, California car donations program accepts nearly all types of vehicles. We take cars, trucks, vans, motorcycles, and SUVs. We also accept boats, non-commercial planes, jet skis, snowmobiles, RVs, campers, lawn mowers, trailers, golf carts, fleet vehicles, and even farm equipment. To see more of the vehicles acceptable to us, you may visit out Accepted Vehicles page on our website.
Be a hero to indigent breast cancer patients! Contact us at 866-540-5069 and donate a vehicle to charity in Irvine, California today! We serve the entire Los Angeles metro area, including nearby Anaheim, Santa Ana and Long Beach.
or Call Us Now at 866-540-5069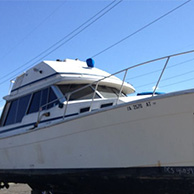 Excellent customer service!