Long Beach, California Car Donations
Donate Your Vehicle and Save Lives!
Listen to the Voice of Reason — Donate Your Car to Help Breast Cancer Patients
Participating in our Long Beach, California auto donation program is the perfect option for you if you're looking to get that ancient and unwanted car off your property while doing a good deed. You might be sitting in your comfortable recliner right now, thinking if you could still sell such a clapped-out car that's beginning to drain the life out of your finances. The voice of reason gently says, "The cost of repair to make it sellable is much more than your vehicle's actual worth. Donating it to support a noble cause is the best thing that you could do with it."
We are that voice of reason. Breast Cancer Car Donations is an organization that shares the vision of certified 501(c)3 nonprofits that are waging a relentless battle against breast cancer. We do this by operating our car donation program on their behalf so that they can give more of their time and energy on their life-saving missions.
The proceeds of every vehicle donated to our Long Beach, California donations campaign will be used to fund breast cancer programs that provide comprehensive breast health services across the United States. These programs seek to do the following:
Raise public awareness on the nature of breast cancer, concentrating on disease prevention through early detection;

Provide financial assistance to aid in the screening, diagnosis, and treatment for those who are uninsured and underserved;

Establish and improve link and referral systems that allow free access to local resources, services, and information that are ethnically and linguistically customized according to the needs of the individual.
We serve the entire Los Angeles area, including (but not limited to) nearby communities such as Irvine.
A Few Things You Need to Know About Long Beach, CA
Long Beach happens to be the designated "Aquatic Capital of America" because it's the best place to go sailing, surfing, diving, water polo, and beach bumming! Just like most cities in the country, there are more women in Long Beach than men. With an estimated population of 474,172 residents, more than half of this number is comprised of women.
This oceanfront community offers everything from a gorgeous setting to exciting restaurants to a reputation as one of America's most walkable cities. Notable landmarks include the Queen Mary, Long Beach Aquarium of the Pacific and Long Beach Grand Prix. 
Yet even in this picture-perfect destination, people get cancer and have to face long battles with the disease, as is evidenced by local treatment centers such as The Oncology Institute, St. Mary Medical Center and the Pavilion in the Long Beach Medical Center. When you make a car donation, you empower programs making a difference in the lives of these patients — and help fight breast cancer.
How Breast Cancer Affects Your City
Breast cancer is a deadly disease that claims the lives of more than 40,500 women in the U.S. alone, making it the second leading cause of cancer death among them. It's said that 12 percent of the entire female population would develop breast cancer over the course of their lifetime. That means that on average, an American woman is diagnosed with breast cancer every two minutes. Every 13 minutes, another dies from it.
This disease can potentially affect the people who are closest to you. The only way to increase the survival rate of those who are touched by breast cancer is to improve existing prevention strategies, come up with more accessible and advanced diagnostic testing methods and develop new treatment modalities. This cannot be made possible without adequate funding.
The question is, how can anybody from Long-Beach, California do something to help save lives in your community? The answer is simple: Give away a vehicle to charities that provide breast cancer services to in the city.
The Goodness that You're Going to Get Out of Your Donations
Your willingness to give is greatly appreciated and it would never return to you void. As they say, "What you sow is what you will reap." We're here to tell you that you will gain more than you think you would once you donate.
Let's explore some of the great stuff you'll get out of your Long Beach, California donations:
Free yourself from the responsibility of paying for insurance and registration!

Say goodbye to repairs and upkeep needed!

No need to go through the hassles of selling a car!

You won't handle all the paperwork – we will!

Extra garage space after your car gets hauled away!

Free pickup and towing!

Potential tax benefits!
We Accept Almost All Types of Vehicles
Our organization accepts almost all types of vehicles. We even accept those that are not running anymore on a case-to-case basis. We'd be more than happy to receive multiple cars for breast cancer vehicle donation, too!
The only critical factor of every donation is the proof of ownership because we cannot sell a vehicle at the auction house if it doesn't have a title. If you have any concerns regarding your vehicle's title, don't hesitate to talk to us about it. We'd gladly address all your concerns.
If you're not sure about the types of vehicles we accept, here's a good list of those we commonly receive from donors of our Long Beach, California vehicle donation program:
Cars:

 sedans, vans, SUVs, trucks, motorcycles

Boats:

 sailboats, motorboats, fishing boats, yachts, pontoon boats, houseboats, personal watercraft (like jet skis)

RVs:

 recreational vehicles, motorhomes, campers, travel trailers, pop-up trailers, 5-wheelers

Specialty vehicles:

 ATVs, snowmobiles, motorized wheelchairs, riding lawn mowers, tractors, farm equipment

Fleet vehicles:

 cars, passenger vans, cargo vans, SUVs, pickups, trucks, buses
How Our Donation Process Works
Because we think that you deserve a hassle-free giving experience that's quick and painless, we made sure that our Long Beach, California process would not take more than 15 minutes of your time. Here's how you'd get rid of your rusty old car fast:
Fill out our online donation form and tell us about your vehicle's year, make and model along with a few other important details.
Schedule your fast and free pick up!
Just tell us when and where you'd want your vehicle to be picked up, and we'd get the job done without you paying for anything! You heard us right: Towing's on us! Plus, you don't even have to be there when we haul your vehicle away.
Receive the tax-deductible receipt that we'll send you by mail!
Once your vehicle is sold, you will receive the IRS tax-deductible receipt in the mail. You'll need this to claim your top tax deduction and to cancel insurance and registration if you wish.
Fight Breast Cancer with Us
A breast cancer diagnosis can be so isolating, but when you donate to us, those touched by breast cancer don't have to face it alone.What are you waiting for? Call us at 866-540-5069 and get free towing services for your Long Beach, California donations!
or Call Us Now at 866-540-5069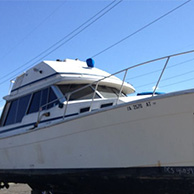 Excellent customer service!