Oxnard, California Car Donations
Donate Your Vehicle and Save Lives!
Help Women Fight and Beat Breast Cancer by Joining Oxnard, California Car Donations
Do you want to help save lives while you get your hands off a vehicle that you no longer plan to use? Save yourself from going through all the trouble of trying to sell it yourself, trading it in, or letting it gather more dust in your cluttered garage! Hand it over to us at Breast Cancer Car Donations through our Oxnard, California car donations program to know what it's like to dispose of your clunker in the easiest and most convenient way possible. More impactful than that, your vehicle donation will enable needy breast cancer patients in your city to find the much-needed assistance they need to fight off and beat the deadly disease that has victimized them.
What You May Not Know About Breast Cancer
In case you're not familiar with breast cancer, it's a life-threatening disease that occurs when cancer cells develop in a person's breast tissues. The disease has claimed countless lives across the globe. In the United States alone, experts estimate that one in eight women is bound to develop breast cancer within her lifetime. Breast cancer is the most common type of cancer among females next to skin cancers.
Furthermore, according to the National Breast Cancer Foundation, Inc., a woman in the U.S. receives a breast cancer diagnosis every two minutes. It has also been estimated that about 41,760 American women will lose their lives to this horrible disease each year.
Oxnard City's Population
Based on the data released by the United States Census Bureau, Oxnard City has an estimated population of about 209,877, with female residents comprising 49.7% of it. The same data shows that 20.6% of Oxnard locals who were under 65 years had no health insurance.
The Oxnard area is home to several breast cancer treatment centers, including the esteemed St. John's Regional Cancer Center on Rose Avenue in Oxnard and Westlake Village Cancer Care on La Venta Drive in Westlake Village. Oxnard residents are fortunate to have access to the St. John's Regional Cancer Center, which offers a whole mind and body approach to wellness, integrating therapeutic healing with traditional cancer treatments and procedures. 
Let's Help Breast Cancer Patients in Oxnard City
You're probably aware that breast cancer treatment can take a heavy toll on the finances of patients and their families. You can just imagine the emotional and physical turmoil that uninsured and underserved breast cancer patients go through from the day they received their doctors' diagnosis.
We at Breast Cancer Car Donations, together with our IRS-certified 501(c)3 nonprofit partners, believe that every individual, particularly one who has been diagnosed with breast cancer, deserves to receive all the breast health services, including treatment, that they need.
We express our commitment to helping breast cancer patients by operating vehicle donation programs, such as our Oxnard, California car donations, so we can raise the money that our charity partners need to sustain their delivery of critical programs and services to their beneficiaries. These services are focused on breast cancer awareness, prevention, screening, diagnosis, treatment, follow-up care, and research.
If you're ready to extend a helping hand to the breast cancer patients in your city, then take part in our Oxnard, California vehicle donation program.
It Only Takes 3 Easy Steps to Make a Difference
If you think that donating your clunker to us would involve a complicated process, think again. When you participate in our Oxnard, California car donations for breast cancer program, you'll go through our incredibly quick and painless donation process. Our team of experts will be more than happy to assist you every step of the way so you can have a smooth and pleasant giving experience.
Here's how you can donate a vehicle to charity with us:
1. Reach out to us.
Once you're ready to donate a car for charity, call us at 866-540-5069. Give us your contact information and a few basic details about the vehicle you're donating such as its year, make, model, mileage, etc. You can also jumpstart your donation process by filling out our donation form on this website.
2. Schedule your vehicle's FREE pickup.
Expect a call from us as soon as we verify your given information. We'll set up a date, time, and place convenient for you for your vehicle's fast and free pickup. A tow truck from a licensed towing company will then collect your vehicle.
3. Check your mail.
We'll have your gift sold in one of the best auction houses within our network. Within a few days after we process its sale, we'll send you your IRS tax-deductible receipt by mail.
You can get more information about how everything works by visiting our FAQs page. For inquiries, you may call us at 866-540-5069 or send us a message online.
You Can Benefit from Your Charitable Contribution
The best part about joining our Oxnard, California car donations program is that you'll never regret it. Aside from feeling good about yourself knowing that you'll be helping save lives, you'll also reap the following rewards:
We'll do all the heavy lifting for you.
Allow us to spoil you by handling all the donation work on your behalf. While you sit and wait, we'll sort out and process the required documents related to your donation, coordinate with the towing company for your car removal, and collaborate with the vehicle liquidation vendors within our network for the sale of your clunker.
You'll get to keep your money.
When you donate to us, you don't need to spend money on repairs to make your car more acceptable to us or on towing to get it out of your property. We'll take your clunker as it is and we'll pay for towing expenses.
Since your donation is 100% tax-deductible, you'll have the chance to reduce your tax bill in the next tax season if you itemize your deductions on your federal tax return.
The Vehicle Donations We Accept
Breast Cancer Car Donations accepts all sorts of vehicle donations regardless of their condition. In most cases, we even take vehicles that need a lot of work.
Meanwhile, look over this list of the types of vehicles that you can contribute to our Oxnard, California car donations program:
Cars: 

sedans, luxury cars, coupes, convertibles, hybrids, sports cars, wagons, hatchbacks

Vans: 

family minivans, camper vans, cargo vans, passenger vans

SUVs: 

compact, midsize, full-size or crossover versions

Motorcycles: 

touring bikes, cruisers, scooters, off-road bikes, mopeds, sports bikes, choppers

Trucks: 

box trucks, pickup trucks extended cab pickup, panel trucks, refrigerator trucks, tank trucks

Boats: 

fishing boats, sailboats, tugboats, speedboats, houseboats, cruise ships, catamarans, pontoon boats, yachts

Specialized vehicles: 

riding lawnmowers, motorized wheelchairs

Fleet vehicles:

 SUVs, pickups, trucks, buses, cars, passenger vans, cargo vans, limousines, ambulances, taxicabs

Recreational vehicles: 

noncommercial planes; campers, travel trailers, snowmobiles, Jet Skis, RVs, motorhomes, pop-up trailers, ATVs

Work-related vehicles: construction vehicles, tractors and farm equipment, buses, large trucks, landscaping vehicles
Join Oxnard, California Car Donations to Beat Breast Cancer!
Help us bring breast cancer numbers down in the U.S. – starting in your city! Call us at 866-540-5069 or fill out our online donation form to take part in our Oxnard, California car donations for cancer program today! We serve the entire Los Angeles metropolitan area, including nearby Thousand Oaks.
or Call Us Now at 866-540-5069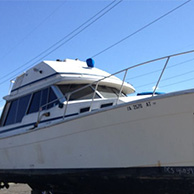 Excellent customer service!