Thousand Oaks, California Car Donations
Donate Your Vehicle and Save Lives!
Thousand Oaks, California Car Donations for Breast Cancer
One simple way of supporting women who are struggling with breast cancer is by making a car donation to our Thousand Oaks, California vehicle donations program. You have the opportunity to help these patients and their families by giving away a car that you no longer use. Here's how we make it possible.
Breast Cancer Car Donations takes cars — old or new, running or non-running — and converts them into funds for nonprofit organizations that provide assistance to underprivileged breast cancer victims and support cancer research. By working with us, you'll be helping reputable nonprofits such as American Breast Cancer Foundation and Women Involved in Nurturing, Giving, Sharing, Inc. Through your Thousand Oaks, California vehicle donations, you enable them to continue providing services to women who undergo screening and diagnosis for possible breast cancer and treatment if found positive of having the deadly disease.
If you happen to have a vehicle that you don't consider useful anymore, why don't you put it to good use? For sure, you'll be bringing happiness to patients in Thousand Oaks, California. Be a part of the change for these women and their loved ones.
Experience a Stress-free and Convenient Donation Process with Us
Don't know where to donate your car in Thousand Oaks, California that offers a quick and worry-free donation process? Breast Cancer Car Donations is definitely the right choice for you. Because you care about the wellbeing of cancer patients, we want to repay you with a donation process that's completely void of complications.
What do we mean by that exactly? Well, we take care of everything, including the free towing of your vehicle and the processing of your donation paperwork.
Once you've made the decision to contribute to our Thousand Oaks, California auto donations program, just contact us. You may choose to call us or fill out our online donation form. We'll be asking certain information about your vehicle, after which we will agree on a date and place to have it towed to us
There's even no need for you to be around at the time of pickup if you have other priorities to take care of.  We will give you a donation's receipt, which you can use to terminate your car's registration and insurance details.
To generate funds for cancer-fighting organizations, we will auction off your Thousand Oaks, California car donations. A few days after we sold your donated vehicle, expect a 100 percent tax-deductible sales receipt. You can use the receipt to claim your top tax deduction, which could be more or less $500, depending on your vehicle's sale price.
And that is it! You've just removed an unwanted car from your possession. It becomes a source of support for breast cancer patients, and you are rewarded with a tax deduction! Sounds too good to be true, don't you agree?
What Benefits Can I Get from Thousand Oaks, California Car Donations?
Getting a top tax deduction is just one of the many perks you'll get when you decide to donate a car for charity in the area. Here are the other benefits that you'll get:
Get your car towed away at no cost

Give your garage or driveway a whole new look

Free yourself from the burden of dealing with paperwork

Save money when you cancel your car's insurance and maintenance

No need to advertise and look for potential buyers

No need to make negotiations

Feel happy and fulfilled knowing that your contribution to our Thousand Oaks, California car donations program will be helping breast cancer patients and their families
Vehicle Types that Qualify for Breast Cancer Car Donations
Another reason why it makes so much sense to work with us is the fact that you can donate a car or an RV even if it's in a poor working state. We will accept your vehicle even if it's no longer in running condition.
We take almost all kinds of vehicles, from cars to vans, trucks, SUVs, campers with pop-up trailers, and motorhomes. We also accept motorcycles for our Thousand Oaks, California car donations program. Specialty vehicles like motorized wheelchairs, snowmobiles, or riding lawnmowers are also welcome for donation.
Breast Cancer Car Donations is also open to accepting boat and plane donations. Whether you wish to give away an unused jet ski or a boat that you no longer need, we'll be glad to have it in our hands.
If ever you're not sure about your vehicle's qualification for our Thousand Oaks, California car donations program, contact us and tell us about your concern.
Learn More About Thousand Oaks
Located in Ventura County, Thousand Oaks is known for its great weather, strong school systems and beautiful gardens. In fact, it's one of the most desirable places to live in California. Fun attractions include Wildwood Regional Park, Conejo Valley Art Museum, Thousand Oaks Civic Arts Plaza and Gardens of the World. The latter has around five acres of cultivated gardens, including flowers from various parts of the world, mazes and waterscapes.  
The city also has a local cancer treatment center, UCLA Health Westlake Village Cancer Care on La Venta Dr. In 2018, there were 1,300 cancer deaths. 
Join Us in the Fight against Breast Cancer Now!
Are you ready to make a meaningful difference in the lives of cancer patients in Thousand Oaks, California? Together with Breast Cancer Car Donations, you can be a hero to these women and their families. Donate to Thousand Oaks, California car donations today at 866-540-5069. We serve the entire Los Angeles metropolitan area.
or Call Us Now at 866-540-5069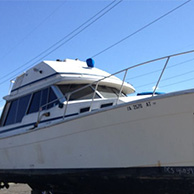 Excellent customer service!