Car Donation Walnut Creek, California
You Can Help Save Lives with Your Unneeded Vehicle
Walnut Creek is located in northwestern California in Contra Costa County. The area was first visited by Spanish explorers in the 1770s and became part of a Mexican land grant in the early 1800s. Eventually, the city was settled in 1849 during the Gold Rush era. It was first known as The Corners, before being renamed Walnut Creek in 1862 for its abundance of walnut trees.
Now, the city is a hub for commercial activities and shipping for nearby agricultural and industrial areas. It's considered as a part of the Greater San Francisco Area and linked by the Bay Area Rapid Transit System.
The city's downtown area has a lot of restaurants, shopping districts, and cafes for residents and tourists to enjoy. Local attractions include Lindsay Wildlife Museum, which is a wildlife rehabilitation center, and the Gardens at Heather Farms.
The latest United States Census Bureau estimates put the city's population at 70,166 as of July 2019.
Help Breast Cancer Victims in Walnut Creek
More than half of Walnut Creek's population (53.7%) consists of women, and some of them have fallen victim to life-threatening diseases such as breast cancer.
If you have a vehicle that you no longer need and is just gathering dust in your garage, you can use it to help save the lives of those women, particularly those who are uninsured and lack the financial capacity to pay for the prohibitive cost of breast cancer treatment.
To help them, all you have to do is turn over that vehicle to us at Breast Cancer Car Donations through our Walnut Creek car donations program.
Once we get hold of your donation, we will sell it via auction. We'll then use the generated funds to support the breast cancer assistance programs of our nonprofit partners. Your gift will help these IRS-determined 501(c)(3) nonprofit organizations in providing more uninsured and destitute breast cancer patients in your city with financial assistance and easy access to medical facilities where they can get various types of cancer treatment and follow-up care. Other beneficiaries can take advantage of our charity partners' free cancer screening and cancer prevention and education services.
Our Donation Process Is Super Simple
We made our donation process as easy and convenient as possible. In three simple steps, you can finalize everything needed for your Walnut Creek, CA car donation. You don't have to do any paperwork or comply with complicated requirements.
Here's a brief guide to Breast Cancer Car Donations' vehicle donation process:
1. Call our 24/7 toll-free line.
Get started with your car donation by calling us at 866-540-5069. This toll-free line is available 24/7, so feel free to call us any time of the day or night. One of our donation specialists will ask you a few questions about the vehicle you're donating as well as your contact information. If you prefer to send those details online, you can do so via our donation form here. Once you fill out and submit the form, we'll give you a call to verify the information you've sent us regarding your donation.
2. Schedule your free vehicle towing.
Your car's towing is on us! We'll provide you with a professional towing service to haul off your vehicle at absolutely no cost to you. All you need to do is give us the date, time, and place for the pickup. You won't even need to be present during your car's towing. Just leave your car title and keys inside the vehicle with the doors unlocked on the day it's scheduled to be towed.
The tow truck crew will provide you with a towing receipt before taking your vehicle. You can use this receipt to cancel your vehicle's car insurance and de-register it at your local DMV.
3. Receive your tax-deductible receipt.
We'll send you the 100% tax-deductible sales receipt of your car within 30 days after its sale. Make sure to keep this receipt as you'll need this to claim your tax deduction when you file your itemized federal income tax return in the next tax season.
If you have any questions or concerns, feel free to call us at 866-540-5069. You may also leave us a message here. Feel free to visit our FAQs page to learn more about our donation program.
Donate Almost Any Vehicle That You Can Think Of
Almost all vehicle types can be donated to our Walnut Creek, CA car donations program. You don't have to worry if your car is no longer in good condition or has a damaged part. That's perfectly fine with us. The only vehicles that we can't accept are those that don't have titles or proof of ownership.
However, if you lost your vehicle's title, give us a ring at 866-540-5069. We'll have our title specialist assist you in obtaining a duplicate copy of your car title so you can proceed with your vehicle donation.
Here's a comprehensive list of vehicles that we accept at Breast Cancer Car Donations:
Cars: sedans, compact cars, coupes, luxury cars, convertibles, hybrids, sports cars
SUVs: compact, mid-size, full-size, crossover versions
Vans: cargo vans, passenger vans, family vans, minivans
Trucks: mobile cranes, garbage trucks, refrigerator trucks, tank trucks, dump trucks, extended cabs, box trucks
RVs: toy haulers, folding and tent trailers, hybrid trailers, travel trailers, motorhomes, campers
Fleet vehicles: limousines, buses, minivans, vans, taxis, ambulances
ATVs: three-wheelers, four-wheelers
Motorcycles: scooters, mopeds, choppers, touring bikes, sports bikes, dirt bikes, off-road bikes, cruisers
Specialty vehicles: motorized wheelchairs, ATVs, golf carts, snowmobiles, riding lawnmowers
Work vehicles: landscaping vehicles, tractors, farm equipment, construction vehicles
Aircraft: gliders, noncommercial planes, helicopters
Water vessels: cruise ships, yachts, pontoon boats, catamarans, tugboats, sailboats, speedboats, fishing boats, motorboats
Get Richly Rewarded When You Make a Walnut Creek, CA Car Donation
You'll get valuable rewards when you participate in our Walnut Creek, CA car donations program. Here are the rewards you'll get when you partner with us at Breast Cancer Car Donations:
Get entitled to receive the maximum tax deduction.
You don't have to spend a single dime for towing.
Experience a donation process that's quick and effortless.
There's no need for you to concern yourself with all the paperwork because we'll handle it for you.
You can donate any type of vehicle — even those that need a lot of work.
Avoid the stresses that are associated with reselling an old car yourself.
Stop paying for the costly repairs and maintenance of your outdated vehicle.
Maximize the use of the extra space in your garage.
Experience the joy and satisfaction of making a charitable act that can help save precious human lives.
Be A Life-Saver Today!
With your car donation, you can be a hero to the suffering breast cancer patients in Walnut Creek. Call Breast Cancer Car Donations at 866-540-5069 or fill out our secure online donation form now!
or Call Us Now at 866-540-5069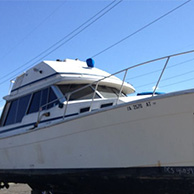 Excellent customer service!