Car Donation Walnut Creek, California
Get Your Hands Off Your Clunker While Helping Save Lives!
Today, Breast Cancer Car Donations offers you a chance to get your hands off your old and unwanted car while you touch the lives of breast cancer sufferers in your city. By taking part in our Walnut Creek, California car donations program, you'll give these hurting women and their families the hope that they desperately need. Plus, you can finally say goodbye to a vehicle that's been causing you a lot of stress and a lot of dollars on its repairs and maintenance.
A Closer Look at Breast Cancer Cases in California
The American Cancer Society estimates that in 2023, California will see 32,020 new breast cancer cases, with 4,680 dying from the disease. According to the California Cancer Registry, which collects data on cancer cases in the state, breast cancer is the most frequently diagnosed cancer among women. About 200,000 California women are currently living with breast cancer. They are among the more than 3.8 million women who are living with the disease in the United States.
Country-wide, an estimated 297,790 women will be diagnosed with invasive breast cancer in 2023. Since the mid-2000s, experts note that invasive breast cancer in women has increased by approximately half a percent each year. They attribute this to an increase in excess body weight in women overall, as well as a drop in fertility rates and rising age for first births.
Looking at these numbers should make us all realize that breast cancer is definitely not a rare disease — and that the women in Walnut Creek, California are surely not immune to it. The city in Contra Costa County has a population of 68,969 per the 2022 census, with women comprising 48.2% of the residents.
How Your Walnut Creek, CA Car Donation Can Help Save Lives
The prohibitive cost of breast cancer treatment is considered the primary reason why uninsured and indigent breast cancer patients opt to forego their treatment.
For this reason, Breast Cancer Car Donations has teamed up with IRS-determined 501(c)(3) nonprofit organizations to help save the lives of those women.
Our mission is to operate vehicle donation programs, such as the one we have here in Walnut Creek, CA, to raise the money that our charity partners need to sustain the delivery of comprehensive breast health services to every person who needs them — especially the poor.
When you donate a vehicle to us, we will sell it through an auction and use the proceeds to support the life-saving programs of our breast cancer-focused nonprofit partners. They use the funding we give them to provide deserving breast cancer patients with financial assistance to help cover the costs of their treatments, doctor consultations, hospital fees, medications, follow-up care, and other essential healthcare services.
Our charity partners also provide other services such as:
Easy access to local healthcare facilities for underprivileged individuals so they can get free breast cancer screening and diagnosis.
Follow-up care for breast cancer survivors, including laboratory work, annual mammograms, and physician visits five years after remission
Campaigns to promote breast cancer awareness and provide prevention, education, and counseling services to the public.
You can help sustain the delivery of these services to needy breast cancer patients in your city with your Walnut Creek, CA car donation.
The Amazing Rewards That Await You
Brace yourself for the following rewards you'll get when you participate in our Walnut Creek, CA car donations program:
Get entitled to claim the maximum tax deduction in the next tax season.
Quickly and conveniently get rid of your unwanted car for free.
Rule out the need to sell the car yourself which entails scouting for potential buyers, making sales pitches, and spending money to improve the look or condition of your old car to make it marketable.
Free up some space in your garage or driveway.
Eliminate the need to pay for the repair, maintenance, and insurance of a car that you no longer need, want, or use.
Eliminate the hassle of doing all the paperwork.
Experience the joy and satisfaction of making a charitable act that can help save lives.
How Our Walnut Creek, CA Car Donation Process Works
The process we follow in our Walnut Creek, CA car donations program is made up of three incredibly easy steps. It assures zero stress on your part while we do the heavy lifting. Take a look at our donation process and see for yourself:
1. Get in touch with us!
You can call us at 866-540-5069 or fill out our online donation form to get started. We will need information about your vehicle such as its make, model, year, mileage, VIN, and general condition. We will also need your contact information, so we can directly give you updates on your donation process.
2. Schedule your FREE pickup!
You will receive a prompt callback from us. We can then schedule the pickup of your vehicle based on a date and time most convenient to you. Based on the schedule, a licensed towing company will pick up your vehicle at no cost to you.
3. Wait for your tax-deductible receipt!
We'll then put your vehicle up for auction. Selling used cars is easy and fast for us since we already have millions of potential buyers who come to us to purchase various types of vehicles. Within days after your vehicle has been sold, we will mail you its 100% tax-deductible sales receipt as well as other pertinent documents that you can use to claim your tax deduction.
We accept nearly all types of vehicles, including those that are no longer in good condition. Head over to this page to learn what else you can donate aside from cars.
To learn more about our vehicle donation program, head over to our FAQs page. Got some questions? Call us anytime through our toll-free hotline at 866-540-5069 or write to us here.
Turn Your Rusty Old Car into a Lifesaver Today!
Sometimes, hope comes in the form of a rusty old car with a dead battery. It's truly amazing when you see such a car being transformed into a powerful tool for saving lives. Find this out yourself. Call Breast Cancer Car Donations at 866-540-5069 or fill out our secure online donation form to make your contribution to our Walnut Creek, CA car donations program now!
or Call Us Now at 866-540-5069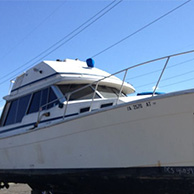 Excellent customer service!