Pomona, California Car Donations
Donate Your Vehicle and Save Lives!
Help Boost Breast Cancer Survival Rates With Your Pomona, California Car Donations
Do you know that you could help save thousands of lives from breast cancer if you take part in our Pomona, California car donations program? It's an unfortunate fact that our world today has been dismally plagued with breast cancer. As the disease slowly advances to the top spot of cancer killers, many people find themselves saying, "I wish there was something I could do."
Well, there IS something you can do! You don't even have to be rich or famous – all you need is an old clunker that you're ready to get rid of anyway! With our super simple car donation program, you get to create a massive impact on the lives of those who are suffering from breast cancer in a very special way.
It's a Sad Reality
As the sixth largest city in the county of Greater Los Angeles, Pomona holds a large fraction of the state's total count of breast cancer patients and deaths. According to the California Cancer Registry and based on a report of the American Cancer Society, 6,170 new breast cancer cases were recorded in the city with an alarming 1,140 deaths.
This vibrant city is an economic leader in citrus. In fact, it was named after the Roman goddess of fruit and fruit trees. Popular attractions include the RailGiants Train Museum, Auto Club Raceway, Palomares Park and more. It also has a cancer treatment center — the Cancer Care Center – Pomona Valley Hospital Medical Center — on Royalty Dr. 
The average annual count for those with cancer in Log Angeles County is 2,570. Moreover, the percent of cases with late-stage cancer is 69. Fortunately, Breast Cancer Car Donations is committed to helping those impacted by the illness with our auto donation program. 
We Can Do Something!
To help save lives and ease the suffering of those who are battling with such a terrible disease, we at Breast Cancer Car Donations have partnered with reputable nonprofit organizations such as American Breast Cancer Foundation (ABCF) and Women Involved in Nurturing, Giving, Sharing, Inc. (WINGS). Using the funds we generate through our vehicle donations programs, these nonprofits are able to sustain and expand their programs that:
Fund research on more potent breast cancer treatment with the end-goal of finding a cure;

Aid individuals in getting medical services for screening, diagnosis, and treatment of breast cancer;

Provide financial assistance to uninsured and underserved breast cancer patients;

Connect these patients to local facilities that provide free medical services, support, and resources;

Raise funds to campaign for breast cancer awareness across the nation.
If you're willing to support such a worthy cause, then join our Pomona, California car donations now! Call 866-540-5069 today! Remember, what you consider junk and unwanted could be a patient's only chance to survive breast cancer.
Any Vehicle Can Help!
We accept an endless list of vehicle types for donations in our Pomona, California car donations program. Common ones include cars, trucks, buses, SUVs, vans, motorcycles, snowmobiles, fleet vehicles, riding lawn mowers, tractors, RVs, all kinds of boats, jet skis, non-commercial aircraft, and many more. It doesn't even matter to us if the vehicle you're donating is in good running or not.
Whatever shape it may be in, Breast Cancer Car Donations would be glad to accept it. We also welcome multiple donations! We'll make sure that your donation process is efficiently and professionally handled every step of the way.
Donating Is as Easy as 1-2-3!
Making car donations for cancer is an extremely hassle-free process.
First, get in touch with us.
Call 866-540-5069 to speak to one of our donation specialists. Our line is open 24//7. Another effortless way to donate a car for charity is to go online and fill out our donation form. While you're at it, you can give us the following information:
Vehicle information (make and model, year, mileage, general condition);

Your personal contact information;

Vehicle's title (If you have misplaced or lost your vehicle's title, our Title Specialists can help you get a replacement in a jiffy once you inform us about this)
Second, arrange a pickup schedule.
Schedule a convenient date for pickup. A local towing company will then come to haul off your vehicle for FREE. We will hand you a donation receipt, a document that releases you from all liabilities on the car you donated, allowing you to de-register your vehicle, dispose of its license plates properly, and cancel its insurance coverage. Keep the receipt since you may need it for tax purposes.
Lastly, wait for your tax-deductible receipt.
Within 30 days following the sale of your vehicle at auction, Breast Cancer Car Donations will send you a 100-percent tax-deductible receipt of the sale. This document shows your donated vehicle's final selling price, which will serve as the basis of your tax deduction claim when you file your itemized federal income tax return for the next tax-filing season.
You Have Your Share of Benefits, Too!
Who says you're leaving empty-handed? As a donor, you're entitled to a number of perks that we're sure you'd like:
You can get rid of that old clunker right away at NO COST.
Donating is the convenient alternative to selling.
You can avoid selling it yourself which means no more ads, no need to put up "For Sale" signs, no more repair jobs to make it sellable, and no more paperwork to deal with. Breast Cancer Car Donations will handle all that. Your vehicle will be auctioned off to hundreds and thousands of people across the country who are actually willing to purchase old cars.
You can eliminate extraneous expenses for insurance and maintenance of a car you barely or never use anymore.
Clutter-free and spacious garage!
You can finally get a well-deserved brand-new space that you could make good use of.
You get to enjoy a top tax deduction for your generous donation. Based on IRS rules, you can claim your vehicle's selling price or its fair market value. If it was sold for $500 or less, you can claim its fair market value or its selling price. If it was sold for over $500, you get to claim its total selling price.
Give breast cancer patients a real fighting chance to survive the disease.
Best of all, you get to help fight breast cancer and help give its victims a second chance at life.
Ready to Make a Difference?
Contact us at 866-540-5069 and get free towing services for your car donations for breast cancer! We serve the entire Los Angeles metropolitan area, including nearby Anaheim and San Bernardino.
or Call Us Now at 866-540-5069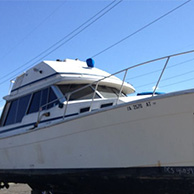 Excellent customer service!