Car Donation Richmond, California
Reach Out to Needy Breast Cancer Patients in Your City
The city of Richmond is located northeast of San Francisco on the western coast of Contra Costa County, California. Best known for its contribution during World War II, the city used to be home to war-related industries, including four shipyards that housed most of the country's shipbuilding operations during the war.
Nowadays, Richmond is a major hub for industries such as oil, transportation, commercial, and shipping.
As of July 2019, the United States Census Bureau estimated the city's population at 110,567. It noted that 11.5% of those under 65 years old in the city were without any form of health insurance and that 14.7% of the population was living in poverty.
How You Can Help Fight Breast Cancer in Richmond
Every two minutes, a woman in the United States is diagnosed with breast cancer. Studies show that one out of eight women in the country will likely develop breast cancer during her lifetime.
Since women comprised 50.8% of Richmond's population, they're vulnerable to the disease and some may even be struggling with breast cancer already.
That's why we at Breast Cancer Car Donations have launched our Richmond, CA car donations program to provide much-needed medical assistance to indigent breast cancer patients in your city. You can help save their lives by simply donating your old or unwanted car to us.
We will auction off your donation and use the proceeds to support the critical breast health services being provided by our breast cancer-focused charity partners to their beneficiaries in your city.
These IRS-approved 501(c)(3) nonprofits use the funding to provide uninsured and financially struggling breast cancer patients with easy access to top medical facilities as well as financial assistance to cover the cost of their treatments, physician visits, medications, and follow-up care. Other beneficiaries get to receive free breast cancer screening and prevention and education services.
Our Quick and Easy Richmond, CA Car Donation Process
No donor would relish having to go through complicated steps in making their donation. That's why we at Breast Cancer Car Donations have made our donation process as easy and simple as possible for our car donors. The three-step donation process we follow in our Richmond, CA car donations program is guaranteed to give you a stress-free donation experience. You'll be done with your vehicle donation in no time at all!
Here's a brief guide to our donation process:
1. Get in contact with us.
You can get in touch with us by calling our toll-free hotline at 866-540-5069 or by filling out our online donation form. Our donation specialists are available 24/7, so feel free to give us a ring any time of the day or night. We'll ask you just a few details about the vehicle you're donating as well as your contact information.
2. We'll tow your vehicle for free.
We'll arrange for a licensed towing company to collect your vehicle. Don't worry, you won't be paying a single dime for this service because the towing fee is on us. Just let us know the time, date, and location for the pickup and we'll take care of the rest.
The tow truck crew will issue you a towing receipt before taking your vehicle. You can use this receipt to cancel the insurance coverage of your car and de-register it at your local DMV.
3. Receive your tax-deductible receipt.
Within 30 days following your vehicle's sale, we'll send you your 100% tax-deductible sales receipt. You'll need this receipt to claim your tax deduction in the next tax season.
If you're interested to learn more about Breast Cancer Car Donations, just visit our FAQs page. For inquiries and concerns, call us at 866-540-5069 or leave us a message here.
We Take in Nearly All Vehicle Types as Donations
Feel free to donate almost any type of vehicle to our Richmond, CA car donations program. We're not choosy at all. We even take in vehicles that are damaged or no longer running.
The only vehicles we can't accept are those that don't have titles or proof of ownership. It's simply because we can't sell stolen, abandoned, or any other vehicles that don't have titles.
However, if you only lost your car title,  give us a call at 866-540-5069. One of our title experts will gladly help you obtain a duplicate copy of your title, so you can go ahead with your donation.
Here's an extensive list of the different vehicle types we accept in our car donations program in Richmond, CA:
Cars: sedans, compact cars, coupes, luxury cars, convertibles, hybrids, sports cars
SUVs: compact, mid-size, full-size, crossover versions
Vans: cargo vans, passenger vans, family vans, minivans
Trucks: mobile cranes, garbage trucks, refrigerator trucks, tank trucks, dump trucks, extended cabs, box trucks
RVs: toy haulers, folding and tent trailers, hybrid trailers, travel trailers, motorhomes, campers
Fleet vehicles: limousines, buses, minivans, vans, taxis, ambulances
ATVs: three-wheelers, four-wheelers
Motorcycles: scooters, mopeds, choppers, touring bikes, sports bikes, dirt bikes, off-road bikes, cruisers
Specialty vehicles: motorized wheelchairs, ATVs, golf carts, snowmobiles, riding lawnmowers
Work vehicles: landscaping vehicles, tractors, farm equipment, construction vehicles
Aircraft: gliders, noncommercial planes, helicopters
Water vessels: cruise ships, yachts, pontoon boats, catamarans, tugboats, sailboats, speedboats, fishing boats, motorboats
Outstanding Rewards in Store for You
Valuable rewards await you when you make a car donation to us in Richmond, CA. Here are some of them:
You'll be eligible to claim a top tax deduction.
You'll benefit from our free towing service.
You'll enjoy a hassle-free donation experience.
You won't be burdened anymore with paying for your old vehicle's maintenance and repairs.
Paperwork will be efficiently handled by our team on your behalf.
You'll have more storage space in your garage after we haul your car away.
You'll experience the priceless joy and satisfaction of doing an act of charity that will help save human lives.
Touch the Lives of Breast Cancer Sufferers Today!
Give hope to needy breast cancer patients in Richmond, California. You can help save their lives with your car donation. Call Breast Cancer Car Donations at 866-540-5069 or fill out our secure online donation form now!
or Call Us Now at 866-540-5069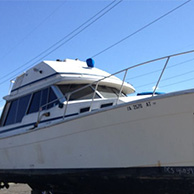 Excellent customer service!