Car Donation Richmond, California
Use Your Unwanted Vehicle to Fight Off Breast Cancer!
How many times has your over a decade-old car broken down on the road these past few months? If the trips you make to the repair shop are becoming more frequent and you're tired of plunking down your hard-earned money into repairs, consider handing over that vehicle to us at Breast Cancer Car Donations.
When you participate in our Richmond, California car donations program, you'll set yourself up for a win-win situation. Aside from removing an eyesore in your garage, you'll also turn it into a powerful lifesaving tool for the benefit of needy breast cancer patients in your city.
Breast Cancer in Richmond, CA
Richmond, a city in western Contra Costa County, had an estimated population of 114,301 as of July 2022, of which 51% were listed by the U.S. Census Bureau as females. While 13.4% of its residents were classified as impoverished, 9.8% of those under 65 were classified as having no health insurance.
These are the population segments that are most vulnerable to breast cancer, which is the most common cancer among women in California. An average of 26,300 new breast cancer cases are diagnosed every year in the state, with an average of 4,175 deaths from the disease occurring annually.
How We'll Use Your Richmond, CA Car Donation to Help Save Lives
Breast Cancer Car Donations is here to help indigent breast cancer patients in Richmond and surrounding areas. We accept donated vehicles and sell them through auctions. The proceeds go straight to reputable breast cancer nonprofits that are in partnership with us to generate funding for their life-saving programs.
Thanks to your Richmond, CA car donation, our IRS-approved 501(c)(3) nonprofit partners will be able to sustain the delivery of the following services to their beneficiaries in the city:
Financial assistance to uninsured and indigent breast cancer patients to help cover the costs of their treatments, doctor consultations, hospital fees, medications, follow-up care, and other essential healthcare services
Easy access to local healthcare facilities for underprivileged individuals so they can get free breast cancer screening and diagnosis.
Follow-up care for breast cancer survivors, including laboratory work, annual mammograms, and physician visits five years after remission
Furthermore, our charity partners use the funding they get from us to promote breast cancer awareness and provide prevention, education, and counseling services to the public.
What's in It for You?
You'll receive amazing rewards when you participate in our Richmond, CA car donations program. Here are some of the perks you'll get when you donate your unwanted car to us:
You'll receive a top tax deduction that will significantly reduce your tax bill.
You'll get free professional towing service at a date, time, and place of your preference.
We'll handle all donation paperwork for you.
Skip the hassles associated with selling an old vehicle yourself.
You'll finally be free from exorbitant repair, maintenance, insurance, and registration expenses.
You'll have the ultimate pleasure and satisfaction of doing something extraordinary that can help save lives.
Making a Richmond, CA Car Donation Is Incredibly Easy!
Ready to dispose of a vehicle that you no longer want to lay your eyes on? With Breast Cancer Car Donations, expect to enjoy your best giving experience. Here's how you can participate in our Richmond, CA car donations program.
1. Contact us.
Get in touch with us by calling 866-540-5069 to tell us about yourself and the vehicle you're donating. You can also choose to fill out our donation form here.
2. We tow your vehicle for free.
We'll schedule your car's fast and free pickup. Simply give us your desired date and time for this as well as the location of your vehicle. We'll send a licensed tow truck to haul off your car on your chosen schedule
Our representative will issue you a towing receipt before collecting your donation. Once you have this document, you may now cancel the insurance coverage of your vehicle and have it de-registered at your local DMV.
3. You receive your tax-deductible receipt.
We'll auction off your donated vehicle in one of the best auction houses within our nationwide network. Within 30 days after its sale, we'll mail you the 100% tax-deductible sales receipt of your vehicle. With this receipt, you can claim the maximum tax deduction in the next tax season.
For more information on Breast Cancer Car Donations, visit our FAQs page. Should you have any inquiries or concerns, you may call us at 866-540-5069 or write to us here.
You're Free to Donate Any Type of Vehicle
We welcome nearly all types of vehicles, whether old or new, in our Richmond, CA car donations program. In some cases, we accept clunkers that barely run. What's more, you can also make multiple donations if you want to dispose of every useless piece of machinery on your property.
The only vehicles we refuse to accept are those that have been stolen or abandoned because we require the donor's title or proof of ownership. However, if you've only misplaced your vehicle title, give us a call at 866-540-5069, and one of our title experts will be glad to help you obtain a replacement copy of your title quickly, so you can proceed with your donation.
Here are the different types of vehicles that we've been getting from our donors:
Cars: coupes, luxury cars, convertibles, sedans, compact cars, hybrids, sports cars
SUVs: compact, mid-size, full-size, and crossover versions
Vans: cargo vans, passenger vans, family vans, minivans
RVs: toy haulers, folding and tent trailers, travel trailers, motorhomes, hybrid trailers, campers
Trucks: mobile cranes, tank trucks, dump trucks, garbage trucks, refrigerator trucks, extended cabs, box trucks
Fleet vehicles: limousines, buses, minivans, vans, taxis, ambulances
Motorcycles: scooters, mopeds, choppers, touring bikes, sports bikes, dirt bikes, off-road bikes, cruisers
ATVs: three-wheelers, four-wheelers
Specialty vehicles: motorized wheelchairs, riding lawnmowers, ATVs, golf carts, snowmobiles
Work vehicles: tractors, farm equipment, construction vehicles, landscaping vehicles
Water vessels: tugboats, sailboats, cruise ships, yachts, speedboats, fishing boats, motorboats
Aircraft: non-commercial planes, helicopters, gliders
Help Bring Hope to Californians with Breast Cancer Today!
Your old and unwanted car can bring hope to desperate breast cancer patients in Richmond, CA. Donate it to Breast Cancer Car Donations by calling 866-540-5069 or filling out our secure online donation form now!
or Call Us Now at 866-540-5069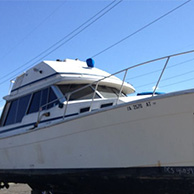 Excellent customer service!