Car Donation Pittsburg, California
Your Vehicle Donation Can Bring Hope to Breast Cancer Sufferers in Your City
Despite continuing efforts to find more effective ways to fight breast cancer, it remains one of the world's deadliest diseases. In America alone, it is estimated that 297,790 women will be diagnosed with invasive breast cancer, with 43,700 dying from the disease in 2023.
In California, 32,020 new breast cancer cases with 4,680 deaths are expected this year. Breast cancer is the most commonly diagnosed cancer among women in the state, with nearly 200,000 California women estimated to be living with the disease.
Records show that more than 4,200 California women die of breast cancer every year.
To address this public health menace, Breast Cancer Car Donations has launched a car donation program in Pittsburg, CA. The program seeks to generate funds to support the lifesaving programs and services of leading breast cancer nonprofit organizations that we are in partnership with.
Breast Cancer in Pittsburg, CA
Pittsburg City, known as the "Gateway to the Delta," is in Contra Costa County. Situated on the southern shore of Suisun Bay, this city had an estimated population of 77,572 as of July 2022, with 50.3% comprising females, according to the U.S. Census Bureau. About 7.2% of its residents were listed as persons without health insurance under the age of 65 years while 10.3% were categorized as persons in poverty.
Like many other cities, Pittsburg faces significant challenges in healthcare accessibility. Today, breast cancer's impact on its uninsured residents is a pressing concern.
The lack of insurance coverage exacerbates the difficulties faced by women needing breast cancer treatment and support.
You can help these women overcome their affliction by taking part in our Pittsburg, CA car donation program. If an unwanted vehicle is just collecting dust in your garage or driveway, consider donating it to Breast Cancer Car Donations to extend a helping hand to those women.
How Your Pittsburg, CA Car Donation Can Help Save Lives
We will auction off your donated vehicle and use the proceeds to support the life-saving mission of our charity partners. These IRS-certified 501(c)(3) nonprofits use the funding we give them to provide uninsured and indigent breast cancer patients with financial assistance to help cover the costs of their treatments, doctor consultations, hospital fees, medications, follow-up care, and other essential healthcare services.
Our charity partners also provide underprivileged individuals with easy access to local healthcare facilities where they can get free breast cancer screening and diagnosis. Moreover, they provide breast cancer survivors with follow-up care such as laboratory work, annual mammograms, and physician visits five years after remission.
These charities likewise make use of the funding they receive from us to promote breast cancer awareness and provide prevention, education, and counseling services to the public.
Your Pittsburg, CA car donation can help sustain the delivery of all these services meant for the sole purpose of saving lives.
What You'll Get When You Donate a Vehicle to Us
Donation is an excellent way to meaningfully dispose of an unwanted vehicle. Aside from the benefits it will bring to underprivileged breast cancer patients in Pittsburg, CA, you might also want to know what's in store for you. Here are the rewards that you stand to get:
1. Feel good knowing you're helping those in need.
Nothing comes close to the satisfaction of making a difference in the lives of others. Making a charitable contribution to us allows you to experience the priceless joy of knowing your donation will be used to help save lives.
2. Enjoy the maximum tax deduction!
Aside from being able to help others, you can also take advantage of the hefty tax deduction that you stand to get from your donation.
3. You won't have to spend anything on towing or pick-up!
You don't have to worry if your car doesn't start. We'll take care of its towing and pick-up. Just tell us the location, time, and date you prefer for this, and we'll be there. What's more, towing is absolutely free.
Making a Pittsburg, CA Car Donation Is Incredibly Easy!
You won't have to break a sweat when you donate a vehicle to us at Breast Cancer Car Donations. Just follow the steps below and you're on your way to becoming a hero to breast cancer patients in Pittsburg, CA:
1. Get in touch with us.
You can choose to donate your gift over the phone by calling us at 866-540-5069. We'll ask for your contact information and a few details about your vehicle (year, make, model, mileage, working condition, and availability of its title). You can also donate your vehicle by filling out our simple and secure donation form on this website.
2. Schedule your vehicle's free pickup.
We'll ask you to tell us your preferred date, time, and location for your vehicle's pickup. We'll then send a tow truck to collect your donation. We'll issue you a towing receipt before we haul off your vehicle. This receipt will release you from all liabilities on that vehicle from that point forward.
3. Receive your tax-deductible receipt by mail.
Your car will be sold at auction. We'll then transfer the proceeds generated from its sale to our charity partners. You'll receive your 100% tax-deductible sales receipt by mail within a few days after your vehicle gets auctioned off. Keep this document so that you can use it to claim your tax deduction when you file your itemized federal income tax return in the next tax season.
Be glad to know that we accept nearly all types of vehicles, regardless of their ages or conditions.
For more information about our donation process, check out our FAQs page. If you have questions that are not found on that page, don't hesitate to talk to one of our friendly staff by calling us at 866-540-5069 or writing to us here.
Turn Your Unwanted Auto into a Lifesaver Today!
You can turn your old and unwanted car into a life-saving tool. Hand it over to our Pittsburg, CA car donation program and we'll use it to help save the lives of breast cancer sufferers in your city. Call Breast Cancer Car Donations at 866-540-5069 or fill out our secure online donation form now!
or Call Us Now at 866-540-5069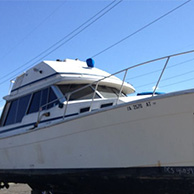 Excellent customer service!