Car Donation Pittsburg, California
Use Your Old Car to Help Save Lives
The city of Pittsburg is located in Contra Costa County in the East Bay region of the San Francisco Bay Area. It's part of the Sacramento–San Joaquin River Delta area with an estimated population of 72,588 as of July 2019. Originally settled in 1839, the city was first called "New York Landing" and then "Black Diamond", before citizens voted on "Pittsburg" on February 11, 1911. The name was selected to honor Pittsburgh, Pennsylvania, as the two cities shared a common steel and mining industrial heritage.
Pittsburg is a small city with a great community atmosphere where almost everyone knows each other. It's simple and diverse.
Residents describe Pittsburg as not having much in terms of recreation, apart from locations such as its museum and several restaurants. For those looking to have a bit of a big city getaway, Pittsburg has easy access to San Francisco, which is only 37 miles away.
Lend a Helping Hand to Breast Cancer Sufferers In Pittsburg
Like other places in the country, Pittsburg has residents afflicted with breast cancer. Some of them are uninsured and lack the means to pay for the high cost of breast cancer treatment.
That's why we at Breast Cancer Car Donations have set up our Pittsburg, CA car donations program to help the suffering breast cancer patients in your city.
You can take part in our program by donating to us any vehicle that you no longer need.
We will have your car auctioned off, with the proceeds going to leading breast cancer nonprofit organizations that are serving your area. These IRS-approved 501(c)(3) nonprofits are committed to improving the overall well-being of breast cancer patients.
Your car donation will help our charity partners serve more of their beneficiaries. They use the funding we give them to provide indigent breast cancer patients with financial assistance to cover the costs of their hospital fees, medications, and follow-up care. These patients are also given easy access to medical facilities where they can undergo surgery, chemotherapy, radiation, and other types of treatment they need.
Our charity partners also provide breast cancer survivors with follow-up care, including laboratory work, annual mammograms, and free medical checkups five years after cancer remission. Other beneficiaries also get to receive free breast cancer screening and prevention and education services.
It's Easy to Make a Pittsburg, CA Car Donation
Donating your unneeded vehicle to Breast Cancer Car Donations is super easy. We have a simple three-step donation process designed to make things as easy and convenient as possible for our donors. All the heavy lifting will be handled by our team so that you'll barely have to do any work at all.
Check out this brief guide to our donation process:
1. Contact us.
Call us through our toll-free hotline at 866-540-5069. We're available 24/7 and our donation specialists are standing by ready to assist you with your donation at any time. They'll ask you basic details about the vehicle you're donating as well as your contact information. If you prefer to send your details online, you can do so through our site's online donation form. Expect to receive a call from us sometime afterward to verify your donation details.
2. Get our free towing service.
We'll provide you with a professional towing service at absolutely no cost to you. All you have to do is to let us know the time, date, and location for your car's pickup. We'll coordinate with a licensed towing company in your area to collect your vehicle.
On the day the towing crew arrives, they'll issue you a towing receipt. This document releases you from all liability regarding your vehicle. You can use it to de-register your vehicle at your local DMV and cancel its insurance coverage.
3. Receive your tax-deductible receipt.
Within 30 days after the sale of your car, we'll mail to you your 100% tax-deductible sales receipt. You'll need this receipt to claim your top tax deduction in the next tax season.
Interested to know more? Additional details about our Pittsburg, California car donations program can be found on our FAQs page. You can also call us at Breast Cancer Car Donations via our hotline at 866-540-5069 for any other inquiries.
The Types of Vehicles You Can Donate
The best thing about donating to Breast Cancer Car Donations is that we're willing to accept any type of vehicle in whatever condition it may be in – as long as it's not abandoned or stolen. To make it possible for us to sell a vehicle at auction, we need its title or proof of ownership, which abandoned or stolen vehicles do not have.
However, in case you've just misplaced your vehicle's title, call us at 866-540-5069 and we'll gladly help you secure a duplicate copy of your title quickly so you can proceed with your donation.
Look over this list of vehicles that we welcome in our Pittsburg, CA car donations program:
Cars: sedans, compact cars, coupes, luxury cars, convertibles, hybrids, sports cars
SUVs: compact, mid-size, full-size, crossover versions
Vans: cargo vans, passenger vans, family vans, minivans
Trucks: mobile cranes, garbage trucks, refrigerator trucks, tank trucks, dump trucks, extended cabs, box trucks
RVs: toy haulers, folding and tent trailers, hybrid trailers, travel trailers, motorhomes, campers
Fleet vehicles: limousines, buses, minivans, vans, taxis, ambulances
ATVs: three-wheelers, four-wheelers
Motorcycles: scooters, mopeds, choppers, touring bikes, sports bikes, dirt bikes, off-road bikes, cruisers
Specialty vehicles: motorized wheelchairs, ATVs, golf carts, snowmobiles, riding lawnmowers
Work vehicles: landscaping vehicles, tractors, farm equipment, construction vehicles
Aircraft: gliders, noncommercial planes, helicopters
Water vessels: cruise ships, yachts, pontoon boats, catamarans, tugboats, sailboats, speedboats, fishing boats, motorboats
Get These Valuable Rewards for Your Donation
Participating in our Pittsburg, California car donations program will benefit you as much as the beneficiaries of your gift. Here are some of the outstanding rewards you'll get when you team up with us at Breast Cancer Car Donations:
Receive the maximum tax deduction.
Get our free professional towing service at your convenience.
Enjoy a trouble-free way of disposing of your old ride.
Put an end to your car repair and maintenance expenses.
Free up valuable space in your garage.
Experience the priceless satisfaction of doing a life-saving charitable act.
Turn Your Unwanted Car into a Lifesaver Today!
You have the power to help save the lives of destitute breast cancer patients in your city. All you have to do is donate your unneeded vehicle to our Pittsburg, CA car donations program. Call Breast Cancer Car Donations at 866-540-5069 or fill out our secure online donation form now!
or Call Us Now at 866-540-5069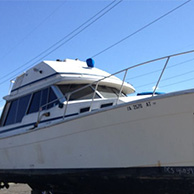 Excellent customer service!