Car Donation Danville, California
Help Fight Breast Cancer in Your Town with a Simple Vehicle Donation!
Did you know that breast cancer affects about 13% or 1 in 8 women in the United States? Although this dreaded disease typically occurs in middle-aged and older women, more than 2,700 men develop breast cancer yearly as well.
Insurance coverage is crucial in providing people with breast cancer access to healthcare services, including cancer screenings, early detection, and treatment options. Furthermore, insured individuals usually have better overall outcomes and improved survival rates than the uninsured, who may face barriers to timely diagnosis and treatment.
Recognizing this health disparity, Breast Cancer Car Donations has launched a car donation program in Danville, California, to help fight breast cancer in the town and surrounding areas.
A study showed that breast cancer is the most common cancer among women in California, with an average of 26,300 new cases diagnosed every year and 4,175 deaths from breast cancer occurring annually.
You can contribute greatly to helping needy Californians who have been diagnosed with breast cancer. All you need to do is donate to us any vehicle you no longer use.
About Danville, California
Nestled in Contra Costa County in the San Francisco Bay Area of Northern California, the town of Danville offers natural beauty and small-town charm.
As of July 2022, Danville had a population of 42,732, according to estimates by the U.S. Census Bureau. Like in other places in the country, the town has its share of locals who have been diagnosed with breast cancer.
How We Will Use Your Danville, CA Car Donation to Fight Breast Cancer
Breast Cancer Car Donations supports IRS-determined 501(c)(3) nonprofit organizations that are devoted to helping individuals whose lives have been touched by breast cancer so they can live better and longer lives. We help our charity partners achieve their goals by operating car donation programs on their behalf so that they can devote more of their time to their critical life-saving mission.
Upon receiving your donated vehicle, we will have it auctioned off. The proceeds will go directly to our charity partners to help fund its life-saving programs and services.
Thanks to your Danville, CA car donation, our charity partners will be able to sustain the delivery of the following services:
Financial assistance to uninsured and indigent breast cancer patients to help cover the costs of their treatments, doctor consultations, hospital fees, medications, follow-up care, and other essential healthcare services
Easy access to local healthcare facilities for underprivileged individuals so they can get free breast cancer screening and diagnosis.
Follow-up care for breast cancer survivors, including laboratory work, annual mammograms, and physician visits five years after remission
Campaigns to promote breast cancer awareness and provide prevention, education, and counseling services to the public.
The Benefits You'll Get from Your Donation
Getting your hands off a no-longer-needed vehicle has never been so easy with Breast Cancer Car Donations. We make sure that all our donors will have the best giving experience they could have. Look over this list of rewards that you'll enjoy with your participation in our Danville, CA car donations program:
1. You'll save money.
Since your charitable contribution is 100% tax-deductible, you'll get to receive the maximum tax deduction in the next tax season. Plus, you can finally quit paying for your unwanted vehicle's repairs, maintenance, insurance, and storage fees. Best of all, we'll have it towed away at no cost to you!
2. You'll save time.
Donating a vehicle is very much different from selling a used vehicle yourself. You don't have to wait for hours, days, weeks, and months before a prospective buyer gives you the offer you were hoping to get. Plus, there's no need for you to spend time driving your vehicle to the auto shop when it breaks down for the nth time.
Lastly, since our team will take care of all the logistics and the paperwork concerning your donation, you won't have to spend more than five minutes of your time making pickup arrangements with the towing company or setting all the documents in order.
3. You'll save lives!
Know that your donation will help ease the burden of breast cancer sufferers in your town. Thousands of hurting individuals and families will benefit from your kindness and generosity.
A Closer Look at Our Quick and Easy Donation Process
Donating a vehicle to Breast Cancer Car Donations in Danville, CA, guarantees you a smooth and hassle-free giving experience. We considered your convenience when we created our simple three-step donation process. Here's what you can expect:
1. Contact us.
Kick-start your donation process by contacting our team through our toll-free hotline at 866-540-5069. Our donation specialists are available 24/7 to walk you through the process. They will ask for your contact details and your vehicle's year, make, model, mileage, and condition. If you prefer to send this information online, fill out our donation form here. Once we've verified your information, expect us to call you immediately.
2. Schedule your vehicle's 100% FREE pickup and towing.
Since we like to pamper our donors with a complimentary professional towing service, you won't have to drive your donated vehicle to our nearest facility. Let us know when and where you want us to pick up your vehicle, and we'll arrange for a licensed towing company to collect it.
3. Receive your tax-deductible receipt via mail.
Within 30 days after the sale of your vehicle through an auction, expect to receive your 100% tax-deductible sales receipt in the mail. You'll need this document to claim your tax deduction.
We accept almost all types of vehicles in almost all kinds of conditions in our Danville, CA car donation program. Are you dealing with a missing title? Call us so our team of title experts can help you get your title's duplicate copy.
For more information on our donation program, including our quick and convenient donation process, head over to our FAQs page. If you have any questions or concerns, write to us here or call us anytime through our toll-free hotline at 866-540-5069.
Make a Lasting Impact in Danville, CA Today!
While your old car may seem to have lost its value, it can provide a lifeline to the disadvantaged breast cancer sufferers in your town. Call Breast Cancer Car Donations at 866-540-5069 or fill out our secure online donation form now!
or Call Us Now at 866-540-5069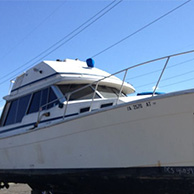 Excellent customer service!