Simi Valley, California Car Donations
Donate Your Vehicle and Save Lives!
Simi Valley, California Car Donations: Help Us in Fighting the Scourge of Breast Cancer
The latest report from the American Cancer Society states that female breast cancer incidence rate in California has decreased by 10% and the mortality rate has likewise decreased by 37%.
However, the report cautions that "despite these improvements, nearly one out of every two Californians born today will develop cancer at some point in their lives, and it is likely that one-in-five will die of the disease."
That is why we at Breast Cancer Car Donations are relentlessly pursuing our campaign to generate funds for use in fighting breast cancer throughout the country.
Our Simi Valley, California car donations for cancer are part of this nationwide campaign. We urge fellow Americans to support us, together with our non-profit organization partners American Breast Cancer Foundation (ABCF) and the Women Involved in Nurturing, Giving, Sharing, Inc. (WINGS), in our mission to help breast cancer sufferers. When you donate a car for charity, you will be supporting our nonprofit partners in pursuing the following objectives:
Provide uninsured and underserved breast cancer patients access to screening, diagnosis, and effective treatment

Support research on breast cancer cure

Help empower breast cancer patients, survivors, and their families by providing patient-centered care aimed at maximizing quality of life

Help patients in managing the unwanted side effects of breast cancer treatment such as removal of parts or all of the affected breast and hair loss

Raise awareness about breast cancer prevention and detection of early breast cancer signs
Simi Valley, California: Where President Ronald Reagan Was Buried
Simi Valley City is found in the southeastern part of Ventura County, California. This is where the late President Ronald Reagan was buried. Simi Valley is ranked as the 18th most conservative city in the country.
The name Simi Valley comes from the Chumashan language, which used to be widely spoken on the southern California coast by Chumash Native Americans.
One of the best and unique places to visit in Simi Valley City is Skatelab, a skateboard museum that opened to the public in 1997. You may enjoy watching a variety of skateboarding memorabilia and a huge number of vintage skateboards here.
Aside from the Skate Museum, Corriganville Movie Ranch is another unique place to visit when you are in Simi Valley. It is a Western-themed ranch located at the foot of Santa Susana Mountains and owned by Ray "Crash" Corrigan, an actor and stuntman. It was built in 1937 with a Western set-up that served as background scenery for popular movies such as "The Lone Ranger" and "Star Trek."
How Donors Benefit from Simi Valley, California Car Donations
Here are just a few of the benefits you will get when you donate your car to our Simi Valley, California car donations for breast cancer:
Free pick-up and towing

Top tax deduction

No hassle in trying to sell your car

No paperwork

End to insurance, registration payments

Deep sense of personal satisfaction for helping fellow Americans in need
Quick and Easy Simi Valley, California Car Donations Process
Our Simi Valley, California car donation process is guaranteed to be quick and easy, allowing you to save time and effort. Only three easy steps are needed—and you only have to do one of those steps—to get your car towed at zero cost to you:
Step 1: Visit our website and fill out the online vehicle donation form. You may also contact us at 866-540-5069. Our accommodating donor specialists will explain to you the donation process. We will ask you to provide us only a few details about the vehicle you're donating, like its make and model.
Step 2:  After verifying the information you provided, we will hire a professional tow company to pick up your car.
Step 3: The towing company will pick up your vehicle on the date, time, and place we agreed upon. We will give you a donation receipt that frees you from all liability, which means you can now scrap your car's insurance and registration, saving you money.
We will then auction off the car you have donated to our vehicle donation program. Be assured that we will try to get the highest selling price for it. Once your car is sold, we will send you your 100 percent tax-deductible sales receipt by mail.
If your vehicle fetched a price of less than $500, you can claim as your tax deduction your vehicle's selling price or your vehicle's fair market value up to $500, whichever is higher. You can calculate the fair market value of your car by checking the prices online for vehicles of the same make, model, year and condition as your car.
You can claim a bigger tax deduction if the vehicle you donated to our car donation program fetched a price higher than $500. In this case, your only option is to claim the exact amount for which your car was sold.
Save lives of your fellow Americans struggling with breast cancer with the least effort on your part. Donate your vehicle today to our Simi Valley, California car donations program. Contact us now at 866-471-2353.
We serve the entire Los Angeles metropolitan area, including nearby cities like Santa Clarita and Pasadena.
or Call Us Now at 866-540-5069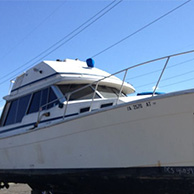 Excellent customer service!