Moreno Valley Car Donations
Donate Your Vehicle and Save Lives!
Join Moreno Valley, California Car Donations to Give Hope to Breast Cancer Patients
What is it about our Moreno Valley, California car donations program that people love so much? In case you're not aware, we at Breast Cancer Car Donations offer our donors the chance to conveniently dispose of their old and unwanted cars for free while helping provide life-saving assistance to breast cancer patients in Moreno Valley. Indeed, making a charitable contribution through us is like setting yourself up for a classic win-win.
If you have a family member who is suffering from breast cancer or a loved one who lost the battle against it, then supporting the charity that fights for its eradication can be a good way to support or remember them.
U.S. Breast Cancer Statistics: A Closer Look
Statistics estimate that 200K+ new cases of breast cancer may be diagnosed in the United States. For this year alone, it was estimated that about 41,760 women would lose their lives to this horrible disease.
Thankfully, we can do something to bring these numbers down. We at Breast Cancer Car Donations have teamed up with like-minded IRS-determined 501(c)3 nonprofit organizations to reach out to uninsured and underserved individuals who have been diagnosed with breast cancer.
When you donate a car for charity, we'll auction it off and use the proceeds to help fund the comprehensive breast health programs of our charity partners. These charities provide their beneficiaries with easy access to medical facilities so they can undergo full treatment. They also offer free breast cancer screening as well as other breast cancer prevention and education services.
The best time to make a difference in your community is now. If you have an old car you wish to dispose of in the easiest way possible, hand it over to us. When you take part in our Moreno Valley, California car donations program, you'll give hope to breast cancer patients in your community.
Moreno Valley: A Blast from the Past
Moreno Valley wasn't founded until 1984 when three communities – Moreno, Edgemont, and Sunneymead – were fused to create the young city. Since then, the city's economy has been booming. Its population has grown by leaps and bounds. The rapid growth of the city has been attracting the attention of the media not just in the country but the rest of the world.
According to the most recent data published by the United States Census Bureau, more than 50 percent of Moreno Valley's total population of 209,050 comprised of women. Furthermore, statistics show that 1 in 8 of them is expected to develop breast cancer within her lifetime.
Moreno Valley is located in Riverside County. It's about an hour and a half from Los Angeles and boasts many popular attractions. These include Box Springs Mountain, Lake Perris State Recreation Area, Lasselle Sports Park, March Field Air Museum, Southern California Railway Museum and more. The area also has a cancer treatment center, the San Bernardino Cancer Care Center, that is located on Medical Center Dr. 
The average annual count for those with cancer in Riverside County is 697. Moreover, the percent of cases with late-stage cancer is 65.4. Breast Cancer Car Donations works to help these patients through our auto donation program.  
You can't even begin to imagine the impact your donation will make on the lives of those who have been touched by breast cancer. For more information about our vehicle donations process, feel free to visit our FAQs page. If you have any questions, please don't hesitate to give us a call at 866-540-5069.
Join Moreno Valley, California Car Donations to Enjoy These Amazing Rewards!
Uninsured and underserved breast cancer patients are not the only ones who will benefit from your donation. You will, too! Aside from the convenience of getting your clunker out of your property in a jiffy, you'll also get to experience more benefits from your charitable contribution. Look over this list of rewards that you'll be enjoying once you take part in our Moreno Valley, California car donations program:
Donating to us means not being obliged to drive your vehicle to the nearest Breast Cancer Car Donations facility. We'll coordinate with a professional towing company for its pickup at no cost to you.
A significant reduction in your taxable income!
Another wonderful thing about our donation program is that you're eligible for a tax deduction for every vehicle you donate. The more vehicles you donate, the bigger your tax deductions will be.
If your vehicle sells for less than $500, you can claim as your tax deduction the exact selling price or its fair market value not exceeding $500, whichever is higher. On the other hand, if your vehicle sells for more than $500, the tax deduction you can claim is your vehicle's actual selling price.
More space in your garage!
You can finally get rid of the biggest clutter in your garage whose valuable space can now be taken over by your new ride.
Steer clear from the hassles of trying to sell a used car yourself!
Donating to us means not having to waste your time, effort, and money posting ads online and in the local paper, answering numerous queries over the phone, showing and transporting your vehicle to potential buyers, and haggling with them for the best price.
How You Can Contribute Car Donations for Breast Cancer
Donating car donations for cancer is anything but stressful. Simply follow these steps and you'll be well on your way to becoming an instrument of hope to those who are going through their breast cancer journey.
STEP 1: Get in touch with our team.
You can choose to donate over the phone by calling us at 866-540-5069 or filling out our online donation form.
STEP 2: Schedule your free car removal.
We'll call you back to schedule your vehicle's free pickup. You can choose a date and time that's convenient for you. We'll then have a professional towing company sent over to the location of your choice to collect your vehicle at NO COST to you.
STEP 3: Receive your tax-deductible receipt.
We'll send you your 100-percent tax-deductible sales receipt by mail within days following the sale of your vehicle.
What Types of Vehicles Qualify?
The best thing about joining our Moreno Valley, California car donations program is that it allows you to get rid of practically all types of unwanted vehicles you might have on your property.
Check out this list of the various vehicle types that you can donate to us:
Cars: sedans, luxury cars, coupes, convertibles, hybrids, sports cars, wagons, hatchbacks
Vans: family minivans, camper vans, cargo vans, passenger vans
SUVs: compact, midsize, full-size or crossover versions
Motorcycles: touring bikes, cruisers, scooters, off-road bikes, mopeds, sports bikes, choppers
Trucks: box trucks, pickup trucks extended cab pickup, panel trucks, refrigerator trucks, tank trucks
Boats: fishing boats, sailboats, tugboats, speedboats, houseboats, cruise ships, catamarans, pontoon boats, yachts
Specialized vehicles: riding lawnmowers, motorized wheelchairs
Fleet vehicles: SUVs, pickups, trucks, buses, cars, passenger vans, cargo vans, limousines, ambulances, taxicabs
Work-related vehicles: construction vehicles, tractors and farm equipment, buses, large trucks, landscaping vehicles
Others: noncommercial planes; campers, travel trailers, snowmobiles, Jet Skis, RVs, motorhomes, pop-up trailers, ATVs
Now is the Best Time to Save Lives!
One of the best things you can do is to help reduce the mortality rate of breast cancer. We believe that if we work together, we'll be able to save more lives. Call 866-540-5069 or fill out our online donation form to join our Moreno Valley, California car donations program today! We serve the entire Los Angeles metropolitan area, including nearby Riverside and San Bernardino.
or Call Us Now at 866-540-5069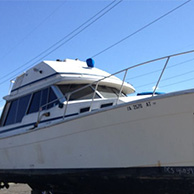 Excellent customer service!