San Bruno, California Car Donations
Donate Your Vehicle and Save Lives!
San Bruno, California Car Donations for Cancer: Save Lives of Breast Cancer Victims and Get Rewards!
When you donate to a charity, you are supposed to give something for a worthy cause without getting anything in return –except of course for that happy feeling that you did something good.
For a change, how would you like to give something to a truly noble undertaking, one that would help countless needy people — and expect a windfall of benefits in return?
Yes, it can be done! It's possible! You can help breast cancer sufferers and help yourself at the same time! You can do so by donating your old beat-up car or whatever vehicle you have to San Bruno, California car donations for breast cancer.
Breast Cancer Car Donations in San Bruno, CA has launched a fund-generating program to support breast cancer patients. The proceeds of your vehicle donation will go directly to our leading breast cancer non-profit partners. They will, in turn, use the funds to meet the following objectives:
Provide funding for research on breast cancer and its cure

Provide learning materials to the public about the causes and prevention as well as detection of breast cancer

Help breast cancer patients' medical treatment and diagnosis

Empower breast cancer patients, survivors, and their families
One of our non-profit organization partners is American Breast Cancer Foundation or ABCF. This non-profit organization is pursuing studies on early detection of breast cancer as well as its diagnosis. Their advocacy is towards uninsured and underserved individuals. They also provide financial assistance for diagnostic exams and screenings.
We have also partnered with Women Involved in Nurturing, Giving, Sharing, Incorporated (WINGS). This non-profit is dedicated to providing uninsured breast cancer patients in the community with complete breast health services.
History of Breast Cancer and Facts
The first recorded case of breast cancer was found in a papyrus purchased by a certain Edwin Smith in 1862 from an Egyptian artifact dealer named Mustafa Agha, according to the National Center for Biotechnology Information. On several pages of the ancient documents, eight cases of breast tumors and ulcers were noted as untreatable. Later in the early part of the fourth century, Hippocrates was able to describe breast cancer stages.
Here are a few facts about breast cancer:
A recent study showed that one in every eight American women (12.4 percent) will develop invasive breast cancer in her lifetime.
Breast cancer holds the second highest rate of deaths due to cancer following lung cancer. Moreover, breast cancer is the second most diagnosed cancer in the country's female population next to skin cancer.
About 15 percent of women who have been diagnosed with breast cancer do not have relatives with a history of such illness. An estimated 5 to 10 percent of the patients were afflicted with breast cancer due to gene mutations.
It is said that women between their late 50s and early 60s can inherit the cancer-causing BRCA1 gene mutation. About 45 percent of these women are at risk of inheriting BRCA2 – another cancer-causing mutated gene — in their 70s, according to the National Cancer Institute.
Benefits from San Bruno, California Car Donations
When you donate your vehicle to the San Bruno, California car donations program, the benefits are not limited to breast cancer patients. Donors will have their own set of benefits, too. Here are just a few of the benefits you can get from the program:
File for

 tax deductions

 right after your vehicle gets towed, thus lessening your taxable income after you itemize your taxes. Tax deductions can grant you more or less $500 tax deduction depending on your vehicle's final selling price.

With your vehicle out of your hands, you get freedom from costly repair, insurance payment, maintenance, and storage fees.

Your vehicle's pick-up and towing will be at zero cost to you.
Resources Near San Bruno
Besides the mild, year-round temperatures, San Bruno is home to several local cancer treatment centers. These include the Mills-Peninsula Medical Center on Trousdale Drive, the Kaiser Permanente South San Francisco Medical Center on El Camino Real, and the AHMC Seton Medical Center on Sullivan Avenue. 
These facilities offer the latest advanced in breast cancer care. For example, the Mills-Peninsula Medical Center offers radiation, medical and surgical oncology, nutrition services, symptom management, counseling, and more. Care teams consist of medical oncologists, radiation oncologists, plastic surgeons, nurses, counselors, and more. Treatments are tailored to the individual's personal medical situation.
Easy Steps on How to Donate a Car for Charity
You can get those awesome perks by following these three easy steps:
To start your San Bruno, California car donations process, call our hotline number 866-540-5069. Simply provide our friendly donor desk representative a few details about your vehicle, including the make and model. Select a pick-up date and time, and tell us where your vehicle is located. You can also visit our website and fill out the online form.
You don't have to worry about the paperwork – you won't do any of that. The San Bruno, California vehicle donation program will process it for you. All you need to do is to wait for your car to be picked-up. The tow company will give you a receipt releasing you from all liability from your donated vehicle such as monthly insurance fees and registration costs.
We can arrange nationwide pick-ups for free. You can either be at home or not during the pick-up time, San Bruno, California car donations handle pick-ups like this all the time. Cars are usually towed within 24 to 48 hours by a local towing company.
Your car will be auctioned and the proceeds will help fund the various anti-cancer programs of our nonprofit partners. You will receive a tax receipt by mail from Breast Cancer Car Donations after your vehicle is sold. You can use the receipt for tax purposes.
Help save the lives of breast cancer sufferers today by donating your vehicle to San Bruno, California car donations program. Call us now at 866-540-5069 to donate. We serve the entire region, including nearby San Mateo, San Francisco, and more.
or Call Us Now at 866-540-5069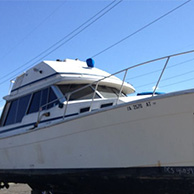 Excellent customer service!