Manhattan Beach, California Car Donations
Donate Your Vehicle and Save Lives!
Manhattan Beach, California Car Donations: Help Save Lives, Increase Breast Cancer Awareness
Donating a car through our Manhattan Beach, California car donations program is a great way to support philanthropic work while obtaining for yourself significant material rewards including a maximized tax deduction.
Do you have an old car or truck or boat or camper just taking space in your yard or driveway? Consider donating it to us at Breast Cancer Car Donations. If you join our program, you will help save lives and increase breast cancer awareness, leading to lower breast cancer mortality rates.
About Manhattan Beach, California
Manhattan Beach is recognized as a hotspot for surfing and beach volleyball. The land used to be covered in sand dunes, which now lie beneath the streets and buildings of the city.
Manhattan Beach is home to the tallest hill in the southwest region. The hill in Sand Dune Park is 244 feet high and is the only sand dune that remains exposed in the city. In the late 1920s, the excess sand was purchased by Hawaiian developers. The beach is 400 feet wide and 2.1 miles long.
In August of each year, the city hosts the Manhattan Beach Volleyball Tournament as well as the International Surf Festival.
There are approximately 35,000 people in Manhattan Beach. Of this number, 17,500 are women. Some of them could be potential victims of breast cancer. Currently, the average risk of a woman living in the United States developing breast cancer sometime in her life is about 12 percent. This means there is a one in eight chance for every woman to develop breast cancer.
Learn More About Manhattan Beach
The sand, surf and sun are what draw many people to Manhattan Beach, California. It's also home to Manhattan Pier and The Strand, a 22-mile-long bike trail that links to Torrance and Santa Monica. Many residents enjoy swimming, fishing, surfing, biking, skateboarding and rollerblading in the area. Manhattan Beach, California also has a local cancer treatment center, Torrance Memorial Hunt Cancer Institute, on Lomita Boulevard.
Cancer death rates for men and women have been declining since the 1990s, according to the American Cancer Society. In 2018, in Los Angeles County, there were about 14,700 cancer deaths.
U.S. Breast Cancer Statistics
According to the American Cancer Society, the death rates from breast cancer have declined since 1990. It says the decline is due to increases in early breast cancer detection cases, enhanced treatment options, as well as better education.
Nonetheless, about 39,500 women died of breast cancer, which is one of the leading causes of death among women.
For this year, the American Cancer Society estimates that about 266,120 new cases of invasive breast cancer will be diagnosed in women, excluding about 63,960 new cases of non-invasive cancer, also known as carcinoma in situ or CIS. About 40,920 women will die from breast cancer this year, the Society states in its report.
California has an average of 26,300 new cases every year and 4,175 deaths from breast cancer annually.
How to Donate a Vehicle in Manhattan Beach
Our Manhattan Beach, California car donations process is quick and easy, so you save time and effort. There are only three easy steps to get your car out of your garage at no cost to you
Step 1:
Give us a call at 866-540-5069. Provide us your contact information and a few details about the vehicle you're donating like it make and model, mileage, and vehicle identification number. Another option would be for you to fill out our online donation form.
Step 2:
Once we have verified the information you provided, we will make arrangements with an affiliate tow company from your area to pick up your car. The towing fee is on us, and you don't have to pay for anything. The tow truck will pick up your vehicle at your preferred time and date or as early as 24 to 48 hours after we make the towing arrangement. We will hand you a donation receipt, a document that releases you from all liabilities on the car you donated, allowing you to de-register your vehicle, dispose of your license plates properly, and cancel your insurance coverage. Keep the receipt since you may need it for tax purposes.
Step 3:
After we auction off your car, we will mail you your 100-percent tax-deductible receipt. That document would show your car's final selling price and the tax deduction you can claim when you file your itemized federal tax return.
Types of Vehicles We Accept for Donation
We accept many types of vehicles on our Manhattan Beach, California car donations program including:
Cars:

 sedans, vans, SUVs, trucks, motorcycles

RVs:

 recreational vehicles, motorhomes, campers, travel trailers, pop-up trailers, 5-wheelers

Specialty vehicles:

 ATVs, snowmobiles, motorized wheelchairs, riding lawn mowers, tractors, farm equipment

Fleet vehicles:

 cars, passenger vans, cargo vans, SUVs, pickups, trucks, buses

Watercraft and aircraft:

 sailboats, motorboats, fishing boats, yachts, pontoon boats, houseboats, jet skis, non-commercial airplanes
Reasons to Donate Vehicles in Manhattan Beach
Giving to charity through our Manhattan Beach, California vehicle donations program brings extreme joy and personal satisfaction knowing that you will be saving lives by way of medical and financial assistance to breast cancer patients and spreading breast cancer awareness.
There are several other good reasons to donate a car to us at Breast Cancer Car Donations, including:
Get a handsome tax deduction

Avoid the hassle of selling

No need to bother with paperwork

Save money on repairs, other payments

Unclog your garage or backyard
Donate a Car Now and Save Lives!
Join us in our mission to save people's lives by donating your car or any other vehicle to our Manhattan Beach, California auto donations program. You can be certain that all proceeds from the sale of donated vehicles will be distributed to our trusted charities. They are the ones directly managing breast cancer programs that are all geared towards helping people afflicted with that devastating disease.
Call us at 866-540-5069 now. Donate a car for charity today and save lives! We serve the entire Los Angeles metropolitan area.
or Call Us Now at 866-540-5069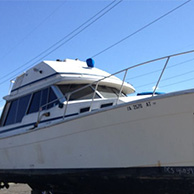 Excellent customer service!