Los Gatos, California Car Donations
Donate Your Vehicle and Save Lives!
Los Gatos, California Car Donations: Help Save Lives of Breast Cancer Patients and Get Top Tax Deductions!
As years go by, cars become worn out and would need some repair and makeover. However, these can put a big hole in one's wallet. Selling them can also prove to be a challenge and may not bring you relief at all.
In this case, the best thing you can do is to simply donate your old car to us at Breast Cancer Car Donations through our Los Gatos, California vehicle donation program. This way, you get to dispose of an unwanted vehicle for free and with very little effort on your part. And that's not even the best results that you can get. More important, you will also help save lives of women suffering from breast cancer. To top it off, you will also receive rewards for your charitable act, including a top tax deduction!
About Los Gatos
As of 2016, there were 30,398 people residing in Los Gatos, California. The town is in Santa Clara County and is located 7 miles southeast of Cupertino and 9 miles southwest of San Jose. The town has the advantage of easy accessibility to the nearby towns and cities with which it shares the San Jose metropolitan area.
Los Gatos was founded in the mid-1850s when James Alexander Forbes established the Forbes Mill on the Los Gatos Creek. The area developed into a settlement, which assumed the name of the mill. The name was changed to Los Gatos following a land grant from Spanish authorities.
The town is bounded by various bike trails running through the mountains. Biking is, therefore, a very common activity here. There are also several wineries and parks, which make for amusing visits. The stunning Castle Rock Falls is home to some 50-foot waterfalls. There are likewise great restaurants and shopping centers in the area.
Our Quick and Easy Car Donation Process
Our Los Gatos, California car donations process is quick and easy, so you save plenty of time and effort. There are only three easy steps to get your car towed at zero cost to you
Step 1:
Give us a call at 866-540-5069. Provide us your contact information and a few details about the vehicle you're donating like it make and model, mileage, and vehicle identification number. Another option would be for you to fill out our online donation form.
Step 2:
Once we have verified the information you provided, we will make arrangements with an affiliate tow company from your area to pick up your car. The towing fee is on us, and you don't have to pay for anything. The tow truck will pick up your vehicle at your preferred time and date or as early as 24 to 48 hours after we make the towing arrangement. We will hand you a donation receipt, a document that releases you from all liabilities on the car you donated, allowing you to de-register your vehicle, dispose of your license plates properly, and cancel your insurance coverage. Keep the receipt since you may need it for tax purposes.
Step 3:
After we auction off your car, we will send you your 100-percent tax-deductible receipt by mail. That document would show your car's final selling price and the tax deduction you can claim when you file your itemized federal tax return.
How Your Car Donations Will Benefit Breast Cancer Patients
The proceeds of your Los Gatos, California car donations for breast cancer will go straight to our two charity partners — the American Breast Cancer Foundation (ABCF) and Women Involved In Nurturing, Giving, Sharing, Inc. (WINGS). These are two of the nation's most trusted non-profits. They use the funding we give to them to sustain and improve their breast cancer programs that provide such services as:
Financial assistance to uninsured and underserved breast cancer patients, covering their surgery, oncology services, consultation, hospital fees and outpatient medication;
Connecting these patients to local facilities that offer free and accessible resources, information and other comprehensive breast health services;
Raising public awareness on breast cancer prevention, diagnosis, and treatment;
Pursuing research on prevention, screening, diagnosis, and treatment of breast cancer; and
Sponsoring charity and outreach events for the benefit of breast cancer patients.
Learn More About Los Gatos
Aside from Los Gatos' rich history, natural scenery and numerous attractions, it's also home to two local cancer treatment centers. These include the Stanford Cancer Center South Bay on Samaritan Drive and Sutter Health. Both treatment centers offer advanced services for breast cancer, including breast imaging, genetic counseling and innovative treatments. They screen, diagnose and treat numerous patients each year. Treatments are tailored to the patient's personal situation.
The Vehicles You Can Donate
We accept nearly all types of vehicles for Los Gatos, California car donations as long as they come with titles or proof of ownership. We need this document so that we could sell it at auction.
Multiple car donations for cancer are fantastic! The more vehicles we can sell at auction, the more funds we can generate to benefit more breast cancer patients.
Here are the types of vehicles that we will gladly accept for donation:
Cars: sedans, vans, SUVs, trucks, motorcycles, buses, pickups
Boats and planes: sailboats, motorboats, fishing boats, yachts, pontoon boats, houseboats, jet skis, non-commercial airplanes
RVs: recreational vehicles, motorhomes, campers, travel trailers, pop-up trailers, fifth wheelers
Specialty vehicles: ATVs, snowmobiles, motorized wheelchairs, riding lawn mowers, tractors, farm equipment.
On a case-to-case basis, even if your car doesn't run anymore or its headlights aren't working, it can still be donated! One instance when your donation cannot be processed is when the car turns out to be a stolen or abandoned vehicle.
Donate a Car for Charity Now!
You can be certain that all the funding from your donation will be used to finance the programs for the benefit of breast cancer patients in your town.
If you're ready to make your donation, or if you have questions in your mind, call us now at 866-540-5069! Take part in our Los Gatos, California car donations program and enjoy a great donation experience from start to finish! We serve the entire region, including nearby Cupertino, Mountain View, San Jose, Santa Clara, and Sunnyvale.
FREQUENTLY ASKED QUESTIONS
What is Breast Cancer Car Donations, and how does it work?
We are a charitable organization that actively works to end breast cancer. We accept vehicle donations as well as aircraft, boats, trucks and more. We auction off these donations and give the proceeds to breast cancer programs and services. Our car donation process is simple and free for the donor. Just reach out to us and we'll take care of all the details.  
Why should I donate my vehicle to Breast Cancer Car Donations?
Donating your automobile to our organization provides you with numerous benefits. For example, you'll be able to get rid of an unwanted or old vehicle at no cost to you and with little effort. In fact, we provide free towing services. Best of all, you'll help your community and support those who have breast cancer. 
What does the donation process entail?
We designed our donation process to be easy and convenient. First, give us a call or fill out our online donation form. We'll need to gather some details about the car you're donating such as the vehicle's make and model. Then, we'll have a local towing company pick up your car for free. Once it gets auctioned, we'll send you a tax-deductible receipt via mail. This receipt will include your vehicle's final selling price and the tax deduction you can claim. 
What types of vehicles can I contribute?
Breast Cancer Car Donations accepts a wide range of vehicles. However, they must include titles or proof of ownership. From cars and planes to ATVs and tractors, we will gladly accept your donations.
or Call Us Now at 866-540-5069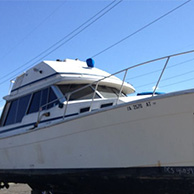 Excellent customer service!