Petaluma, California Car Donations
Donate Your Vehicle and Save Lives!
Petaluma, California Car Donations: We'll Use Your Vehicle a Tool to Fight Breast Cancer
Did you know that a single donation to our Petaluma, California car donation program can play a crucial role in the fight against breast cancer?
An automobile that's been sitting idly in your driveway can become a tool for finding treatment and even a possible cure for the devastating disease.
By donating your car to us at Breast Cancer Car Donations, you'll be giving optimism and hope to women suffering from breast cancer and their loved ones as well. We have teamed up with trusted nonprofits that are waging a relentless campaign against breast cancer, providing healthcare services to uninsured women and funding research on the deadly disease in the hope of finding a more effective treatment regimen and the ultimate cure.
If you've been planning to get rid of an obsolete car but you still haven't thought of a good way to do that, guess you've just found the perfect solution! Making an auto donation to a good charitable cause out of your car not only frees you from the burden of spending needlessly for insurance payment or maintenance. More importantly, it can also help thousands of women struggling with breast cancer.
A vehicle that seems useless to you can make a world of difference for these women. It can even save their lives. Think about how many lives you'll be helping when you donate your car to our Petaluma, California car donations program.
Enjoy an Efficient Donation Process with Us
At Breast Cancer Car Donations, we see to it that donors go through a donation process that's free from complications. Consider everything, from the free pickup of your vehicle to the processing of tax papers, to be our responsibility. Once you made up your mind on joining our Petaluma, California car donations program, let us know so we can start the process right away.
You may choose to fill out our online donation form, or you can give us a call instead. We'll need to know a few details about your vehicle, after which we'll agree on a date and time for its towing. Of course, it will be at your own preference.
By the time our tow truck arrives at your place, you don't need to be around to facilitate. We will hand you a donation receipt that will release you from all liability. You can now de-register your vehicle, dispose of your license plates properly, and cancel your insurance coverage.
Once we have your automobile with us, we'll be putting it up for auction. Funds generated from your car donations in the city will go directly go to local nonprofits that are devoted to fighting breast cancer.
Benefits of Petaluma, California Car Donations
The convenience and simplicity of our donation process isn't the only good thing about Breast Cancer Car Donations. When you donate an old vehicle to us, you're not just making breast cancer patients and their families happy, but you also have the opportunity to experience great things for yourself.
By contributing to our Petaluma, California car donations program, we guarantee you a number of perks waiting for you. One of them is the possible huge tax deduction that you'll be getting. Days after selling your car at its highest possible price during the auction, we will mail you your 100 percent tax-deductible sales receipt.
If your vehicle sells for less than $500, you can claim as your tax deduction your vehicle's selling price or your vehicle's fair market value up to $500, whichever is higher. You can calculate the fair market value of your car by checking the prices online for vehicles of the same make, model, year and condition as your car. However, if your vehicle sells for more than $500, you can claim only the exact amount for which it was sold, even if the fair market value is greater than the selling price.
Here are the other benefits you'll be getting when collaborating with us:
Towing and pickup at no cost

Additional space for your driveway or garage

No need to pay for your car's insurance, repair, or maintenance fees

No need to deal with paperwork

Freedom from advertising your car or looking for buyers

Feeling of joy knowing that your Petaluma, California car donations will be making a difference in the lives of breast cancer sufferers
Types of Vehicles for Breast Cancer Car Donations
Another good thing about working with us is that we accept many kinds of vehicles, including those that are not in running condition.
Whether you plan to donate a van that's no longer fully functioning or a no-longer-needed motorhome in excellent condition, Breast Cancer Car Donations will be more than pleased to accept it as your donation. To give you more ideas, here are the vehicles we usually accept for our Petaluma, California car donations program:
Vans or minivans

Trucks

Electric lawnmowers

Personal watercraft

Cruise ships

Motorbikes

Travel trailers

Motorized wheelchairs

Fleet vehicles
We also accept multiple car donations for cancer in case you're wondering. And if you're still having uncertainties about your vehicle's eligibility for our Petaluma, California car donations program, just contact us. Also feel free to have a look at our FAQs page.
Local Resources for Breast Cancer
Petaluma is in Sonoma County along the Petaluma River. It boasts beautiful coastlines, wineries, renowned festivals and delicious fare. This picturesque riverside town also produces world-class ales and beers, artisan cheese, wines and olive oils. Popular attractions include antique shops downtown, Shollenberger Park, Petaluma East-Side Farmers' Market, Petaluma Historical Library & Museum and more. The area is also home to several local cancer treatment centers. These include the Petaluma Valley Hospital on McDowell Blvd., the Providence Santa Rosa Memorial Hospital on Montgomery Dr. and the Providence Queen of the Valley Medical Center on Trancas St.
The Petaluma Valley Hospital offers a wide range of services. These include emergency and critical care, outpatient surgical services, respiratory therapy, physical therapy, radiology services and more. It also offers state-of-the-art outpatient imaging, such as breast imaging, to help physicians diagnose medical issues. The Providence Santa Rosa Memorial Hospital provides world-class cancer care through advanced treatment and compassionate support. Doctors take a whole-person approach to care for a patient's body, spirit and mind. This hospital also offers breast cancer treatment such as systemic, surgical and radiation therapies. Testing and diagnostics include breast imaging, mammography, genetic testing and counseling, ultrasonography and more.
The Providence Queen of the Valley Medical Center is the Napa Valley area's largest healthcare facility. It boasts cutting-edge technology, state-of-the-art facilities and a team of medical professionals. This hospital offers breast cancer treatment including radiation, surgical, systemic and lymphedema therapies. The cancer care team consists of dietitians, nurse navigators, social workers, oncologists and surgeons.
Donate a Car for Charity in Petaluma, California Today
Let us have your car and we promise you: We will use it to fight breast cancer. Help us find a cure to kill this deadly disease. Donate a car for tax credit now at 866-540-5069. We serve the entire region, including nearby San Francisco.
or Call Us Now at 866-540-5069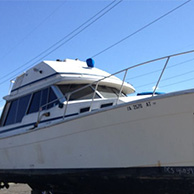 Excellent customer service!