San Gabriel, California Car Donations
Donate Your Vehicle and Save Lives!
San Gabriel, California Car Donations: Join the Fight Against Breast Cancer!
If you're thinking about making a donation to charity, you might want to consider San Gabriel, California car donations. With the funds generated from the sale of the donated cars, a lot of individuals diagnosed with breast cancer will be provided assistance in their battle against the disease.
The Birthplace of Los Angeles Region
San Gabriel, located about 10 miles northeast of Los Angeles, boasts of a far-reaching history. The city is known as the "Birthplace of Los Angeles Region" and is home to about 42,000 residents. Fifty percent of the population is composed of women.
Statistics say that one in eight women will develop breast cancer throughout her lifetime.
The people of San Gabriel are actively supporting charities that focus their cause on fighting breast cancer. Together, they work hand in hand to improve the survival rates among breast cancer patients in San Gabriel.
Located in the San Gabriel Valley of Los Angeles County, this historic city is home to the Mission San Gabriel Archangel. The area also has several local cancer treatment centers. These include Keck Medicine of USC on Huntington Drive, Huntington Hospital on Santa Anita Street and the City of Hope National Medical Center on Duarte Road. These centers offer comprehensive breast cancer care, from screenings and diagnosis to treatment. You can receive support from oncologists, mental health professionals, genetic counselors, radiologists, rehabilitation specialists and more. 
Treatment includes various therapies, groundbreaking clinical trials and other advanced methods. Moreover, the City of Hope National Medical Center offers a comprehensive, supportive care program, long-term survivorship program, advanced surgical techniques, clinical trials, and early detection, screening and prevention. 
What is Breast Cancer and How Can We Help Those Who Have It?
Breast Cancer Car Donations has partnered with 501 (c) (3) certified non-profit organizations whose cause is to provide breast cancer-stricken individuals assistance in any form. Breast cancer is the most commonly diagnosed cancer in American women next to skin cancers and the second leading cause of cancer death in women after lung cancer. On average, one woman is diagnosed with breast cancer every two minutes and every 13 minutes, another woman dies because of it.
Making adjustments after being diagnosed with breast cancer is difficult. It's financially and emotionally draining because every stage requires a different cost of treatment. With the increased cost of treatment for breast cancer, most women would just opt to go on without receiving the recommended treatment.
The problem is, the more advanced cancer becomes, the more expensive the cost of the treatment. That's why the early detection of breast cancer remains to be associated with better clinical and survival outcomes.
Our Partners in the Battle Against Breast Cancer
On behalf of the non-profit organizations we are in partnership with, Breast Cancer Car Donations operates the donation of vehicles so that our partners could focus on sustaining breast cancer programs directed towards prevention, early detection, and treatment.
When you donate your old, non-functional car or truck or any other vehicle to our San Gabriel, California vehicle donations program, you'll be helping these two non-profits in their fight against breast cancer:
American Breast Cancer Foundation (ABCF)
ABCF, together with its sponsors, focuses its mission in providing uninsured and underserved individuals diagnosed with breast cancer the access to much-needed resources, services, and support. They provide education and financial assistance to breast cancer patients who can't afford to pay for the treatment alone.
Women Involved in Nurturing, Giving, Sharing, Inc. (WINGS)
WINGS aims to provide assistance to uninsured women diagnosed with breast cancer who have no fighting chance to beat the disease. Since its formation in 1999, WINGS has provided over $12 million healthcare services to women with breast cancer. Once a woman gets enlisted under WINGS, she receives care throughout her entire lifetime.
What You Get in Donating Your Vehicle to Breast Cancer
Giving away a vehicle you once loved is a big decision. We know that it's never easy to let go of your first car or the car you used at your wedding. But like everything else in the world, nothing ever lasts except for acts of kindness, generosity, faith, hope, and love.
By this time, you know that countless individuals would thank you if you donate your car to help them beat breast cancer. However, we'd like you to get a closer look at the benefits you (yes, you!) would be getting for your San Gabriel, California car donations:
You'd go through the quickest and easiest donation process!
Our donation process won't take more than five minutes of your time! If you have questions about anything pertaining to your donation, our team would readily assist you once you give us a call!
Fast and FREE towing services!
When you donate your car to us, we'd have your vehicle towed away at no cost to you! You don't even have to be present when the professional towing company goes to your place to pick it up!
Zero liability for your car from the day of pickup!
Once we get our hands on your vehicle, our insurance coverage applies to it. In other words, you'll no longer be liable for your clunker from the day we pick it up!
No need to handle all the paperwork!
We know how stressful it would be for you to handle all the required documentation. That's why we got this covered from title transfer completion to tax-deductible receipt issuance!
You can count on us to work really hard so you'd get top dollar for your donation when we sell it at auction. Because we partner with prequalified charities, you can enjoy maximum tax deductions!
Say goodbye to maintenance and repair costs!
You can save more money if you quit paying for your clapped-out vehicle's maintenance and repairs!
You don't have to go through the hassle of selling your car!
Save yourself the trouble and hassle of running ads, showing, and negotiating with potential buyers. When you donate a car for charity, it eliminates the time wasted on making deals!
Our Easy-Peasy Donation Process!
Now that we have caught your attention, here are the three easy and hassle-free steps of our San Gabriel, California car donations process:
Let us know you want to donate!
You can start by filling out our online donation form or better yet call us at 866-540-5069 and we will have one of our experienced staff to walk you through the donation process. We will need a little bit of your information, and your vehicle's details. It would only take a few minutes of your time.
Have us haul away your car for FREE!
Once we get a hold of your donation, our team will contact a local towing company to pick up your vehicle at its location at your convenient time and place – free of charge!
Receive your tax-deductible receipt!
A tax-deductible receipt will be mailed to your address within 30 days after the sale of your car at an auction. You will need the receipt when you itemize your deductions on your federal tax return.
Help Make Life Better in San Gabriel
When you donate your unwanted, unused clunker, you give back to the residents of San Gabriel by bringing breast cancer numbers down in the city.
Call us at 866-540-5069 and get free towing services for your San Gabriel, California car donations! We serve the entire region, including nearby Anaheim, Long Beach, Santa Ana and more.
FREQUENTLY ASKED QUESTIONS
What are the benefits of supporting breast cancer charities?
Supporting these charities means you'll be funding breast cancer resources, campaigns and support services, as well as treatment for those in need. 
How do breast cancer charities use donations to support their mission?
They use donations to provide support services to patients as well as education and awareness programs. 
What are some examples of support services offered by breast cancer charities?
Support services include financial assistance, counseling, access to support groups, transportation to appointments and more. 
How can supporting breast cancer charities make a difference?
When you support breast cancer charities, you'll be making a difference in your community by helping to advance breast cancer research, providing financial support to patients and improving access to care.
What is a vehicle donation tax deduction?
Contributing a car to our program means you'll be able to claim a tax deduction for your generous donation.
How can I claim my deduction?
When you contribute a car to our program and it gets auctioned off, we'll send you a 100% tax-deductible receipt via mail. This is a written document that includes the donation date, selling price of the car, your name, a description of the automobile and the VIN. It also includes a statement that you received no goods or services for your donation.
When can I claim my tax deduction?
You need to itemize deductions on your tax return in order to claim your tax deduction. It's important to note that the charitable deduction applies for the tax year in which you submitted your donation form.
or Call Us Now at 866-540-5069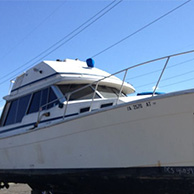 Excellent customer service!